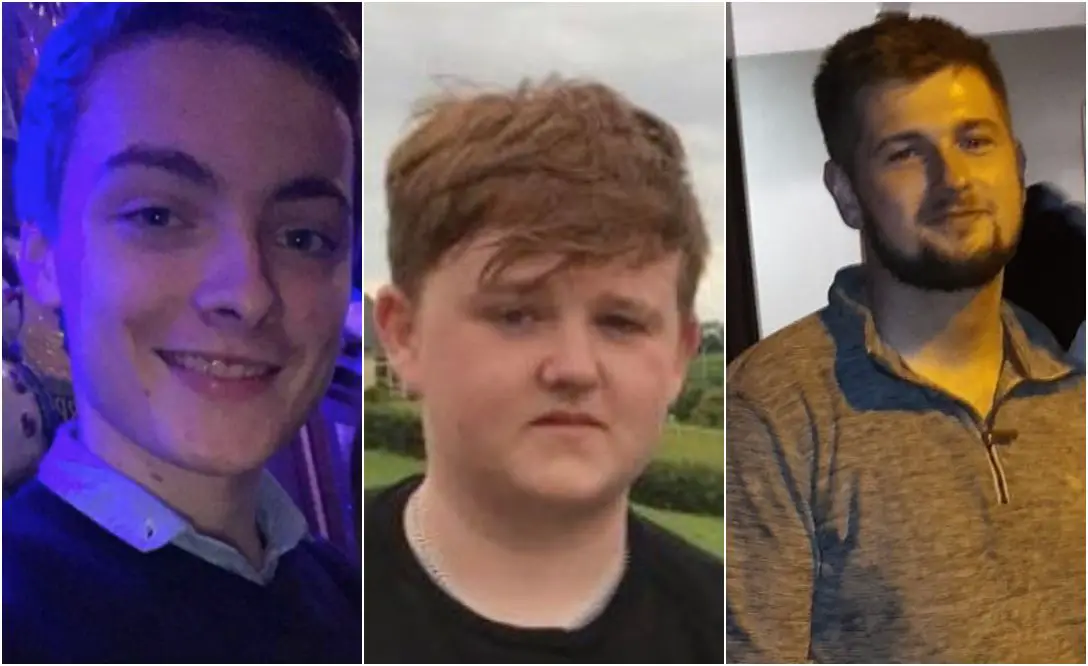 Tributes have been paid to three young men killed in a road accident in Co Tyrone on Monday morning.
Nathan Corrigan, Petey McNamee and Peter Finnegan were travelling along the A5 Omagh Road, near Kelly's Inn in Garvaghy, when their car collided with a lorry.
Emergency services were tasked to the scene shortly before 2am, however, the three men – all aged in their 20s – were sadly pronounced dead at the scene. A fourth man – also in his 20s – was rushed to hospital as a result of his injuries.
News of the loss of three young men with their whole lives ahead of them has numbed an entire community and sent shockwaves across the entire island.
Nathan lived less than two miles from the crash scene. He was the beloved son of Damian and Kate and loving brother of Callum. Cherished grandson of Charlie and Nell (RIP) Roberts and Seamus and Bernie Corrigan.
People described Nathan's smile as one they will never forget, and a gentleman gone too soon.
Petey McNamee lived just 15 minutes from his friend in Sixmilecross.
Petey was beloved son of Anthony and Sylvia and loving brother of Lee (Sarah) and Aimee, who described him as "my shining star in the sky". Cherished grandson of Edie Hunter.
He was described by one friend as "one in a million" and "an amazing lad taken far too soon…you will be missed by all".
Parkview Community Group commented: "As a result of a tragic accident is with a heavy heart that we wish to offer our condolences to several families within our community.
"To Aimee Mc Namee (Parkview) on the passing of her brother Petey Mc Namee, and also to Seamus and Bernie Corrigan on the passing of their grandson Nathan (son of Damien and Kate). Our thoughts and prayers are with all of the families affected by this tragedy."
Tributes have also been paid to Peter Finnegan from Clogher.
Clogher Valley RFC posted: "As a club and a community, we are all in shock to hear of the tragic road accident that happened outside Ballygawley. Our thoughts are with the Finnegan family at this time as they remember their precious son and brother, Peter.
"Peter is a past member of the club, having played in our U14 and U16 teams from 2012 to 2016. We remember him as a polite, enthusiastic young boy and a great team player. He is pictured below on the far right hand side of the front row."
Cloger Eire Ogs also posted: "From everyone here at An Clochar Éire Ógs and the community as a whole we would like to send our sincere condolences to the families involved and our prayers are with the individual currently in hospital
"We have however received the following communication from the Finnegan family. Patrick Sr, Catherine, Patrick, Sarah, Daly, Elizabeth and the entire Finnegan and Daly families, at the untimely and tragic death of their beloved Son and Brother Peter, appreciate all your kind prayers and thoughts, we would request that the house is private, only for family and close friends. Funeral arrangements to follow."
Eglish Camogie Club added: "[The Club] would like to pass on their sincere condolences to our former player Catherine Finnegan (nee Daly) and her husband Patrick & their children, Patrick, Sarah, Daly & Elizabeth and their wider family circle on the tragic passing of their son & brother Peter. We offer up our thoughts and prayers to the Finnegan & Daly families."
The crash is just the latest in a long line of incidents on the A5. There were a total of 15 fatalities on the road between January 2015 and September 2018 alone.
There have long been plans in the pipeline to upgrade the entire road into a dual carriageway but earlier this year it was announced the scheme between Aughnacloy and Derry would be subject to further consultation before it can be progressed.
Sign Up To Our Newsletter