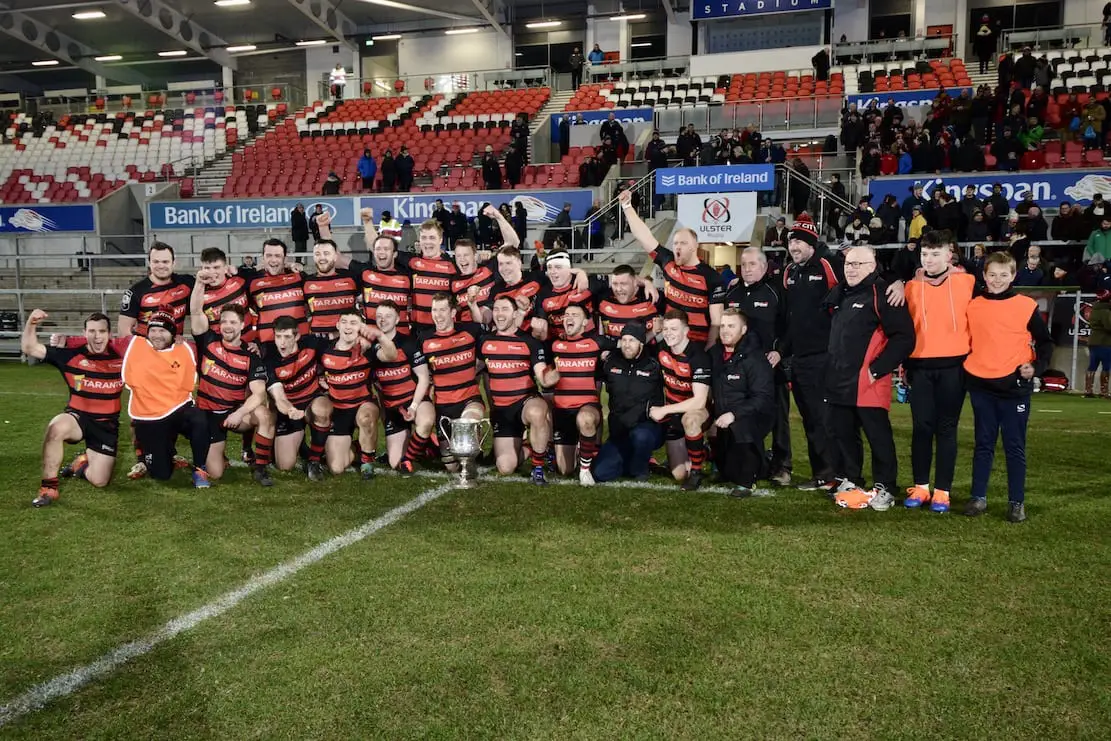 City of Armagh 38 Ballynahinch 34 Report by Evan Morton
The 2019-2020 Ulster Senior Cup Final, sponsored by Bank of Ireland, will long be remembered as one of the best and most exciting finals ever witnessed at the Kingspan Stadium.
With ten tries and the lead changing five times, both teams are to be congratulated for a display of rugby that was a great advertisement for grass roots rugby in Ulster.
It was City of Armagh that prevailed to win the Cup with a try in injury time by man of the match, Shea O'Brien, sealing an epic performance against pre-match favourites, Ballynahinch.
It was the County Down side that kicked off in calm, near perfect conditions and Hinch got off to a dream start with a try after only three minutes.
Aaron Cairns made a sniping run off the back of a scrum and number eight, Conall Boomer was up in support to burst through from 25 metres to touch down for the game's opening try. Outhalf Richard Hutley, was successful with the conversion for an early 0-7 lead. Three minutes later, City of Armagh were level, hinting that this was going to be a high scoring game. Ballynahinch were penalised for holding on and Cormac Fox drilled the ball into the Hinch 22.
The Armagh pack set up a driving maul which was collapsed by the defending side. With a penalty advantage, Fox put in a crossfield kick which Timmy McNeice secured and scrum half Gerard Treanor then made a dart for the line to touch down for Armagh's opening try. A great conversion from out wide by Fox had the match tied at 7-7 with just under 10 minutes played.
Armagh then had an attacking spell with Shea O'Brien cutting through the Hinch defence to set up a chance of a second score. Winger McNeice was then through for a try only for a forward pass to be called by the referee. Hinch then had a clearance kick charged down by Robert Whitten, resulting in a defensive lineout 2 metres from their line.
Hinch and Ulster hooker, Zac McCall's throw was picked off by Armagh's Josh McKinley and the big second row was unlucky not to score, with the ref deciding the ball was held up. From the 5 metre scrum, Armagh exerted real pressure and the Hinch scrum wheeled 180 degrees with referee Paul Martin no option but to award a penalty try. City of Armagh were now leading 14-7 on 17 minutes.
Ballynahinch responded by taking play deep into Armagh territory. Their forwards drove towards the Armagh line and when Cairns moved the ball left, there was a two man overlap and fullback Ross Adair strolled over for Hinch's second try. Hutley struck an upright with his conversion attempt and the scoreline was now 14-12 at the end of the first quarter.
Pete Lamb came on as a blood replacement for Armagh's Paul Mullen who needed stitches in a head wound before returning. Another penalty to Armagh set up an attacking lineout maul on the Hinch 22. A big drive from the Orchard County side was well defended and Hinch won a penalty when Armagh moved the ball wide.
On 28 minutes Armagh got the squeeze on again in a scrum on the Hinch 10 metre line and a penalty was converted by Cormac Fox to edge Armagh further ahead, 17-12. Four minutes later, Hinch closed the gap to 17-15 with a Hutley penalty after Armagh's O'Brien was penalised for holding on to the ball just outside his 22.
Both sides then tested each other with box kicks before Armagh had a spell of possession and went through a few phases. A penalty was kicked up to the Hinch 22 but this time Armagh's lineout malfunctioned and the Division 1A side worked play into the Armagh half with just 2 minutes to go till the break.
Hinch then won a penalty which they kicked to touch and attacked from the lineout. With play on the Armagh 22, winger George Pringle burst through at pace to cross under the posts for a great try in added time. The conversion from Hutley saw Ballynahinch secure the advantage at the interval 17-22, after an entertaining first half.
Armagh kicked off and made a couple of errors in the opening minutes of the second period. The next score was going to be crucial and it went to Ballynahinch on 46 minutes.
Paddy Wright made a burst into the Armagh 22 and Zac McCall in support was stopped just 2 metres out. Marcus Rea then powered over the tryline for another Hinch try. The conversion attempt by Hutley saw the outhalf hit the post for the second time but Ballynahinch now looked dominant, leading 17-27.
City of Armagh looked to get back into the game but they found the well organised Hinch defence hard to break down. Jack Treanor and James Hanna took to the field replacing Jonny Morton and Barry Finn and an Armagh penalty gave them territory inside the Hinch half.
The Armagh backline moved the ball left and Chris Colvin made a lovely line break and fed winger Andrew Willis to run in for a try on 56 minutes. A fine conversion by Fox had Armagh back in the game at 24-27.
Buoyed by this score, Armagh then put Hinch under pressure in their 22 with Nigel Simpson, James Hanna and Jack Treanor having strong carries. A promising attack was thwarted by a forward pass as Hinch looked to keep their defence intact.
On 62 minutes Hinch were penalised for holding on in the tackle and Armagh had an attacking lineout 10 metres out from the Hinch tryline. The Armagh pack looked to drive for the line and initially made progress before superb defence from Ballynahinch stopped the maul and won a turnover to clear the danger. Was this a turning point in the match? A Hinch penalty for offside gave them an easy exit.
Excitement levels for the neutral supporter then rose higher when Armagh scored an outstanding individual try to move into the lead. A lose kick from Ballynahinch was fielded by Shea O'Brien on halfway. The young full back then chipped over the Hinch defensive line, recovered his kick and sprinted under the posts for a superb try converted by Fox.
Remarkably the Division 1B side were now ahead, 31-27, with 10 minutes remaining. With confidence levels high, Armagh counter attacked from the restart and good play by centre Evin Crummie brought play right up to the Hinch 22.
Unfortunately Armagh then lost an attacking lineout and it was Ballynahinch who swept up field, always looking dangerous in broken play. Full back Ross Adair then used his experience to sell a dummy and run 40 metres to cross for a try to give his side the lead once more. The conversion by Sean O'Hagan put Ballynahinch ahead 31-34 with 5 minutes remaining on the clock.
Armagh's captain Robert Whitten then had to leave the field with an injury but his side showed tremendous resilience and went straight back on the offence to see if the game could be rescued.
Faloon, Hanna and Mullen all carried strongly but it looked as if the brave Armagh effort was going to end in disappointment.
The sustained Armagh pressure was halted when the attacking side was penalised for holding on and Hinch cleared to outside their 10 metre line.
Unbelievably, Armagh stole possession at the lineout and the Orchard County side attacked once again as the clock approached full time. Hinch then knocked on a loose ball giving Armagh a scrum on the 22 now in injury time.
eplacement scrum half, Harry Doyle, got the ball away despite being under pressure and Cormac Fox slipped the ball to Shea O'Brien who spotted a gap and cut though to score an unbelievable try under the posts.
Despite Ballynahinch remonstrating with the referee, Fox popped over the conversion and the whistle blew for full time. The huge Armagh support erupted in the stand as their side had just won a remarkable match, 38-34.
Armagh fullback, Shea O'Brien was named man of the match following his brace of tries that had a huge bearing on the outcome of the game. Captain, Robert Whitten led his team up the steps to receive the Senior Cup from Ulster Branch President, Gary Leslie and then the celebrations began.
The Armagh coaching team were delighted at the final whistle. Willie Faloon commented: "It's fantastic to have won the Senior Cup for a third season in a row and this was the toughest victory by far.
"[The] match was a real rollercoaster. We scored some wonderful tries but then Ballynahinch capitalised on our errors to keep their noses in front. Ballynahinch were formidable opponents and their Ulster players gave them that extra experience.
"Coming back from ten points down showed our grit and determination and we are all thrilled to have come out on top".
Next up for City of Armagh is a crucial match in the All Ireland League on Saturday when Navan visit the Palace Grounds. The team will be looking to build upon their victory over Shannon RFC last time out.
Sign Up To Our Newsletter