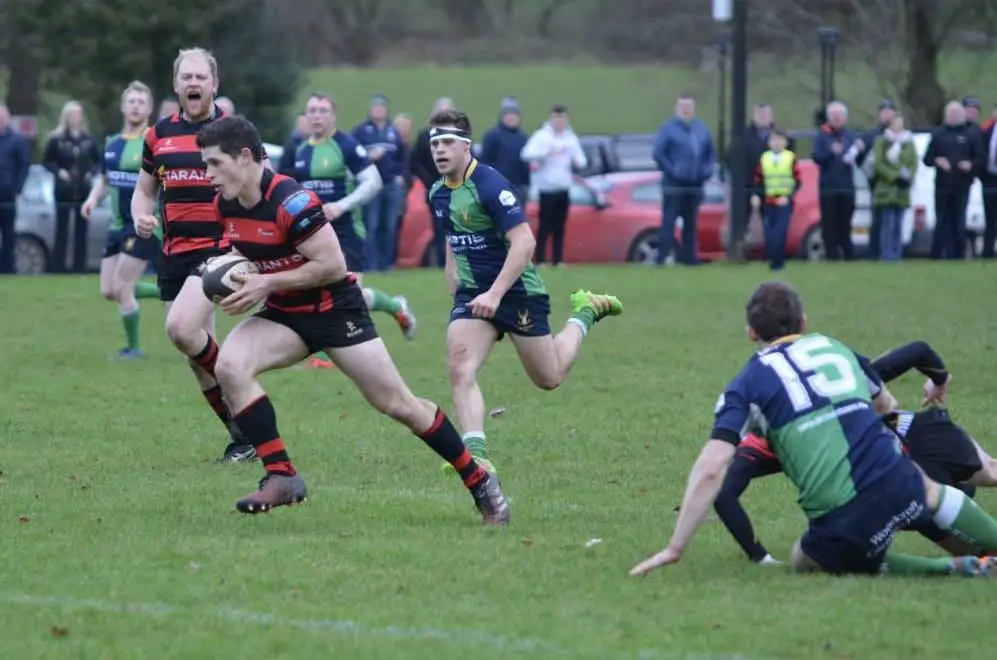 Having had no fixture since December 3, City of Armagh were keen to get some match time when they hosted Ballynahinch at the Palace Grounds on Saturday afternoon.
This SONI Premier League fixture was played in front of a large crowd of spectators in almost ideal conditions.
Ballynahinch kicked off and from the start off it was evident that both sides were set to play the game at top speed. Despite the lack of fixtures the Armagh team's pace began  to see them win the major share of both open and set play.
By the ninth minute of play Armagh's efforts were rewarded when Neill Faloon fielded a loose clearance kick and fed to Tim McNeice who scored at the posts. Cormac Fox's conversion set the pattern of the game for the rest of the afternoon.
Armagh's second try came when James Hanna broke loose from a ruck just outside the visitor's '22' and touching down in the right corner. Despite the freshening breeze Cormac Fox's conversion was right on target to put the score to 14-0. The third try of the game came from Ali Birch and, again, the conversion was accurate to bring the score to 21-0.
Ballynahinch made only their second trip into the Armagh '22' in the first half but it resulted in a try from winger Chris Orr and a conversion from Chris Quinn. The final move of the first half came from John Faloon scoring and a further Fox conversion. This brought the score to 28-7 at the break.
The second half started off with Ryan Purvis breaking down the right wing and passing the ball to John Faloon who scored his second try of the game. Yet again the conversion was accurate to bring the score to 35-7.
Armagh appeared to lose concentration for a few moments which enabled Ballynahinch to send a rolling maul across the home try line to score. The conversion brought the score up to 35-14. The visiting No. 7 was penalised for a high tackle on Kyle Faloon and was sent to the bin for 10 minutes. A further yellow card was shown to a visiting forward for failing to release the ball in front of his posts.
The resultant kick brought the score up to  38-14. Two further tries, one from Phil Matthews the other from Ali Birch, and two conversions finished off the game with a creditable 52-14 score on the board.
Next week sees Armagh host City of Derry in another game in the SONI Premier League. The Seconds play Limavady in the Towns Cup at home with the Thirds travelling to Instonians.
Picture: Armagh's full-back, Timmy McNeice, scored the first try of the afternoon.
Sign Up To Our Newsletter