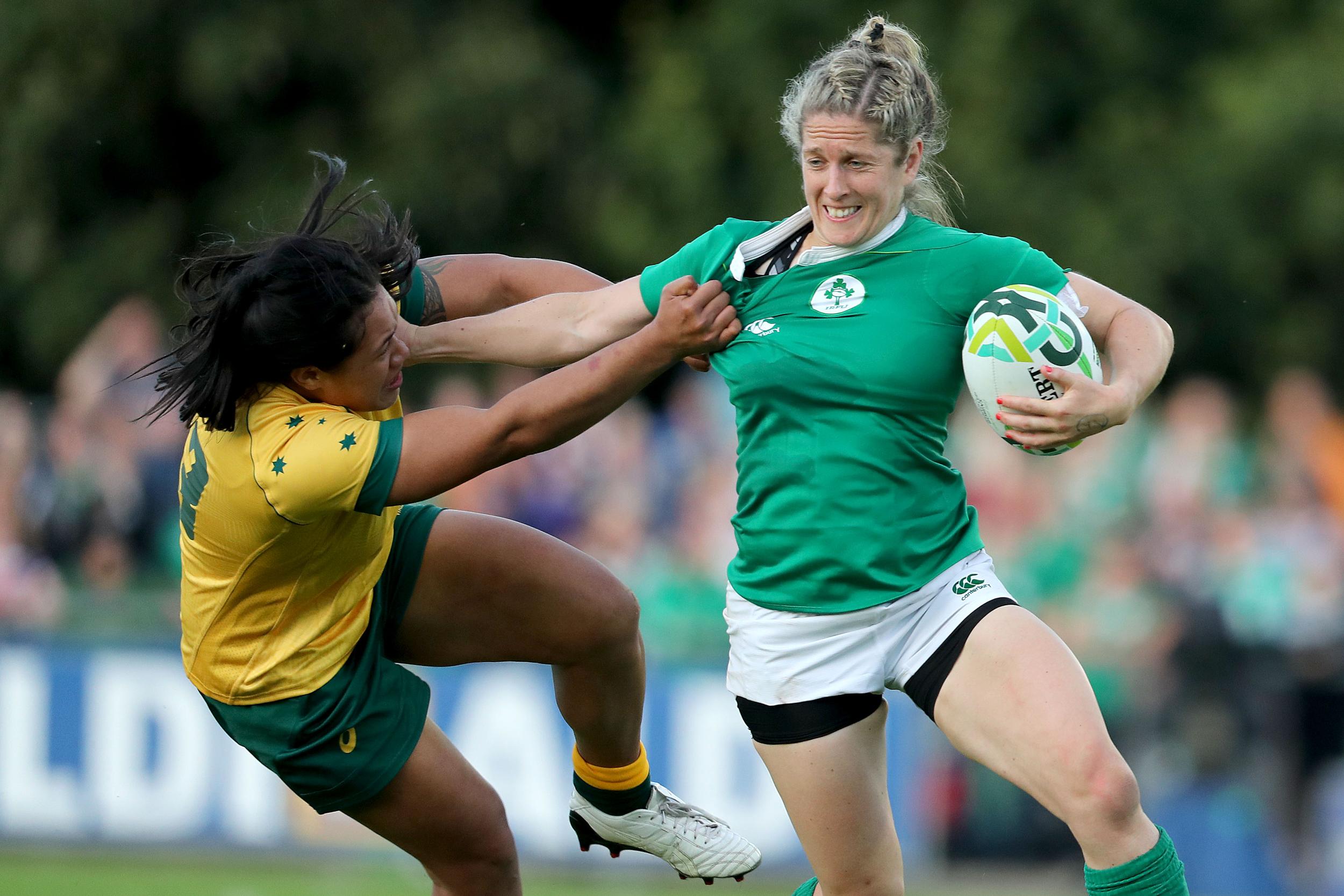 By Richard Bullick
The biggest gamble of Tom Tierney's coaching career came good as hosts Ireland dug deep to get their Women's Rugby World Cup campaign off to a winning start at a sunny UCD Bowl.
First choice forwards Sophie Spence and Ciara Griffin came off the bench to turn the tide as Ireland came from behind to beat Rio Olympics sevens champions Australia 19-17 on an anxious opening evening at this home World Cup.
The pair provided dramatic, much-needed, match-winning impact including the touchdowns which got Ireland back in front and then gave them a sufficient cushion to absorb a final flourish from the Wallaroos in this pulsating game of fluctuating fortunes.
Australia got a third try themselves to set up a frantic finale but, backed by a raucous crowd, the Irish heroes held on for an absolutely vital victory over the team ranked sixth in the world, one place below the host nation.
It had been a tense evening with Australia's second try putting them ahead early in the second half after their first touchdown had offset some of the damage done by scrumhalf Larissa Muldoon's opening try for Ireland, converted by fellow Donegal woman Nora Stapleton.
There was a huge outpouring of relief both on the field and in the packed stands of the makeshift stadium when, with the clock finally red, outhalf Stapleton turned and belted the ball off the park to trigger the final whistle which confirmed Ireland's win.
Given the WRWC format and effective lack of second chances, especially in Ireland's group, no other result would have sufficed for this team and their dream and indeed the tournament and its story.
It wasn't a perfect performance and former Ireland legends turned pundits such as the Fionas, Coghlan and Steed, didn't hold back on their scathing criticism of aspects of this display while Tierney afterwards admitted that Ireland had 'won ugly'.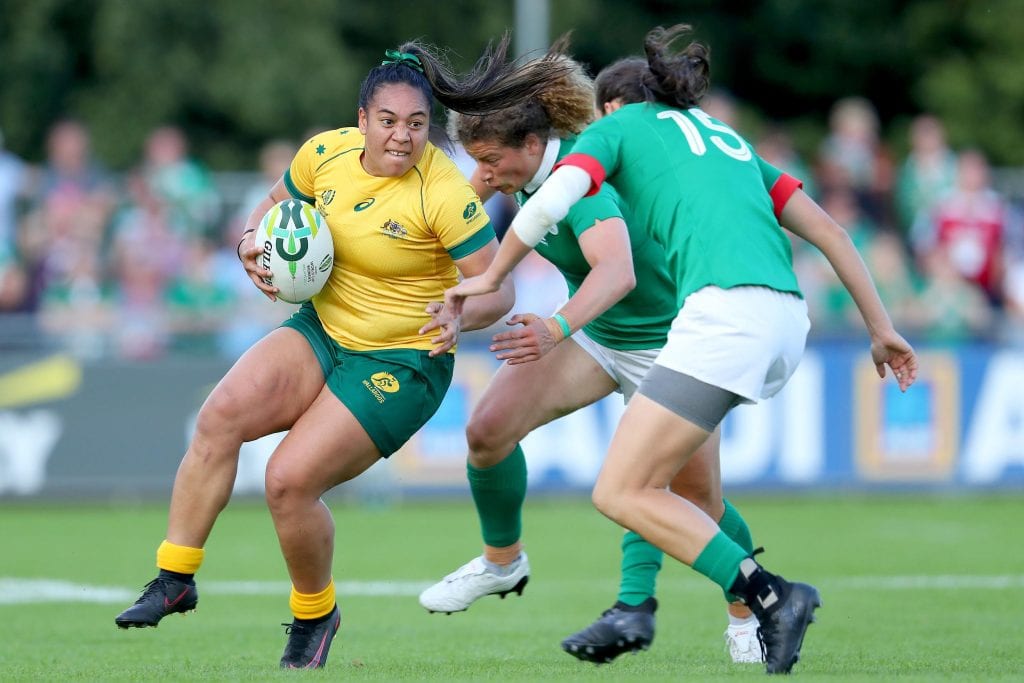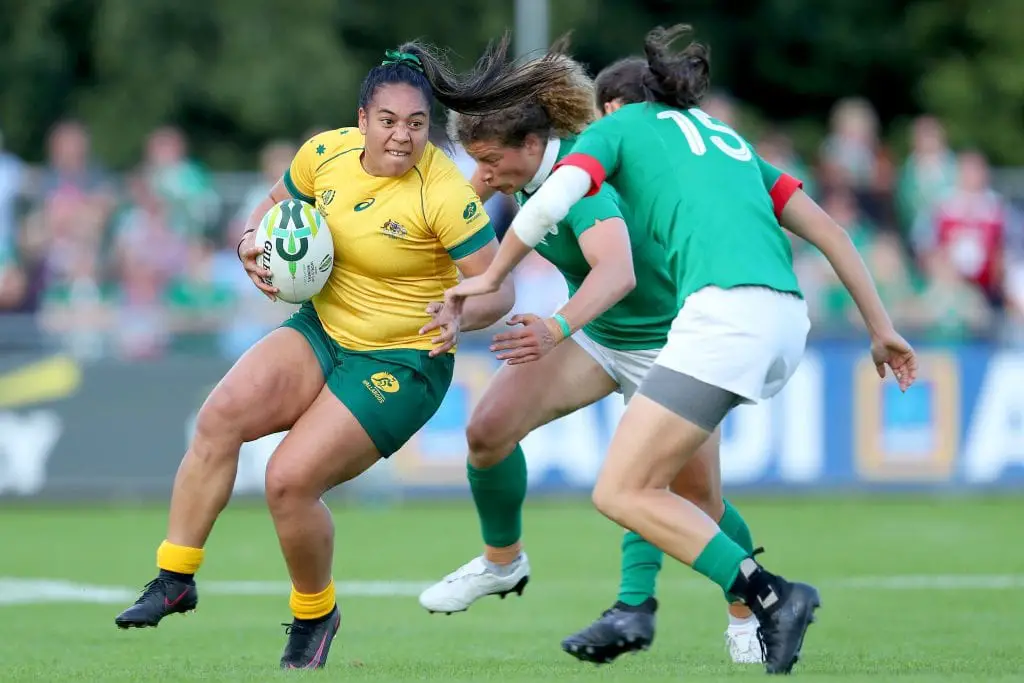 But he also justifiably asserted that winning was everything here and the tenacious character shown by the girls in green will have won them new admirers while the team itself can take plenty from proving they can get over the line in a tight game.
The 3,500 capacity crowd and one hundred times that watching on Irish television saw captain Claire Molloy and her players serve up a performance full of absolute bravery, unflinching commitment and complete pride in the jersey.
A few fluffed lines can at least in part be attributed to understandable opening night nerves and an improved performance will be needed if Ireland are to triumph in next Thursday's crunch clash with France (7.45pm).
Assuming emerging Japan have been dealt with meantime, that showdown with familiar rivals will be to top the Pool C table and emulate the achievement of the 2014 World Cup when Ireland qualified for the semi-finals for the first time.
Back then Ireland had famously upset the seemingly invincible New Zealand 17-14 in an unforgettable group game in Marcoussis, inflicting the Black Ferns' first defeat at the World Cup since 1991.
That triumph sandwiched between the historic 2013 Grand Slam success and another Six Nations title in 2015 have heightened expectations of the Ireland women's side and, along with home advantage, generated high hopes going into this tournament.
Just getting over the line against Australia here is in no way comparable to beating the Black Ferns last time but the wildcard Wallaroos were always likely to be far more dangerous opponents than some pundits predicted.
Although the Aussies have focused on Sevens, an approach rewarded with the gold medal at Rio 2016, they have come to this World Cup with good raw materials and sufficient firepower to do damage.
Australia is a sporting nation so it isn't surprising that they have natural athletes aplenty and although their team is much less experienced than Ireland's in this form of the sport, they have explosive potential.
These Wallaroos aren't short of impressive physical specimens and swaggering game-breakers, while they have gained invaluable experience from facing the world's top three teams in June even though each game resulted in resounding defeats.
They came into this tournament as something of an unknown quantity, underpinned by good recent preparation and a burning desire to poop the party by overturning the hosts in the opening game.
Conditions were perfect for Australia's sevens stars to express themselves, with a firm pitch on a glorious summer's evening more conducive to their running threat than a mid-winter mudbath and the fear was that they could strike early for tries and make it a long evening for Ireland.
The hope however was that Ireland's experienced pack would dominate Australia's set-piece, that the Wallaroos relative lack of structure should count against them and that the established halfback duo in green could control the game.
World-class lock Marie-Reilly did destroy the Australian lineout with a superlative performance which earned her the Player of the Match award but the Ireland scrum didn't dominate from the outset as hoped and even found itself on the wrong side of the referee early on. Stalwart tighthead Ailis Egan was withdrawn early in the second half.
Nervy Ireland made mistakes in the opening quarter and although Muldoon's classic scrumhalf snipe, with Stapleton adding the extras, eventually gave them scoreboard reward, a lapse in concentration let the Aussies quickly close the gap.
From a quickly-taken lineout they flung the ball left for an eye-catching try by winger Mahalia Murphy to leave just two in it at the break with an increasingly open game seeming to play into Australia's hands.
When Wallaroos skipper Shannon Parry, another sevens star, got over for a try towards the end of the third quarter to put her team ahead, Tierney's team faced an uphill struggle especially with hugely physical centre Jenny Murphy already having had to limp off, a worrying sight for Irish supporters.
However Griffin was immediately introduced to join Spence and substitute tighthead Ciara O'Connor who had both been brought on a few minutes before that Australian try and the influx of fresh forwards was to have a very positive effect.
There had been considerable surprise at the omission of Spence and Griffin from the original line-up and their impact could be interpreted as either an endorsement or indictment of the coach's controversial call.
Ireland came into this tournament with significant concerns around over-reliance on an apparently predictable starting XV compounded by the challenges of an exceptionally instense schedule featuring five fixtures in 17 days.
Tierney's first selection may have been a tacit attempt to address both aspects by engaging in some unofficial rotation aimed at keeping key players fresh while offering opportunities to more fringe figures to prove their worth.
However if Spence and Griffin were held back as part of a strategy to manage Irish player workloads from the outset of this tournament it was a big gamble given the threat posed by the Aussies and the absence of second chances.
The temptation must have been for Ireland to put their best foot forward from the off and take each game as it came rather than conserving for future tests but Tierney instead showed faith in his squad's depth.
Leaving out Spence and playing regular No 8 Paula Fitzpatrick in the second row risked weakening the Irish scrum and lineout, putting extra pressure on main jumper and caller Reilly, compounded by the absence of this year's Six Nations hooker Leah Lyons.
The 16-stone Lyons had been a revelation since coming into the team in place of the injured Cliodhna Moloney and developed a fairly slick lineout link with Reilly but had to be content with a bench berth for this World Cup opener.
It was unclear in advance whether the dynamic, more mobile Moloney, first choice last autumn, had simply reclaimed the starting spot or Lyons was being benched on a similar basis to Spence and Griffin but in the event the Leinster hooker played the full 80 minutes and did very well.
She was the third most prolific carrier for Ireland on the evening and hit her targets in the line-up where both makeshift second row Fitzpatrick and captain Molloy were used as auxiliary jumpers in support of Reilly.
Moving Fitzpatrick forward into the engineroom facilitated a welcome return to Test rugby for one of the try-scorers from that win over New Zealand last time, Heather O'Brien, her back row colleague that day and subsequent clubmate at Toulouse for a season.
O'Brien looked like she had never been away from it while the other big bonus was blooding Ashleigh Baxter on the flank where the converted winger proved a tough little nugget and topped the tackle charts with 21, a tally only equalled by the esteemed Australian captain.
Sevens specialist Baxter, who wore the No 14 jersey when Ireland beat New Zealand, was selected for this squad ostensibly as notional openside cover for Molloy and a possible impact player off the bench in the Japanese game.
But in spite of her inexperience and diminutive stature, the Castlewellan woman showed against Australia that she packs a punch and the 42 metres she carried for was bettered by only two Irish players. Baxter also hit rucks with ferocious relish and got the full 80 minutes with O'Brien being the player to make way for the introduction of Griffin.
If Tierney wished to hold back a couple of his frontline forwards, then the barnstorming Spence with her trademark rumbles and Griffin, an abrasive, study, no-nonsense flanker were the obvious impact players with which to hedge his bets.
Both brought great impetus when introduced, crucially getting Ireland on the front foot and the crowd really going, as did every shot of an impassioned Niamh Briggs on the big screen.
The television cameras kept picking out the expressive, ebullient, likeable Briggs sat alongside Ireland's 2014 World Cup coach Philip Doyle in the stand with her emotions churning, eliciting crowd roars of encouragement and acclaim for the stricken captain, cruelly ruled out of the tournament by injury nine days before the opening game.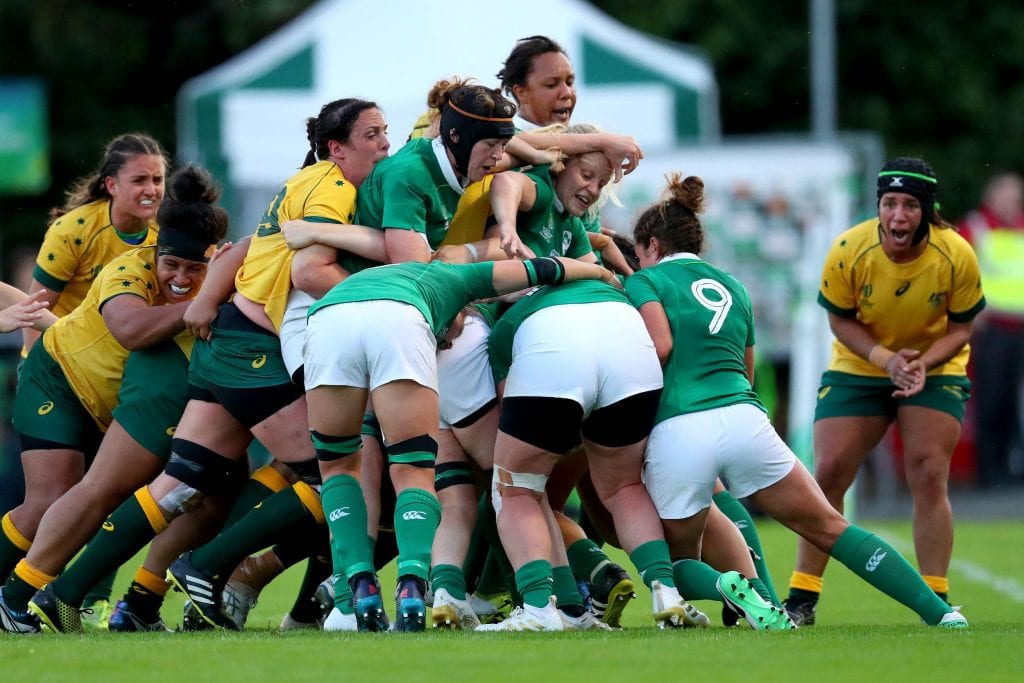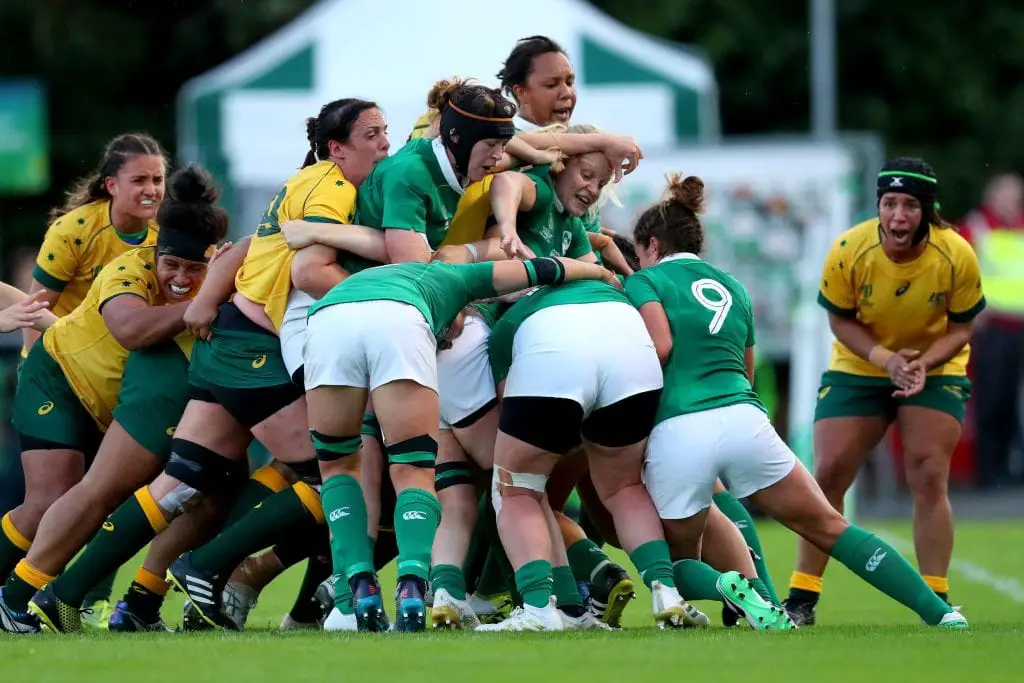 The absence of Briggs robbed Ireland of their inspirational skipper, prolific place-kicker and world-class fullback, leaving three women with the extra responsibility of filling her respective roles.
The greatest pressure fell on deputy place-kicker Stapleton who nailed her first two conversion attempts from in front of the posts and wasn't far away with the third effort from the left touchline.
Reminiscent of the England game in March, there was a bad blip early on when the 34-year-old missed touch with a penalty down the line, but the outhalf had a positive evening overall and is like Johnny Sexton in her willingness to get stuck in physically.
Replacement captain Molloy typically led by tireless example and came second in both the Ireland tackling and carrying charts while Hannah Tyrrell coped well with her switch from wing to full back.
Moving Tyrrell rather than bringing in the more experienced Mairead Coyne at full back created an opening on the wing for Clare dual star Eimear Considine who looks like she has a lot to offer physically but is still slightly raw.
The 26-year-old wasn't helped by a poor pass in the opening quarter but also spilled the ball running onto a neat chip, a snapshot of how Ireland's backline frustratingly failed to click in this opening game.
It was perhaps understandable that Ireland's attacking game lacked cohesion in this tournament opener but their defensive line-speed was surprisingly poor though Murphy managed some of her trademark shuddering hits before being forced off.
There is much more to come from Ireland not least behind the scrum as, even without the unstoppable Briggs hitting the line like a charging rhino, this looks like it should be a potent back division.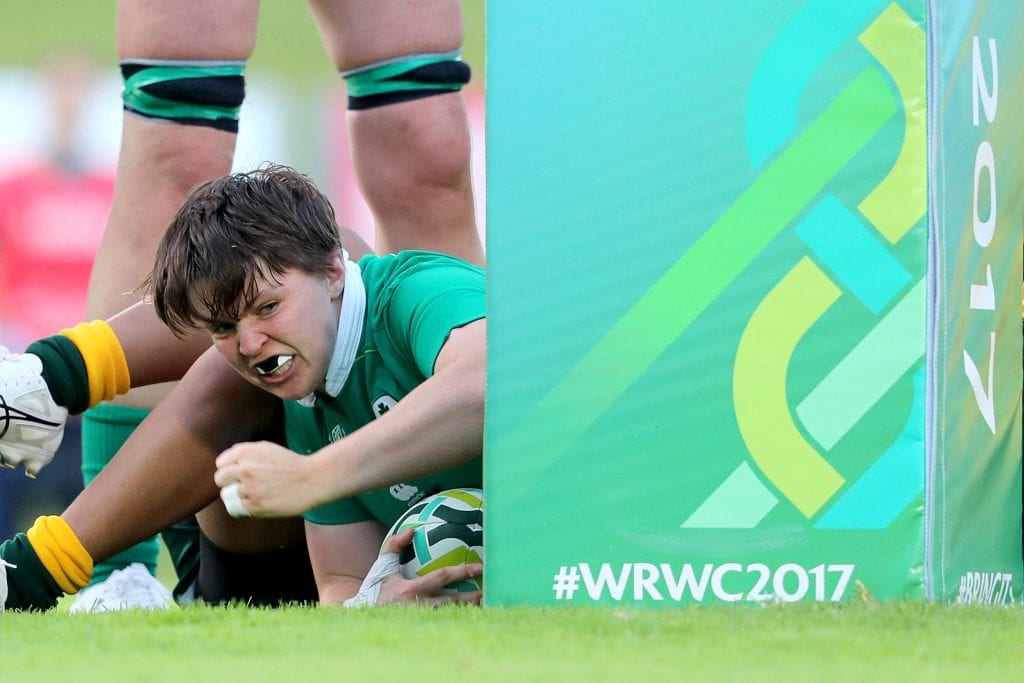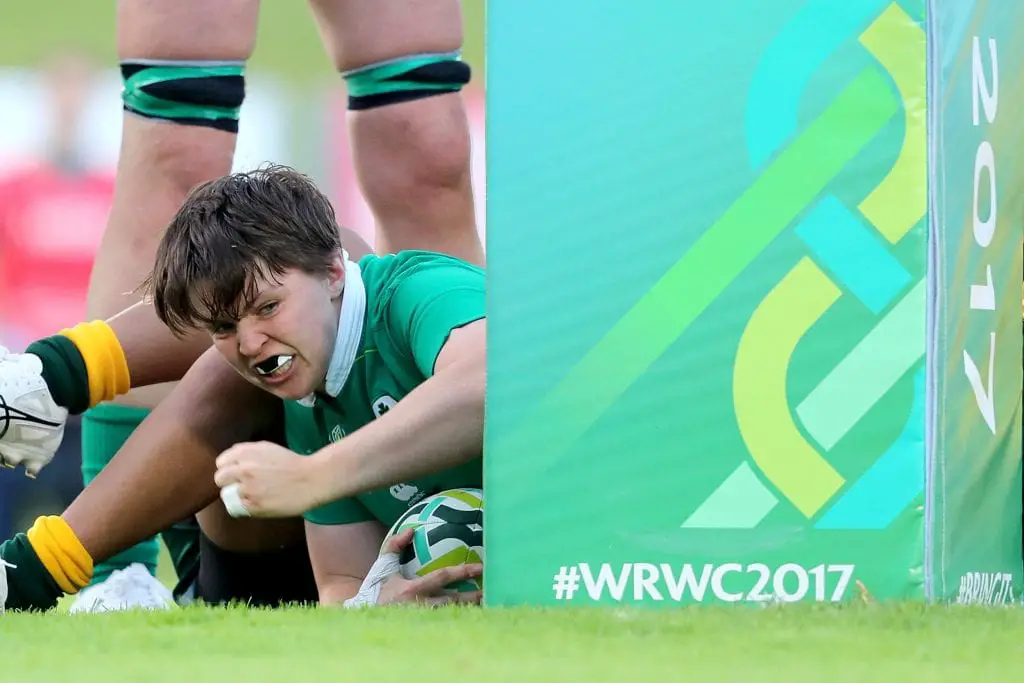 With experienced halfbacks pulling the strings and a dangerous outside three, big things are expected in midfield from the rampaging Murphy and Sene Naoupu, the much-hyped Kiwi centre of Samoan origin who came to Ireland in 2011 when husband George signed for Connacht.
The tiny Nicole Cronin, who will win her first cap against Japan, remains untested as scrumhalf back-up but Muldoon, providing she stays fit, can be as valuable to this Ireland team as Conor Murray is to the men's side.
An experienced, deceptively physical player she sniped well for that opening try against Australia which brought great relief for an Ireland team keen to get their first score of the tournament on the board but forced to wait for 22 minutes.
While aspects of this opening performance will rightly be picked over by management and analysts alike, the packed crowd at Belfield and the television audience couldn't fail to have been impressed by the heart and fight of an Irish side desperate to get their long-awaited campaign up and running.
This was a significant test which Ireland came through with honour and the heroic resilience shown will surely stand to them in the big games ahead when the going gets tough.
As established supporters know, this is a tight group of women who will give everything for each other, keep putting their bodies on the line and so often find a way of getting the job done even when not perhaps playing to their absolute best.
This year alone they have snatched victory in Scotland with the clock red, got the bonus point in Italy with the clock red and come from behind to beat France with a depleted team, and now they've shown their tenacity, character and defiance against Australia.
The fact the girls in green had to dig so deep during that tense last quarter helped produce an amazing atmosphere even in this small, three-sided stadium and afterwards there was a uplifting feel-good factor as fans lingered in the late evening sunshine.
Defeat would have been a complete pin-prick to the entire tournament's balloon but this admittedly unconvincing victory gives Ireland the green light to move forward and will have drawn private sighs of relief from the tournament organisers.
The final whistle sparked the sort of outpouring of relief and patriotic pride you would expect in such circumstances but maybe even more so given the emotional connection between this team and their four-figure hardcore of regular followers which has an intimate family feel to it.
Fan favourite Maz Reilly was a popular Player of the Match recipient, an accolade earned not only for her superlative lineout efforts both on Ireland and Australian throws, but the hard work which the evergreen 37-year-old did around the pitch.
As well as the general grafting required of a front five forward, Reilly was integral to one crucial choke-tackle turnover reminiscent of the men in green against Australia at the 2011 World Cup and she was third in the Irish tackle count behind only the two flankers.
In spite of her huge effort for 80 minutes, it was testament to the exceptional person Reilly is that she ran right across the pitch to shake hands with the three match officials following the final whistle.
The arm-waving whoop to the crowd before going off for her round of post-match interviews as Player of the Match typified the amiable lock's light-hearted sense of fun.
She's a national treasure who deserves this time in the sun along with her team-mates.
There were plenty of uplifting images adorning national newspapers next morning including stirring shots of Briggs behind the hoarding being hugged by a succession of team-mates, Stapleton embracing her granny and Muldoon planting a big kiss on a young relative.
Although not a perfect performance, this Ireland display will have won the team more admirers among the crowd and television audience alike and those fresh fans will have got glimpses of what the established support already appreciate.
Finishers Spence and Griffin – who managed an astonishing 15 carries in that last quarter to jointly top the table for Ireland in that regard – got great plaundits and rightly so but there were firm foundations laid by others.
Much credit must go to three veteran forwards who put in great shifts for the full 80 minutes including the forceful Lindsay Peat, a wonderful find for Ireland as an abrasive but dynamic loosehead prop.
The hardcore support have long appreciated Reilly's spring-heeled athleticism as the world's lineout queen and the typically tremendous Molloy, an all-action flanker who is very effective on either side of the ball.
There was increasing glimpses in the second half of the threat that Miller poses out wide with her pace and power which will hopefully help put the Japanese to the sword in Ireland's second group game on Sunday evening (5.15pm, live on RTE2, ITV4 and eirSport).
Tierney has made seven personnel changes and three positional switches for a team which pushed Ireland hard in warm-up matches in June but, not helped by a poor start, a red card and injury to a key player, were hammered 72-14 by France in their tournament opener.
Murphy's replacement in the second half against Australia, Katie Fitzhenry, has got the nod to partner Naoupu in midfield in preference to Ulster centre Claire McLaughlin, the only player in Ireland's World Cup panel not to make the squad for either of the first two group games.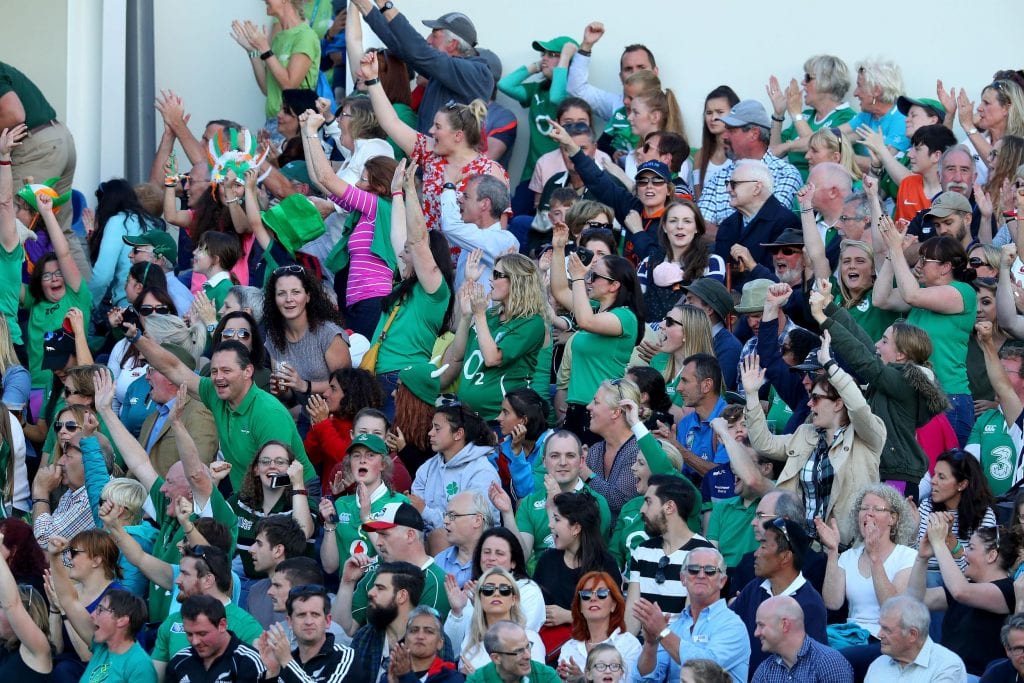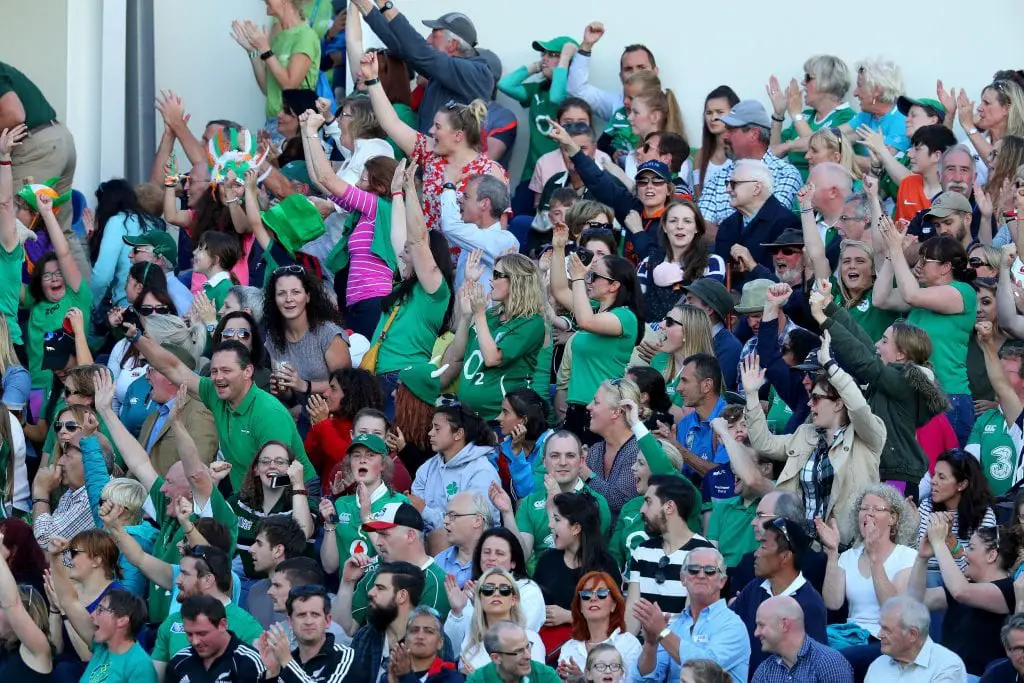 Coyne's inclusion at full back sees Tyrrell revert to the right wing with Considine dropping out of the match 22 as another gaelic games star from Munster, late call-up Louise Galvin, gets the No 23 jersey and a possible first cap.
Cronin comes in to partner Stapleton at halfback with Muldoon on a bench which also includes back-up centre Jamie Deacon.
The irreplaceable Reilly is being wrapped in cotton wool for the French game so regular bencher in the Six Nations, Ciara Cooney, forms a new engine-room pairing with a fresh Spence.
O'Brien has also been rested entirely while Fitzpatrick, in spite of coming off early against Australia, is only benching so Molloy moves to No 8 where she is flanked by Griffin and Baxter, who moves to openside. Anna Caplice provides bench back-up.
O'Connor starts at tight-head in an otherwise unchanged front row though the expectation would be that veteran loosehead Ruth O'Reilly and Lyons will each get generous game-time if things go well.
Sign Up To Our Newsletter