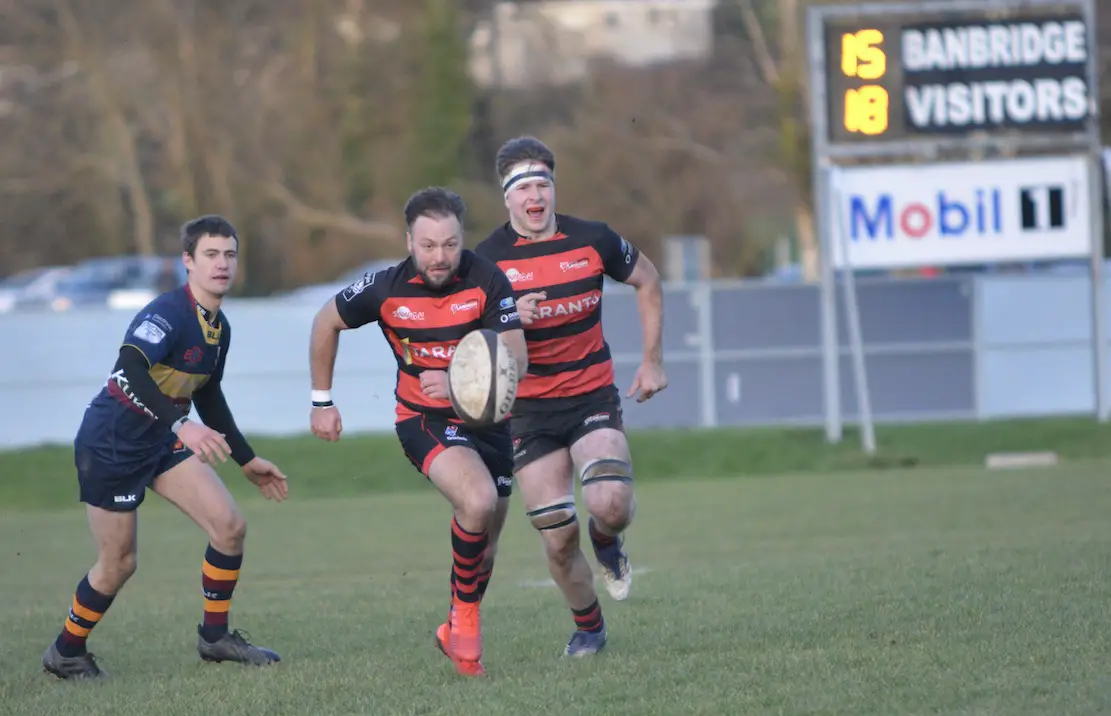 Banbridge RFC 43 City of Armagh RFC 18 Report by Richard Black
City of Armagh RFC made the short journey to Banbridge in a vital AIL game but came away disappointed with their second half performance following a heavy defeat at Rifle Park.
Injuries ruled out Harry Doyle, Timmy McNeice and Chris Colvin in the backs and Daryl Morton and James Hanna in the forwards and with such a small squad it was apparent that the locals were going to be up against it.
Banbridge with four Ulster contracted players in their team squeezed the life out of Armagh particularly in the second half and they recorded their biggest win ever against City of Armagh.
On a bitterly cold December afternoon the toss was vital and Banbridge won it and elected to play into the stiff breeze. They immediately put Armagh under pressure and after a high tackle by Philip Fletcher, Adam Doherty kicked a simple penalty after 5 minutes to open the score for the home side. Armagh threatened the Banbridge line and were held up over the line with 5 minutes on the clock.
A series of attacking scrums ensued but Armagh could not make the breakthrough past a resolute Banbridge defence. As a result Armagh were forced to try to get scores on the board through Cormac Fox's boot. His second penalty put Armagh into a narrow lead but this was soon cancelled by a Doherty converted try to leave the scores 10-6 to Bann with 25 minutes gone.
A terrific line break from Nigel Simpson was bravely thwarted by Doherty with a last gasp tackle which resulted in him needing medical attention.
After another series of scrums Armagh winger, Andrew Willis barged over for a typical try which was converted by Fox, making the score, 10-13 to ease some of the pressure. Banbridge continued to press and only good lineout defence by the Armagh pack stopped Banbridge getting back in front.
Out of nowhere Shea O Brien then scored a wonderful individual try from the halfway line to increase Armagh's lead to 10-18. On the stroke of halftime Neil Faloon was sin binned for offside at a ruck. Halftime arrived with the score Banbridge 10, Armagh 18.
Most observers would have realised that a lead of 8 points was not near enough and the inevitable happened. Armagh tried to run the ball from their own line and a turnover resulted in an Adam Doherty try for Banbridge just 2 minutes into the second half.
More disaster was to follow when prop, Fletcher too was sinbinned for a rather innocuous offence. With the wind getting stronger, Banbridge seized the opportunity for further scores. Armagh couldn't get into the game as they were repeatedly penalised for all sorts of offences and Banbridge scored 33 unanswered points in a one sided second half.
Further scores from John Porter, and three tries in the last 10 minutes by Stuart, Michael and Peter Cromie sealed Armagh's fate plus excellent kicking from Doherty, made the final scoreline 43-18.
There is little doubt that Banbridge played the elements and the referee better and are indeed a very useful side. They completely dominated the second half and Armagh could not get their hands on the ball. As for the Orchard County side, they can take now a break from AIL action and need to regroup with one win in their last five matches.
With such a small squad there is limited opportunities to rotate the playing pool but coaches, Faloon and Parker may give some of the Seconds game time against the next two fixtures against Belfast Harlequins and Dungannon, to ease the injury list and allow tired bodies to recover.
There are two cup semi-finals coming up, with the Bateman Cup on the 4th January and a return league fixture with Banbridge on the 11th January.
Then on the 18th January, City of Armagh travel to play an in form Rainey side in the semi-final of the Senior cup. With the loss last Saturday, Armagh now find themselves in 8th position in the league while Banbridge jump up to third. This time last year Armagh were joint top of the league, but they are now anxiously looking over their shoulder at Naas and Navan in the league table.
They will need at least 3 wins to secure their place in Division 1B which is their main concern this season. Results like last Saturday do not do much for morale and in a very tight league, improved effort is needed.
The team bounced back from a heavy defeat against Old Wesley, 13 -40, to put in good displays against Highfield and Malone and a similar attitude will be needed in the second half of the season.
The only bright note about December 14th 2019 were the performances of the seconds, thirds and fourth XVs who all won their respective games.
***
Ballymoney 2nd's  12  City of Armagh 3rd's 19
City of Armagh Thirds travelled to North Antrim on Saturday to take on Ballymoney Seconds in a Crawford Cup second round tie full of confidence and with a team that blended experience, skill and youthful enthusiasm. Under the captaincy of Andrew Brady Armagh started the stronger and sustained periods of Ballymoney pressure; in fact the first try of the match came when Armagh were camped on their own 22. The ball was stolen by Jack Gilpin from a Ballymoney line out and was fed across the wing from Trevor Girvan to Matthew Allen and Andrew Winder who had come in from full-back. Winder kicked the ball over the onrushing defence and chased it down with Brady by his side. Brady got the touchdown just before the ball went dead. Andrew Knipe was successful with the conversion from close to the touch line for a 7-0 lead.
Ballymoney hit back with an unconverted try in the left corner to go to 7-5. Penalties were conceded on both sides and two Armagh shots at goal went just wide. The Armagh forwards had a tremendous game with Kurtis Sherry and Adam Edgar joined in the front row by John Johnston who put in a man of the match performance in only his second game for the side. Jack Gilpin and Ross Finlay were superb in the line outs while John's older brother Tom provided control and balance. However it was the second row combination on Con Oliver and Willie Martin that provided the next try from a Ballymoney penalty was taken as a scrum on the 5metre line. Oliver got the ball and drove to within inches of the Ballymoney try line. Martin gathered and scored left of the posts for a 12-5 lead.
The Ballymoney restart did not go the required 10metres and Armagh won the scrum on the halfway line. Jack Gilpin gathered the ball and made good yards before passing to Brady who left the Ballymoney defence floundering as he weaved his way under the posts. The conversion by Knipe took the score to a more comfortable 19-5.
Armagh made tactical changes for the second half with Richard Shilliday, Archie McAlpine and James Rolston coming on from the bench. Both sides continued to play excellent entertaining rugby and 15 minutes into the half Armagh succumbed to the pressure when a Ballymoney five meter scrum was driven over in the corner narrowing the gap to seven points. Knowing that a converted Ballymoney try could have led to extra time Armagh combined attack, Dan Reynolds and Adam Magowan making penetrating runs down their respective wings, with resilient defence, to keep Ballymoney at bay for the rest of the half. 
This was an outstanding performance by an Armagh Thirds squad that is growing in confidence in both cup and league competitions. 
Armagh team: K Sherry, A Edgar, T Johnston, W Martin, C Oliver, J Gilpin, R Finlay, T Johnston, T Girvan, A Knipe, A Magowan, M Allen, A Brady, D Reynolds, A Winder, R Shilliday, A McAlpine, J Rolston.
Scorers: Tries, A Brady (2), W Martin. Conversions, A Knipe (2).
Sign Up To Our Newsletter