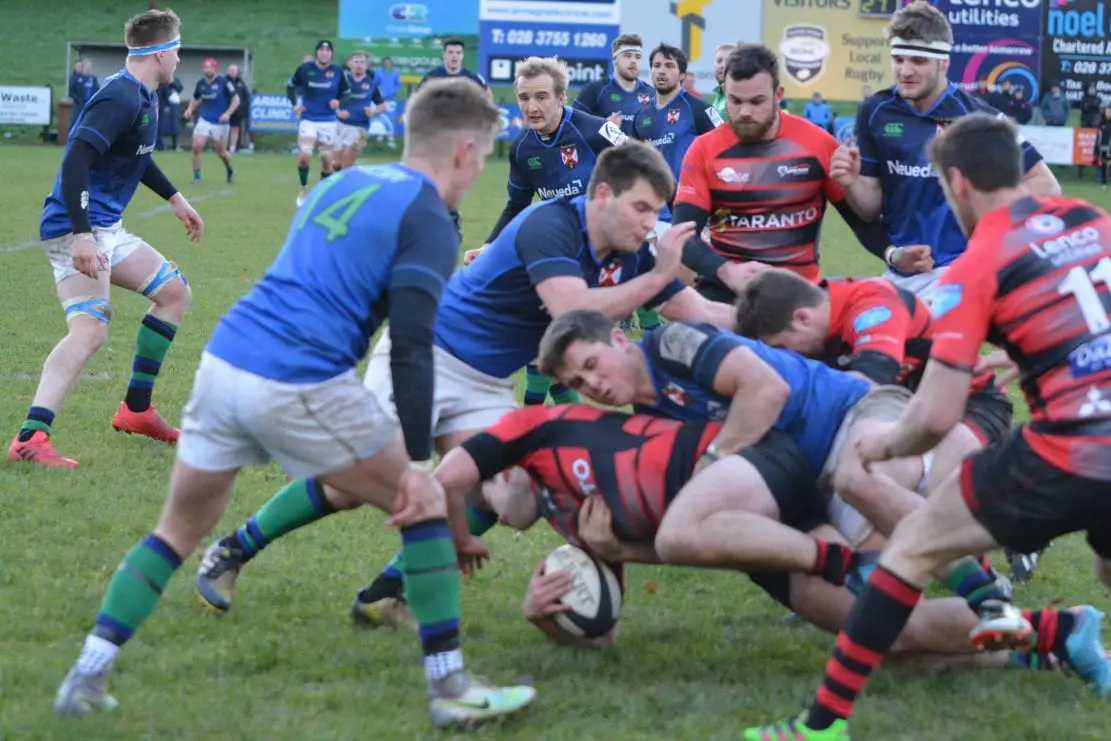 All too often we hear the cliché 'a game of two halves' used to illustrate a sporting encounter. This, however, would have been aptly used to its full effect to describe Saturday's rugby match between City of Armagh and Queens University.
This was Armagh's eighth game of the season in the Ulster Bank All Ireland League and having suffered four defeats they were, understandably, keen to make amends. Queens, on the other hand, had defeated League leaders, Malone, two weeks previously and were keen to keep their winning run alive.
Queens kicked off in crisp cold conditions with a brisk breeze at their backs. Eight minutes into the game Armagh were penalised for hands in a ruck. Full back, Jack Milliken, converted the kick to put the visitors 0-3 ahead. Queens were penalised five minutes later for entering a ruck from the side and Cormac Fox levelled the score at 3-3. Both sides contributed to a very physical encounter with a high intensity and pace and a number of players picked up injuries on both teams.
On 15 minutes, Armagh took the lead when Cormac Fox kicked his second penalty of the day. The lead was short-lived, however, when Queen's winger, Johnny Milligan, scored the opening try of the afternoon. The conversion brought the score to 6-10 to the visitors. With an Armagh player in the sin-bin, the Queens tight head prop, forced his way over to score his team's second try and, with the conversion making the score 6-17.
Just before halftime, things got worse for the home team when Queens scored try number three. Ulster A scrum-half Johnny Stewart crossed close to the Armagh posts and Milligan's conversion was on target to establish a commanding lead for Queens, 6-24, as the half time whistle blew.
Armagh have played a number of thrilling games this season and now they had to show character themselves if they had any hope of getting anything out of this match.
They did get off to a good start in the second half with an early try from winger, Evin Crummie. The conversion by Cormac Fox brought the score to 13-24 and maybe put some doubt in the visitor's minds that the game wasn't over by any means. Queens then had hooker, Gary Dillon, sent to the sin-bin following a late tackle on Cormac Fox.
Armagh were then penalised for entering a ruck improperly in front of their posts and Milligan stretched Queens ahead 13-27.
The final quarter of the match went undoubtedly in Armagh's favour with Daryl Morton leading the charge and crossing the Queen's line only to have the try dis-allowed. Not to be deterred Armagh continued to pile on the pressure, resulting in a try under the posts for scrum half, Harry Doyle. The conversion from Fox reduced Queen's lead to 20-27 with a dramatic finish now on the cards.
The Armagh pack were totally dominant at scrum time and after repeated resets close to the Queens tryline, the referee awarded Armagh a penalty try and yellow carded a Queens flanker for breaking his bind.
Remarkably the match was now tied at 27-27. Not content with a draw, the home side pressed for a final score as the clock ticked down.
In the dying minutes, a Queens centre was penalised for a high tackle on Chris Colvin and Cormac Fox made no mistake from in front of the posts to edge Armagh ahead, 30-27.
The final whistle went with the Armagh supporters jubilant at the sensational victory no one would have predicted at half time.
The Armagh coaching team were delighted to get back to winning ways in the All Ireland League with the team moving up to fifth place. "The team displayed tremendous character and spirit in the second half but we still need to generate a fully 80 minute performance', commented Willie Faloon.
This Saturday, Armagh travel south to Munster to play Cashel in back-to-back fixtures. With both sides on 20 league points it promises to be a serious challenge and Armagh will travel in confidence with captain Ali Birch due back from injury.
Sign Up To Our Newsletter
Sign up to our newsletter for major breaking news stories as they happen – right to your inbox.