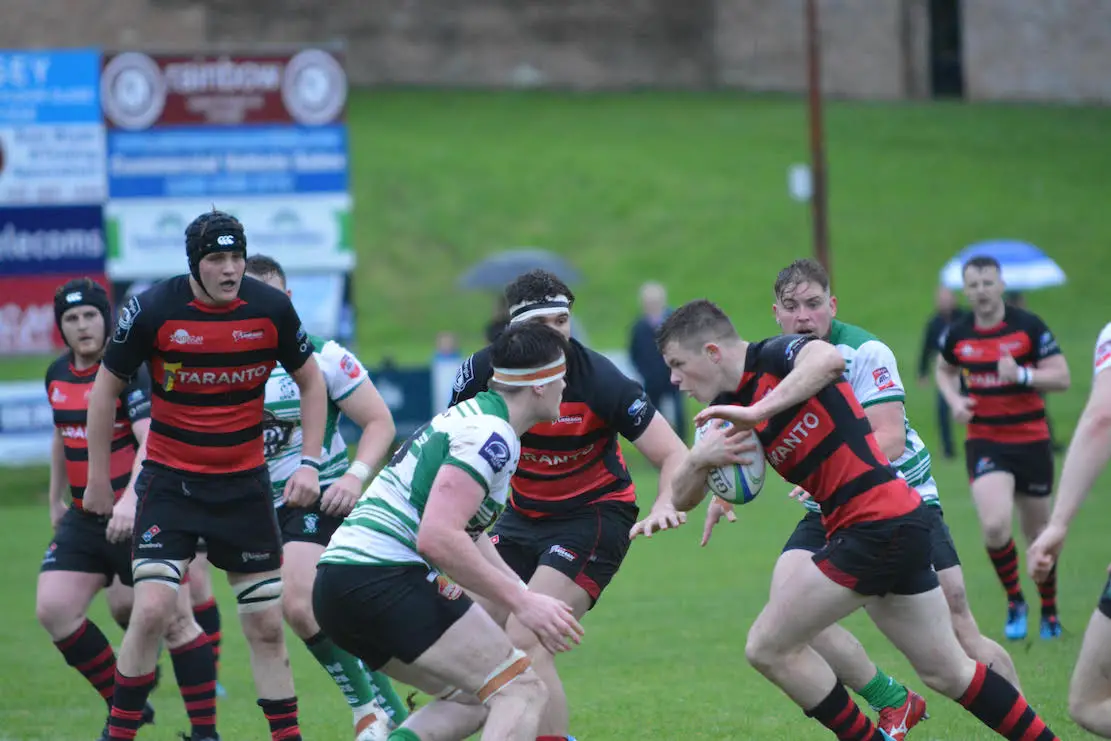 City of Armagh RFC 13 Naas RFC 7 Report by Evan Morton
City of Armagh hosted Naas RFC at the Palace Grounds on Saturday in the season's opening AIL fixture. The home side put in a lacklustre performance in difficult conditions, but 13 unanswered points in the second half, secured an important victory and 4 valuable League points.
Naas kicked off in light drizzle but by the end of the first quarter, heavy rain arrived for the rest of the game which was to play a factor in making conditions tricky for both sides.
Armagh kept possession for the first five minutes, putting together a number of phases in their own half.
Early turnovers by both sides were an indication of what lay ahead, but in the eighth minute, Armagh had a glorious chance to open the scoring.
A lovely chip kick from Cormac Fox was collected by fullback, Tim McNeice who burst into the Naas half. Unfortunately the try scoring pass to Chris Colvin did not go to hand and the chance was spurned.
Robert Whitten then took a quick tap from a free kick and when the ball was spread wide, Andrew Willis was forced into touch.
On fifteen minutes Naas then had a terrific chance to score their opening try. A loose kick from Armagh was returned from deep in Naas territory and slick passing saw the ball move 60 metres up to the Armagh line.
The ball went loose and Armagh knocked on giving the visitors a great attacking position. Out-half Bryan Croke kicked to the corner and winger Eoin Walsh almost latched on to the ball to score but it went into touch, much to the relief of the Armagh supporters.
Good pressure from Naas was rewarded in the 23rd minute with a try that was fairly contentious. From a scrum 10 metres from the Armagh line, Nass attacked left and when flanker Ryan Casey threw the ball forward, the officials allowed play to continue and full back Fionn Higgins kicked ahead to touch down for the opening try. Scrum half, Peter Osborne kicked a fine conversion for a 7 nil lead to Naas.
The wet conditions resulted in a number of handling errors by both sides and made the game a stop start affair. Armagh were guilty again of kicking away possession and Naas continued to look threatening when their backline were given opportunities to attack.
Halftime arrived with the visitors holding on to their narrow 0-7 lead.
The second period restarted with Armagh missing a tackle allowing Naas to get early momentum. On 45 minutes, the home side were penalised for offside but Osborne was wide with his kick from 40 metres.
This stirred Armagh and Fox kicked across field and Willis took a fine catch and made 30 metres. Naas killed the ball at the ruck and Fox kicked the resultant penalty into the corner.
A super catch and drive from the home pack saw replacement hooker Andrew Smyth touch down for the crucial score. Fox converted and the match was all square on 50 minutes.
Armagh's McNeice then instigated an attack and flanker Barry Finn made a burst into the Naas 22. Just when Armagh looked set to score their second try, a forward was penalised for an illegal clear out and Naas were able to clear the danger. Armagh however continued to dominate territory with Whitten and McKinney prominent in driving at the opposition, as were props O'Hagan and Mullen.
A turning point in the match then occurred on 56 minutes when Naas winger, Craig Adams intercepted an Armagh pass on his own 22 and raced away for what looked like a certain try. Armagh's Shea O'Brien however raced back and caused Adams to lose his footing and his attempted offload to Ben Swindlehurst went forward. Armagh had got out of jail.
The Orchard County side returned to the Naas half and were able to put the visitors under pressure once again. Chris Colvin hacked forward a dropped pass by Naas and the visitors were forced to concede a penalty. Fox was successful with the kick to put the home side ahead 10-7, on 63 minutes.
On 66 minutes, Osborne had another long distance penalty attempt after Armagh conceded a scrum penalty but his kick dropped short. With the scoreline 10-7, Armagh were guilty again of kicking away possession to the opposition, creating pressure from the visitors.
With ten minutes remaining, wInger O'Brien then had a great attacking burst, but he ran into traffic and the opportunity was lost to stretch the Naas defensive line out wide.
The match came to a close with another handling error by Naas on their 22 and the visitors then conceded a scrum penalty. Fox converted for 3 points with the last kick of the match and the final scoreline was 13-7 in City of Armagh's favour.
After the match, the Armagh coaching team were pleased to have secured a vital home victory but were disappointed with the overall team performance, particularly in the first half.
Willie Faloon commented: "Naas were always going to be difficult opposition for us today and our guys were slow getting into the tempo of the game. Conditions were pretty difficult for running rugby but we are delighted to get this first win under our belts."
City of Armagh's next fixture is away this Saturday to Dublin side, St Mary's College.
Sign Up To Our Newsletter