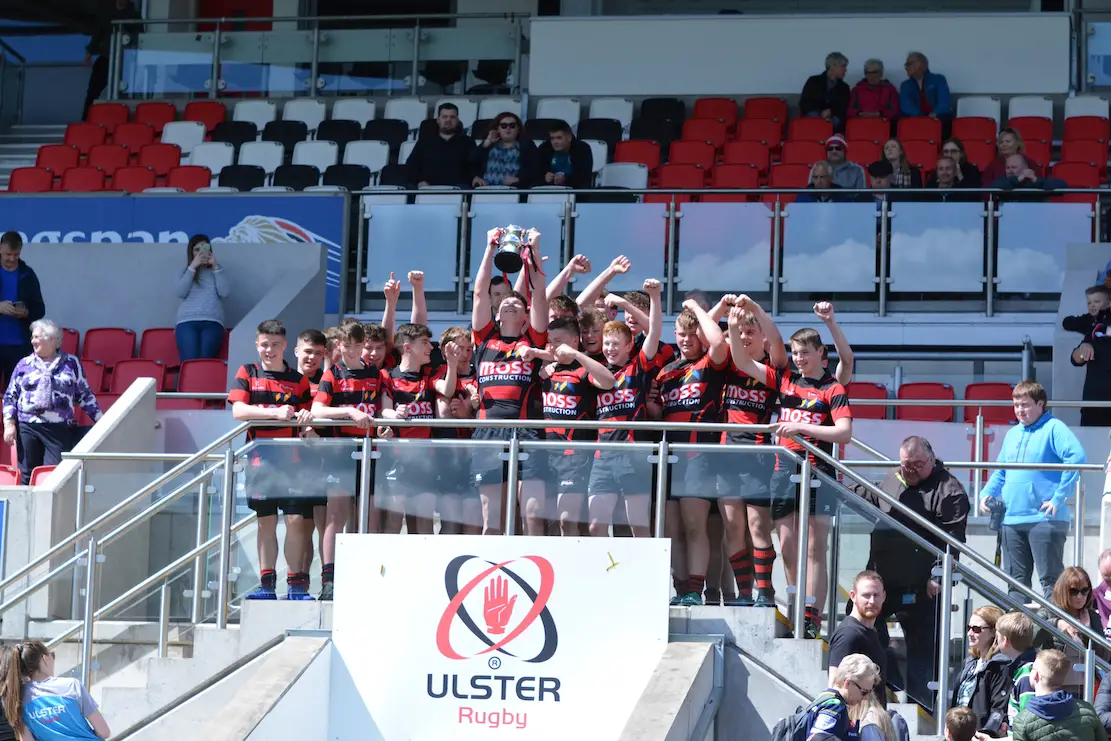 Armagh 29 Ballynahinch 0
On Saturday under blue skies at the Kingspan Stadium, Belfast City of Armagh U16s took on Ballynahinch U16`s in the final of the Ulster Carpets Cup.
Straight from the first whistle, Armagh took control of the game, moving the ball fast and confidently through their back line.
With three minutes on the clock and after several great phases, Sam Glasgow scored between the posts to put Armagh 5 points ahead. Jack Fox converted the try for a 7 point lead. Ballynahinch restarted and again Armagh went on the offence looking to maintain their good start to the game.
After putting tremendous pressure on the opposition and going through some well constructed phases, Ballynahinch conceded a penalty. Once again, Jack Fox made no mistake with the kick and added another 3 points.
Now 10 points ahead, the young Armagh side continued to press forward and Ballynahinch struggled to defend against the constant wave of attacks by Armagh.
Following several strong phases, RJ McCall powered his way through the Ballynahinch defence and touched down for try number two. Already 15 points ahead, Jack Fox confidently converted and now Ballynahinch were staring at a 17 point gap.
Ballynahinch then pushed forward to put Armagh under pressure for the first time in the match. The Orchard County side defended well and again won a turnover and moved the ball swiftly along the back line.
After a few well-placed kicks by Michael Burnett and Jack Fox, Zac Corkey chased the ball down and went over to score Armagh's third try.
The whistle blew for half time and City of Armagh had an impressive 22 – 0 lead after an outstanding first period of play.
The second half started with a resurgence in form by Ballynahinch, keen to try and get back into the match. The County Down side took control from the whistle and started to put Armagh under pressure through their forward pack.
Armagh defended well and held the Ballynahinch side at bay. Several good clearance kicks from Michael Burnett gave Armagh good territory in the Hinch half and the red and black team were back on top.
Sam Glasgow, after several great carries, forced his way through the Ballynahinch defence to claim his
second score of the day. Jack Fox converted with ease putting Armagh 29 points clear.
The score remained 29-0 for the remainder of the second half as both sides played some enterprising rugby.
The final whistle sounded and City of Armagh captain, James Crummie lifted the cup on behalf of the victorious Armagh boys in front of a large crowd of supporters who had travelled to the final.
This was a tremendous result for the Orchard County lads, following up their Ulster League championship to claim the League and Cup double. Great credit to all the players involved and the coaches and team managers who worked hard all season with great dedication and commitment to secure this magnificent achievement.
Sign Up To Our Newsletter