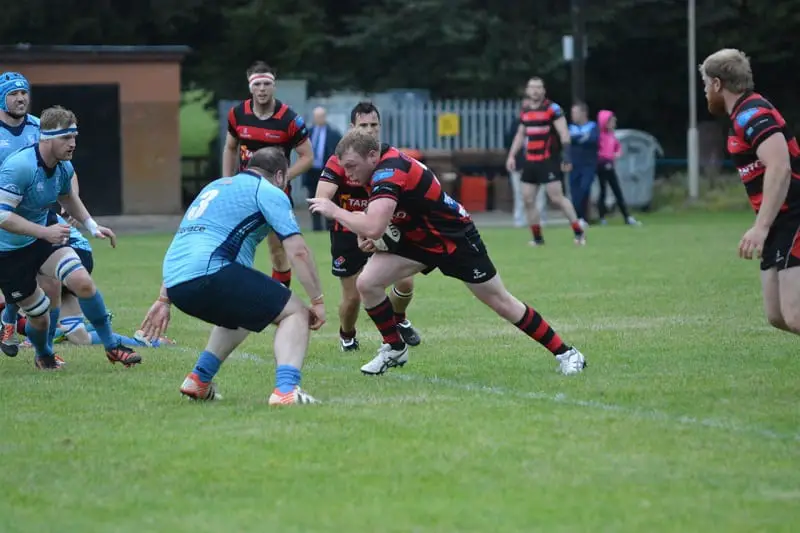 City of Armagh RFC completed their first set of four matches in the All Ireland League with a comprehensive defeat of Barnhall RFC at the Palace Grounds on Saturday. With four wins out of four, it has been an excellent start to the league campaign and the target set by the coaching staff has been achieved.
Saturday's match was played in perfect autumnal conditions and the starting fifteen was unchanged from the team that had narrowly won at Dungannon the previous week.
Having received the kick off, Armagh quickly applied pressure and forced their way up field. With only two minutes on the clock, the home team got off to the perfect start when winger Andrew Willis finished off a break in mid-field to score in the corner. Outhalf Harvey Young kicked an impressive touchline conversion for a 7-0 lead. An excellent restart from Barnhall, a strength of theirs, forced Armagh to concede a penalty, allowing them 3 simple points. The favour was duly returned by the visitors as Young kicked his first penalty of the day, edging Armagh ahead 
The second quarter was evenly balanced but on 30 minutes scrum-half Harry Doyle made a blind side break and linked well with his forwards. Left winger John Faloon received the ball and charged over for Armagh's second try which was unconverted and the home team now led 15-3. From the restart, the visitors stormed back into the Armagh 22 and won a penalty which they kicked to the corner. The powerful Barnhall forward unit forced their way over the line with a strong drive for their opening try. Outhalf Gillespie converted to bring Barnhall right back into the match at 15-10.
As the half-time break approached, a penalty to Armagh was converted by Young and he added a further 3 points with a superb long range effort in first half injury time. The half time whistle went with Armagh ahead 21-10 with spectators agreeing this was an evenly balanced match.
Armagh began the second half back on the attack and were quickly rewarded when Andrew Willis got his second try of the day and Young's conversion gave the home team a 28-10 lead. The bonus point for Armagh arrived two minutes later with try number four following a neat counter attack involving both backs and forwards. Hooker Andrew Smyth finished the move to touch down and stretch Armagh's lead to 35-10. Another Young penalty put a distance of 28 points between the sides. 
With 10 minutes remaining, Armagh scored a further try through captain Ali Birch and Young converted. Barnhall however never gave up and were awarded a penalty try when man of the match Young received a yellow card for illegally preventing a Barnhall score.
With the score 45-17 and Armagh down to 14 men, the match drew to a close but the home supporters were treated to a further Armagh try in injury time.
As Barnhall chased a 4 try bonus point, defensive pressure told and captain Birch intercepted an off-load to race over from 40 metres. Jonny Pollock converted to leave the final score 52-17.
A pleasing result for the Armagh coaching staff but everyone knew the first half had been quite a tight affair. It was only in the second period that Armagh reduced their error count and finished off some good scoring opportunities.
The team now have a two week break from All Ireland League action and the focus this Saturday returns to the First Trust Senior Cup with a home quarter final against neighbours Dungannon. This will be the third meeting of both teams in six weeks and a competitive encounter is expected with Dungannon looking to avenge the two defeats by Armagh so far this season.
Newsletter
Sign up for our weekly newsletter here.