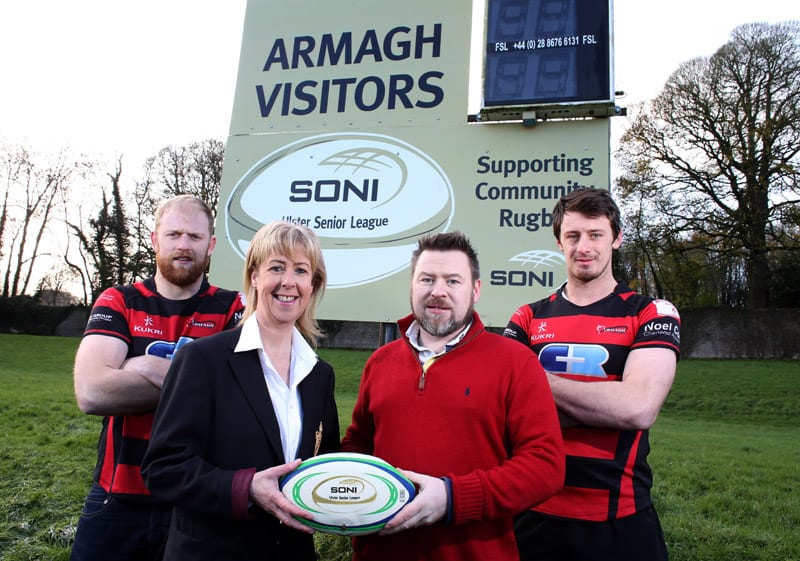 City of Armagh RFC is full of Christmas cheer as it announced a new sponsorship deal with SONI – System Operator for Northern Ireland.
The company, which operates the electricity grid, bringing power to every part of Northern Ireland, has signed up as one of the club's leading sponsors in a two year deal.
The news follows SONI's recent announcement as the new title sponsors of the Ulster Senior League.
Speaking about the sponsorship Shane Brennan, Project Manager at SONI commented: "Local rugby clubs play a fundamental part in the local community, everything from teaching the importance of team spirit and encouraging a healthy and active lifestyle to its young members –clubs like Armagh and their commitment to making a meaningful contribution is commendable and something we at SONI are delighted to support.
"It's a great opportunity for us to demonstrate our commitment to the local community by supporting a much loved club in Armagh which shares similar values to us.  Positively impacting communities across Northern Ireland lies at the heart of everything we do."
Players Robbie (R) and Neil Faloon (L – Captain) join Club President Shirley Anne Donaldson with Project Manager at SONI, Shane Brennan to celebrate the new sponsorship.
Shirley-Anne Donaldson, President of City of Armagh RFC said: "We're thrilled to have the support from SONI, partnerships like this are imperative to the longevity and success of local rugby clubs. We are looking forward to strengthening our partnership over the next two years."
SONI operates the high voltage electricity grid, ensuring that homes and businesses across Northern Ireland have a safe, secure, economic and reliable supply of electricity.
Part of SONI's work is planning ahead for Northern Ireland's future growth and developing the electricity grid to meet future demand, projects like the proposed North-South Interconnector are the key to ensuring Northern Ireland has the electricity it needs for economic expansion. SONI is due to open a new drop-in information centre in Armagh early next year.
For more information visit www.soni.ltd.uk and www.ulsterrugby.com or connect with SONI on twitter @soni_ltd using #KeepingTheLightsOn.
Sign Up To Our Newsletter