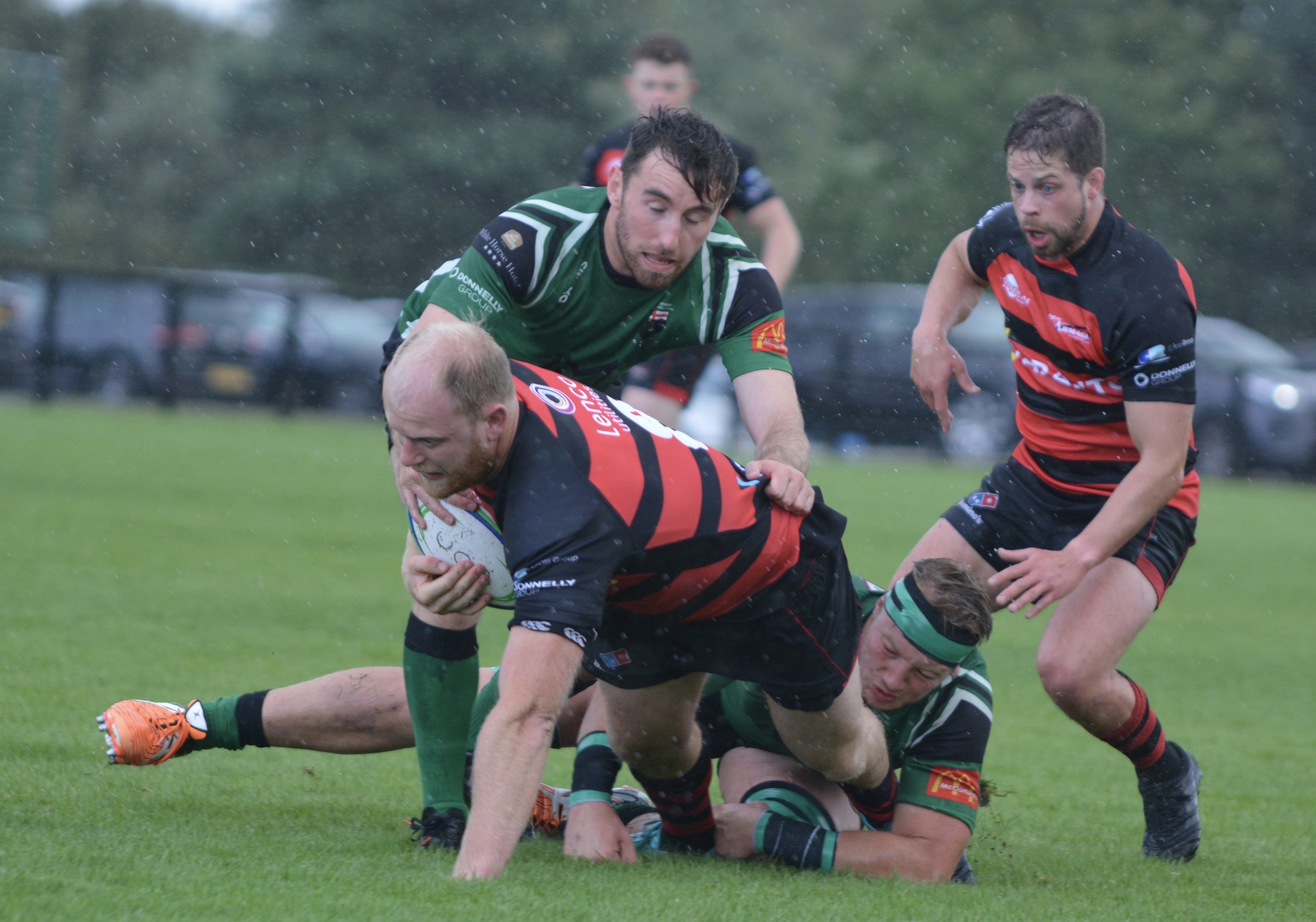 City of Armagh began their 2019-20 season on Saturday when they played an away fixture against City of Derry in Division 2 of the SONI Premiership.
The weather forecast had warned of heavy showers and true to form shortly after kick-off the heavens opened. For ten minutes what could only be described as a deluge forced most of the spectators to seek shelter inside the club house.
Armagh kicked off into a stiff breeze and after twelve minutes Robbie Whitten forced his way over the Derry line to score at the posts. Harry Boyd converted to bring the score to 0-7.
Shortly after the re-start Armagh's open side flanker, Barry Finn, was 'sin binned' for straying off-side.
For a short period of the game Armagh appeared to lose concentration which enabled City of Derry out-half, Neill Burns, to evade the Armagh defence and score a try under the posts. The conversion levelled the scores at 7-7. As Barry Finn returned to the game he scored a fine try in the left corner. The stiff breeze carried the conversion wide, 7-12.
Shortly after the re-start it was the turn of the 'Derry open side flanker to be 'sin binned' for failing to retreat 10 metres following a penalty. As the referee blew for half-time it became evident that Armagh were beginning to dominate the match both in open play and set pieces.
The second half was just ten minutes old when  Barry Finn put in a strong run only to be forced into touch a metre short of the 'Derry line. A line-out error by the home side, let Armagh's James Hanna grab the ball and touch-down. Again the conversion went just wide of the upright but with the score at 7-17, the visiting team appeared to be in control of the game.
The final try of the match was scored by number eight, Neill Faloon when he forced his way over the line as he picked up a ball from the base of a five-metre scrum. Harry Boyd's conversion completed the scoring at 7-24.
From Armagh's point of view this result was encouraging for an early season fixture especially as several team regulars were missing and five players made their First XV debut. To return home with a bonus point win marks a healthy start to the season.
Next up for City of Armagh is a tough first round match in the First Trust Senior Cup, when Banbridge are the visitors to the Palace Grounds this Saturday at 2.30pm.
The home team will be looking to make progress to make it three Senior Cup finals in a row, but a huge step up in performance will be required.
Sign Up To Our Newsletter