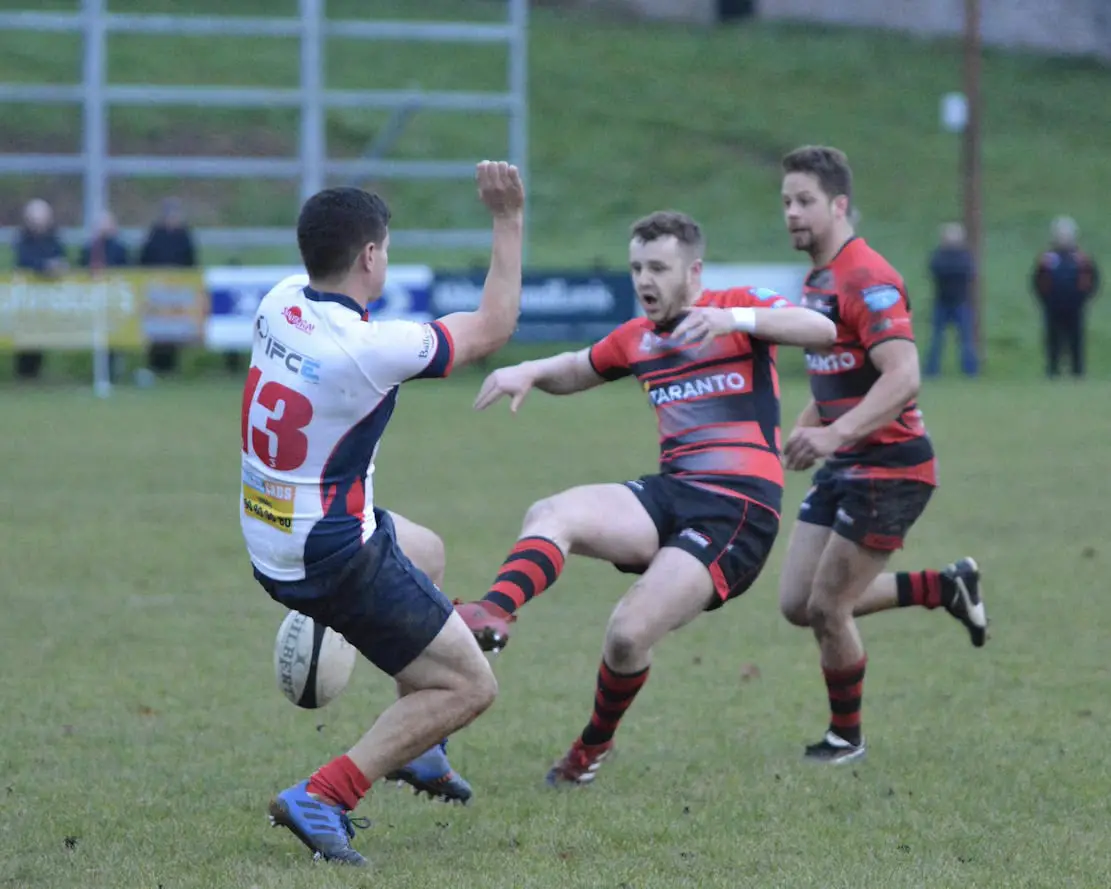 Highfield RFC 17 City of Armagh RFC 10
City of Armagh RFC and 40 travelling supporters made the long journey to Cork at the weekend to play Highfield in the AIL and came home reasonably satisfied with a losing bonus point.
When the sides played each other in Armagh earlier in the season, many Armagh supporters claimed that Highfield were the best side they had played all season.
Highfield were in second position in the league pushing Malone all the way while Armagh were in 4th position just ahead of Queens and Cashel.
In excellent playing conditions Highfield won an important toss and decided to play into a stiffish breeze up a slight slope.
For the first 15 minutes Armagh just could not get hold of the ball and having given away five penalties on the trot it was no surprise that Highfield got on the score sheet first on 14 minutes following a series of scrums and drives close to the Armagh line.
The try when it came was converted by centre Paddy O'Toole.
Armagh then got into the game and were helped slightly by a yellow card to Jack Duffy for a late tackle on 22 minutes. Armagh then used their numerical advantage with a well taken try by flanker Stuart Hooks after 25 minutes which Cormac Fox converted to bring the scores level.
Try as they may Armagh could not unlock the resilient Highfield defence who slowed the ball down at every ruck. When Armagh did get into a good field position, a crooked line-out let Highfield off the hook.
On the stoke of half time Fox had a chance to nudge Armagh into the lead with a forty-metre penalty but the kick struck the post and the score at halftime remained 7-7 in an evenly balanced encounter.
The second half commenced and City of Armagh continued to concede penalties at the breakdown and with out-half Brian O'Hea's tactical kicking, the Armagh side could not get a foothold in Highfield territory.
Highfield's bulky set of forwards played typical Munster rugby and despite resolute defence it was inevitable that another score would come.
On 58 minutes, Tim Ryan an American international prop, drove over close to the posts for O'Hea to convert to give Highfield the lead, 14-7.
Soon after, Armagh's Robert Whitten was harshly penalised and O'Hea stretched the Highfield lead to 10 points with a well struck penalty.
Armagh still had chances in the final quarter and prop Daryl Morton made an excellent break but just failed to get a scoring pass away to the supporting Chris Colvin.
In the last 10 minutes Armagh did dominate and both wingers, Robbie Faloon and Ryan Purvis threatened to score when the visitors were able to get the ball out wide.
Referee Helen O'Reilly finally lost patience with Highfield's tactics and sent another man to the bin. Armagh to their credit never gave up and two minutes from the end, Cormac Fox struck a neat penalty to give Armagh a losing bonus point.
Armagh tried right up to the end but couldn't find a further score and Highfield were able to seal victory with a final scoreline 17-10.
Following the match, the Armagh coaching team were reasonably satisfied with a losing bonus point in Cork, but the team will have to raise their game again this week when they meet Division 1A outfit Cork Constitution in the Bateman Cup at the Palace Grounds.
It is still a learning curve for this young Armagh side.
City of Armagh Youth round-up
City of Armagh youth rugby teams got back into action on Saturday. With 3 league fixtures postponed in December due to the weather the youth teams were eager for some competitive rugby.
U18s: The U18s maintained their unbeaten run in competitive rugby this season when they put away Randalstown in a league fixture 48-12. The U18s scored 8 tries with Shay O'Brien getting 2 tries, Adam Magowan scoring 4 with Ryan Morton and Dan Reynolds getting 1 each. 4 of the tries were converted.
U16s: The U16s also remain top of their league as they beat Randalstown U16s 51-10 in their league fixture. The U16s scored 9 tries with Cathal Devlin getting a brace, Philip Nichol, James Agnew, William Coleman, James Crummie, Sean Hannaway, Adam Wilson and RJ McCall all getting on the score sheet. Jack Fox converting 3 of the 9 tries.
U14s: With Randalstown U14 not fielding this season, Armagh U14s had a friendly v Lurgan U14s. The U14s used 28 players in this fixtures and scored 13 tries winning 65-12. Prolific try scorer Lee Nesbitt scored 6 of the tries with the remainder coming from Michael Burnett, Sammy Hamilton, Daniel McGuckin, Jamie Marshall and Davyd Wilson. Special mention to Jack Rolston who also nearly scored in his first game of rugby for the U14s.
Like the U16s the U14s will now have 7 league games in a row (up to March) when the league outcome will be concluded.
Next weeks U14 and U16s fixtures v Malone are now away in Malone (Saturday 13 January). The U18s fixture v Malone however will be played on 17th Feb in advance of the 1XV Ulster Bank All Ireland League game v Malone at the palace grounds. It is hoped all of the youth players and supporters will be back in time to provide additional support to the 1XV who are playing Cork Con in the All Ireland semi-final being staged at the Palace grounds.
Ken Redpath
Sign Up To Our Newsletter