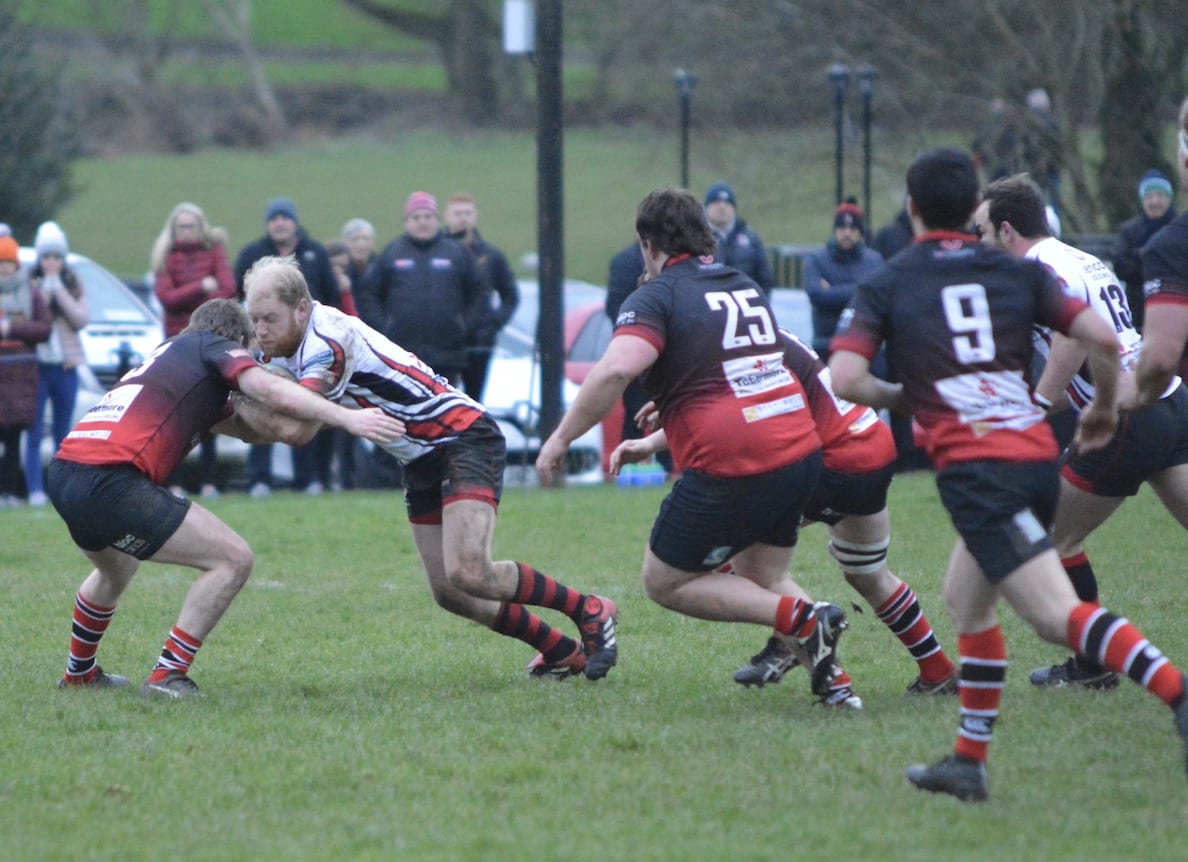 A bumper crowd gathered on Saturday at the Palace Grounds for a keenly anticipated semi-final fixture in the First Trust Senior Cup between City of Armagh and Rainey Old Boys.
The visitors kicked off in perfect autumnal-like conditions and Armagh used an early penalty to take play up to the Rainey 22. From the line-out, number 8 Neil Faloon peeled way and made 20 yards to touch down for quite a soft try after only 2 minutes. Out-half Cormac Fox kicked a fine conversion and Rainey had got off to a terrible start with Armagh ahead 7-0.
The home side went on to dominate the first quarter, having the lion's share of possession.
Rainey's efforts were not helped when captain, Paul Pritchard had to leave the field with a hand injury.
James Morton made a line-break into the Rainey 22 but a lack of support saw Rainey steal possession and clear the danger. The home side were then stunned when Rainey made their first serious attack of the match and centre Damian McMurray sliced through some non-existing defence to touch down for a try on 18 minutes. Andrew Magrath was unsuccessful with the tricky conversion and the score remained 7-5.
Straight from the restart, Rainey were penalised and Fox took a long range penalty attempt. His kick from 45 metres hit the post but nobody from Armagh had followed up and Rainey cleared their line.
Indeed the visitors went straight down the pitch and scored their second try of the match. Armagh's defence again was found wanting when winger Andrew Donaghy made the initial break and quick hands led to left winger Ciaran Devlin touching down in the corner. The unconverted try now put Rainey into the lead at 7-10 with 25 minutes played and a cup upset looked a real possibility.
Playing with confidence, the Rainey backline was looking sharp and making ground when in possession.
The home side were spurred into a response and got their reward on 30 minutes when full back Timmy McNeice cut inside to cross for a try to the right of the posts. Fox's conversion restored Armagh's lead to 14-10 and the game was evenly poised.
On 32 minutes, Magrath had a chance to further increase the pressure on Armagh but his penalty kick from 40 metres drifted wide.
With half time approaching, Armagh kicked a penalty deep into Rainey territory and set up a maul from the line-out. Rainey's defence initially held firm and then Fox put in a cross field kick for winger Andrew Willis
to gather and touch down for Armagh's third try which went unconverted.
The whistle went for the interval with City of Armagh leading 19-10 but Rainey as expected, were putting up a real challenge.
The second half commenced with Armagh introducing Shea O'Brien, Andrew Smyth and Gareth McNeice into the action and it was young O'Shea who made a line break to set up a good attacking position.
Quick recycling saw Fox spread the ball out wide and Willis used his strength to claim his second try of the match with just 5 minutes of the second half gone.
The home side were now in control at 24-10 and looked for a further score to stretch ahead.
James Hanna made a break while locks McKinley and Starrett were industrious as ever.
On 55 minutes, Rainey scrum half Jason Bloomfield made a break from halfway and looked like he might reach the tryline but Armagh scrambled back and a lack of support saw the chance for Rainey disappear.
Two minutes later, it was Armagh captain Chris Colvin who sealed the match for the home team when he grabbed an interception on the Rainey 10 metre line and made it under the posts for a converted try and a scoreline of 31-10.
With 20 minutes to play, Armagh continued to dominate possession while Rainey continued to look threatening when they did have the ball.
Good defence by the home side kept Rainey outside the danger zone until the final 5 minutes when Rainey had a couple of 5 metre scrums.
Armagh's James Morton was sent to the sin-bin for a deliberate knock on and in the final minute, Rainey used their extra man to send centre, Andrew Brown in for a consolation score.
The final whistle went with Armagh ending up winners, 31-15 and the Orchard County side will return to the Kingspan stadium to defend the trophy they won last season for the first time in their history.
Ballymena will again be the opposition in a repeat of last year's final.
The Armagh coaching team were delighted to reach another Cup Final following a tough encounter with Rainey OB.
Willie Faloon commented: "We set a target to defend our Senior Cup and we are pleased to have the opportunity to hold on to it but Ballymena will be a major challenge given their current good form."
Mext up for City of Armagh is the semi-final of the All Ireland Bateman Cup when they host Connacht champions, Buccaneers, at the Palace Grounds this Saturday at 2.30pm.
Sign Up To Our Newsletter