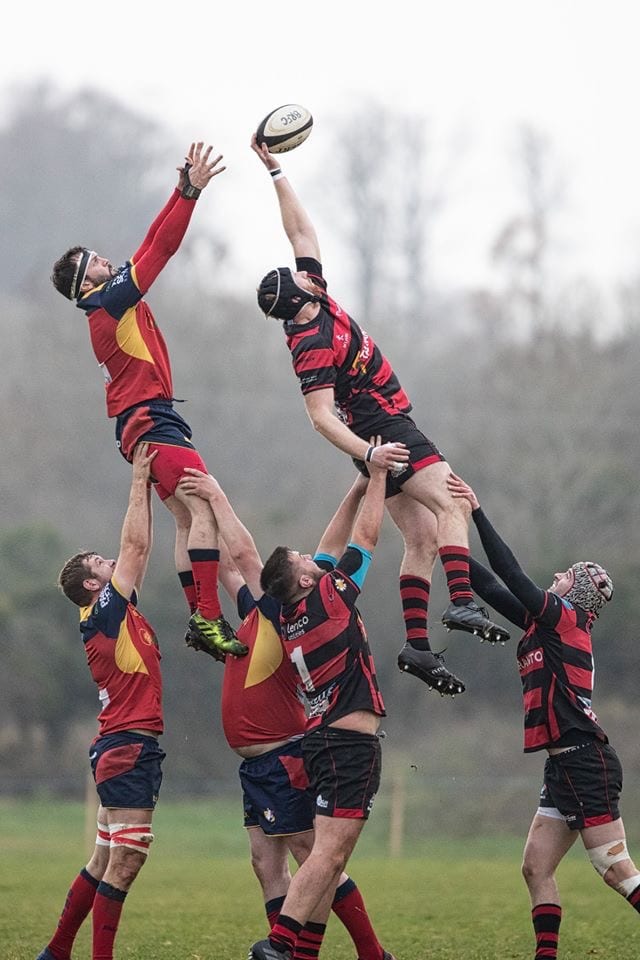 While Ireland rugby fans lucky to have a match ticket were in Dublin, City of Armagh Second XV were in Ballyclare playing an important Conference League game.
The visitors were far from full strength with James Morton, Ollie Miller and Stuart Lester all unavailable.
Played in very murky conditions, Armagh started off brightly with prop, John Clarke barging over for an unconverted try in the early stages.
Ballyclare continued to press with some nice backline moves but it was Armagh who again struck back with elusive full-back, Kyle Faloon sprinting through for another unconverted try and a0-10 lead after 15 minutes.
Armagh then lost their influential captain Stephen Morton after being tackled in a line out and he was replaced by hooker Peter Lamb with Ryan Morton going into the second row.
Further disaster struck when from a scrum forty metres out, Ballyclare moved the ball wide, for their full back to sprint over for a converted try.
Coach Willie Faloon would not have been so happy with the defence on this occasion.
A high tackle minutes later enabled Ballyclare to level the scores at 10 all.
Just before half-time the Ballyclare scrum half dived over to put the home side 17-10 up at the interval.
Ballyclare lost their composure slightly at the start of the second half giving away several penalties which enabled Kyle Faloon to reduce the home side's lead to 17-16.
The Ballyclare right winger was harshly sin binned for a deliberate knock on and Armagh were now in the driving seat. A lovely break from scrum-half Gerard Trainor was finished off by Stuart Hooks on the wing and making his debut this season. The conversion was successful by Faloon and Armagh were ahead 17-23.
Ballyclare were stung into action and pressed hard to get back in front. Magnificent defence in the top corner denied them a score and Armagh went further into the lead when Evin Crummie intercepted 70 metres out to score under the posts.
Faloon's conversion made it a two score game at 17-30.
On 72 minutes Armagh prop, Oisin Kiernan was yellow carded for a high tackle to leave the remaining minutes very tense indeed.
An overlap enabled Ballyclare to score in the corner in the final minute and a magnificent touchline conversion brought the final score to 24-30 with Ballyclare earning a losing bonus point.
Everyone there acknowledged that this was a hard-fought game and it is easy to see why Ballyclare are unbeaten in Qualifying rugby this year.
City of Armagh had Oisin Kiernan prominent in loose play and his front row colleagues John Clarke and Peter Lamb worked hard in the scrums and loose play.
The two experienced second rows Stephen Morton and Willie Martin put in good shifts until injuries forced them both off and the back row of Ryan Morton Gareth McNeice and Josh Kennedy put in a lot of tackling. Ryan and Josh were also very effective in the lineout. Peter
Lamb and Philip Mathews came on as subs with both slotting into the front row. Their experience showed and this enabled starting hooker, Johnny Morton to move to the back row where he tackled like a demon.
Half backs Trainor and Boyd struck up a good partnership enabling centres John Faloon and Evin Crummie to provide ample opportunities for the back three of Shea O'Brien, Stuart Hooks and Kyle Faloon to look dangerous.
This win leaves City of Armagh five points behind Ballyclare in their defence of the Past Players Cup. If they continue to work hard together they could put more pressure on a good Ballyclare side but they need to win their three remaining league games with bonus points.
Full-time: Ballyclare 1 st XV 14 City of Armagh 2nd XV 30
Sign Up To Our Newsletter