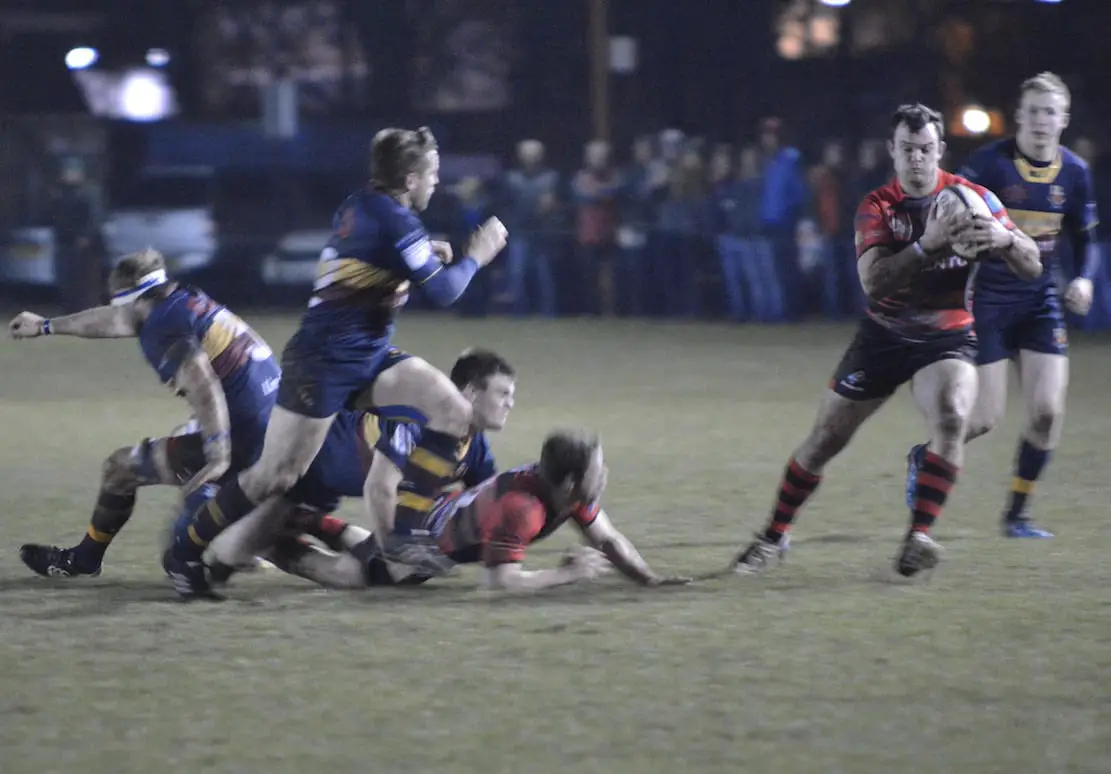 City of Armagh 34 Banbridge 18
Following prolonged heavy rainfall, the pitch at The Palace Grounds on Thursday evening was in perfect condition as City of Armagh hosted neighbours Banbridge in a crunch match in the SONI Ulster Premiership.
Both sides were in contention to win the Stevenson Shield and after a thrilling match it was the current holders, Armagh who ran out comfortable winners, 34-18.
The Co Down visitors started the match in determined fashion with possession being moved swiftly across the backs to look for an early opening.
With 7 minutes on the clock, flanker Stuart Hooks took possession from an over-thrown Banbridge lineout and made ground into the visitor's 22.
The ball was quickly recycled and full-back Timmy McNeice crossed for the game's opening try.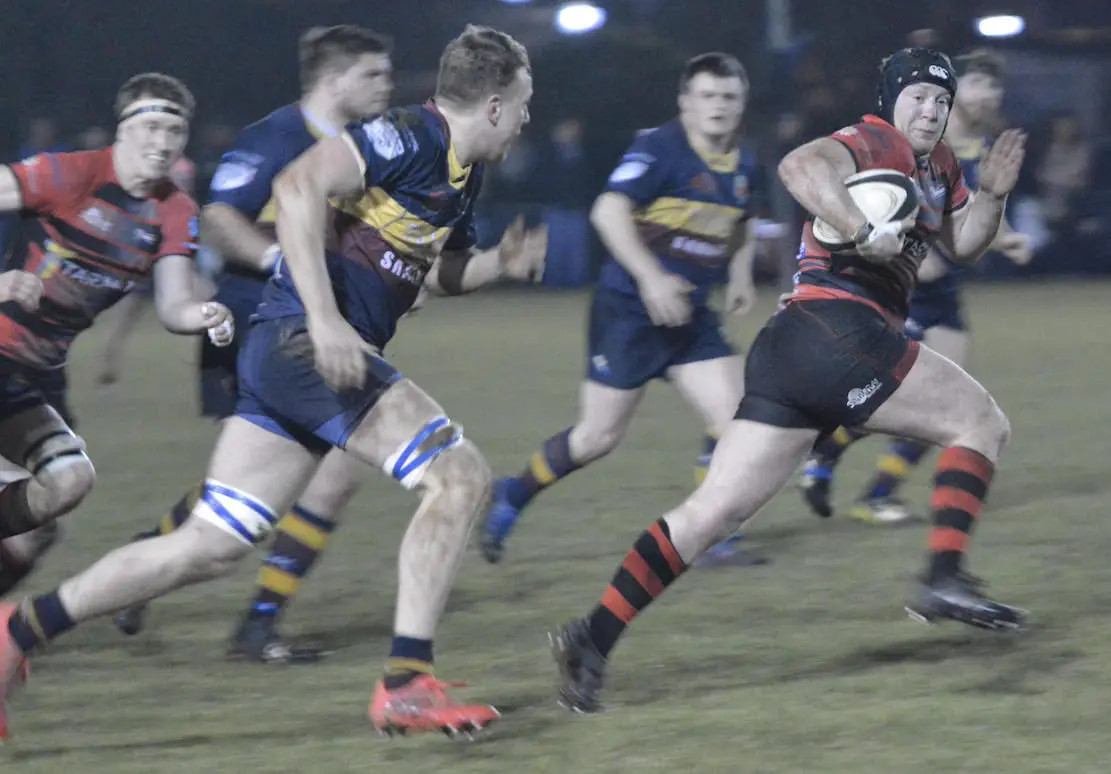 Cormac Fox converted to give Armagh an early 7 nil lead. Two minutes later, McNeice made a 50 metre break from his own half and Banbridge were penalised at the breakdown for Fox to edge Armagh further ahead, 10-0.
On 15 minutes the Armagh backline strayed offside and Adam Doherty opened the visitor's account to make the score 10-3. A line break in the Armagh 22 looked to set up a certain try for Banbridge but the final pass went astray and Armagh were relieved to clear the danger.
Armagh then missed a kickable penalty and Banbridge had a lengthy attacking spell in the Armagh half.
The home team attempted to run the ball out of defence and were penalised by referee Chris Lough and Doherty closed the gap between the sides to 10-6 on 32 minutes.
The experienced Banbridge team dominated the second quarter and were rewarded with a superb try on 38 minutes. Centre, Andrew Morrison took possession on the half way line and made a searing break right up to the Armagh line.
Armagh scrambled back in defence but out-half Jonny Little touched down for a Banbridge try which Doherty converted to put the visitors ahead 10-13.
The home team responded by attacking the Banbridge line and good interplay between forwards and backs saw number 8 Neil Faloon burst through from 15 metres to score in first half injury time.
The conversion surprisingly was missed but Armagh now led 15-13 as the whistle went for halftime.
Following a closely fought first half Banbridge kicked off the second period but it was Armagh who took the early initiative with their second try just 5 minutes into the half.
A penalty was kicked into touch and a superb catch by McKinley and a drive by the pack saw hooker Andrew Smyth touch down. Fox converted the difficult kick and the home team led 22-13.
The home team went on to dominate the third quarter and it was no surprise when the bonus point try arrived on the 50 minute mark.
Banbridge were pinned back in their 22 and outhalf Fox beat the rush defence with a clever grubber kick which winger Andrew Willis latched on to and touched down behind the posts for a simple conversion, making the score 29-13 to Armagh.
Five minutes later, Banbridge got back on the scoresheet making it three tries in a ten minute spell keeping the huge crowd entertained. Simon Lloyd got the touch down which went unconverted and the visitors trailed 29-18.
Banbridge looked threatening when in possession but a solid Armagh defence kept them at bay.
Willie Faloon introduced his bench players for the final quarter and it was John Faloon who came on to score the final try of the match on 62 minutes.
The winger beat his marker to cross in the corner to seal the match for the home team.
Both teams spread the ball in the final quarter but there were no further scores and the full time whistle went with City of Armagh running out victorious with a bonus point win, 34-18.
The Armagh coaching team were delighted with the team's performance on the night against a strong Banbridge side. Flanker Gareth McNeice made his First XV debut and acquitted himself well.
Michael Hoey also made a welcome return from injury. The team will play Malone away in their final SONI League match on a date still to be arranged, to determine this year's champions.
Next Saturday, the 24th , City of Armagh return to action in the Ulster Bank All Ireland League with an away fixture at Galway Corinthians.
Seconds' prepare for crucial Semi-Final 
City of Armagh's second XV warmed up for their crucial semi final match in the Towns' Cup with an easy victory over a gallant Omagh second XV in a league game last Saturday.
Armagh welcomed 2 players back from long term injuries William Holden out from early December and Josh Kennedy out from the Junior Cup final just before Christmas and both had varying fortunes. William was on the end of the Bealer move to
score an excellent try near the end while Josh came off just before half time with a rib injury which will leave him doubtful for next week.
In ideal conditions the game started in well for Armagh with Kyle Faloon showing his dancing feet and pace to score after 2 minutes. Shortly afterwards a sweeping move with backs and forwards combining enabled Shane Mc Keever to stroll over for a converted try. Armagh looked menacing on every occasion they got the ball and good counter attacking set up many opportunities.
Unfortunately, these chances were butchered according to our coach Faloon who was demanding much more clinical approaches to the game. Paul Mullan responded to his former coach Anton Finn by getting up ahead of steam and barged over shortly before half time for another converted try to leave the score 19-0 at halftime in Armagh's favour.
Josh Kennedy who was always in the thick of things got a nasty rib injury and had to leave the field before the interval. William
Martin also got a nasty head injury which needed medical attention and he too could play no further part in the game.
As a result of the injuries Armagh had to bring their 2 subs on and both Michael Hoey back after 4 weeks and Evin Crummie but this did not disrupt the pattern of the game and McKeever went in for his second try after great handling by the backs. Shortly after this Gareth McNeice was talking when he should have been listening and he got 10 minutes in the sin bin for advising the referee how to referee.
John Faloon had to move into the back row for the remainder of the game and he shwed great pace and determination to go in for another converted score. John himself hasn't played for 5 weeks now and it is unfortunate that the rules in the Ulster Branch will not allow him to compete in our next game. Paul Mullan then went in for his second try not to be outshone by his former under 18 team mate Mc Keever in getting a brace of scores.
Holden then got into the act with that well worked try to put Armagh 43-0 up. Omagh didn't give up though and stout
defence prevented a consolation score. In the final minutes Pau Gimero-Alvarez showed his real genuine pace when he ran from his own 22 beating several defenders to dive over to complete the scoring. It is easy to see why he was a member of the Spanish 7 aside team. Final score 48-0
Newsletter
Sign up for our weekly newsletter here.