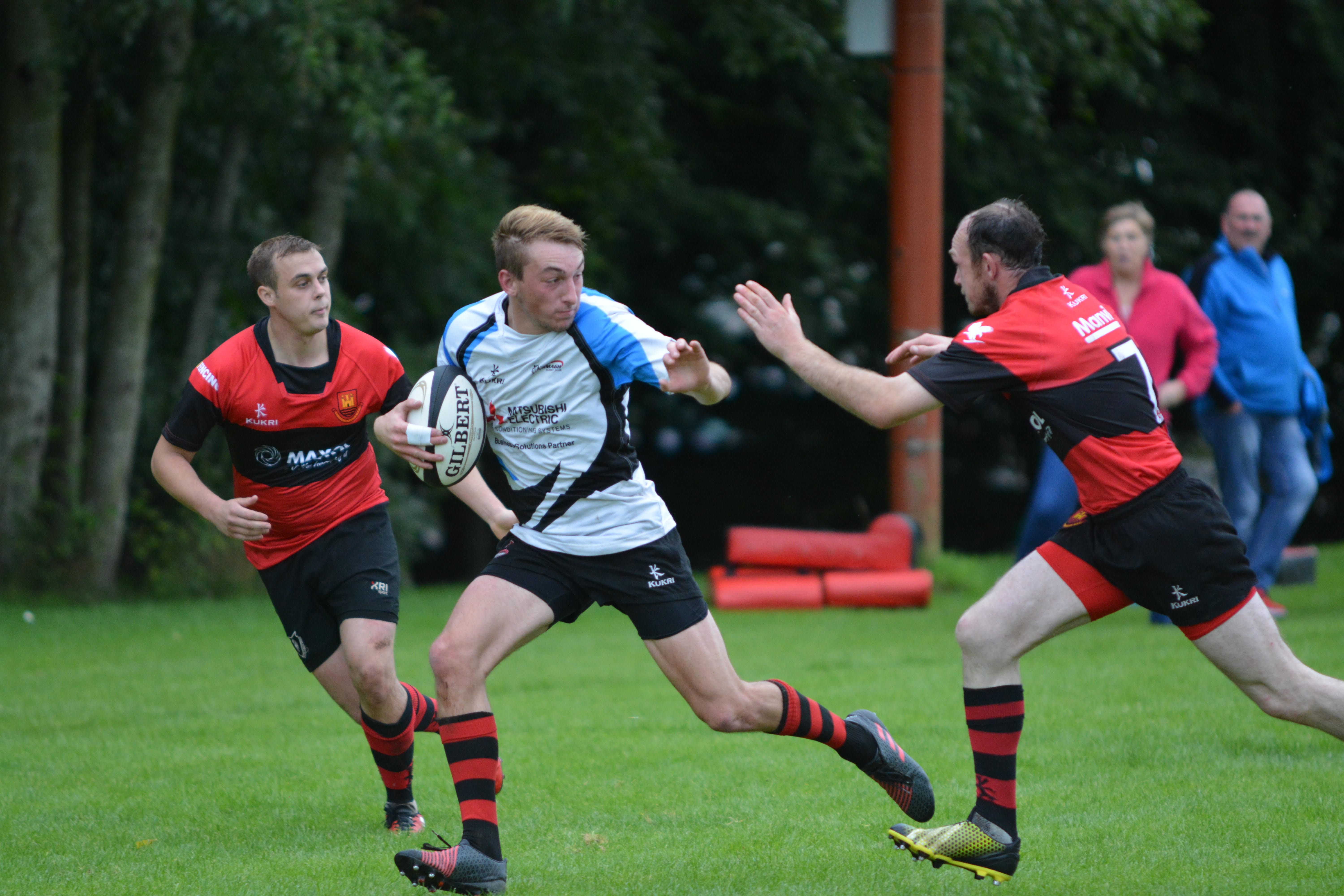 Armagh seconds started the new season in style with an impressive 31 –  28 home win over visitors Carrick.
The game kicked off with Armagh intent on moving the ball at every opportunity with William Holden and debutant Glen Faloon orchestrating the talented home backline.
Play moved end to end and with Captain Stephen Morton leading by example, the home forwards were achieving parity in the scrums. After 20 minutes pressure on the visitors' line was rewarded when James Hanna broke a couple of tackles to touch down at the posts.
With the conversion by Ryan Purvis, Armagh led 7-0. Carrick responded almost immediately by kicking to the corner and after the second attempt, they took a clean lineout ball and drove over for a converted try, 7-7.
With the home side still looking lively, a good back movement through Michael Thompson and Pau Gimeno, a magnificent Purvis offload was finished with Michael Ross going over at the corner flag. Purvis added a great conversion for a deserved 14-7 Armagh lead at half time.
On the restart, early play in the Carrick 22 led to more good hands from the backs to send Shane McKeever in with a run to the corner for another converted try. At 21-7 the scoreline was well deserved, however, Carrick regrouped and through their burly forwards, they scored again after several drives on the Armagh line, 21-14.
Worse was to follow shortly after when the home side failed to clear their lines by trying to play too much rugby and Carrick regained possession to go over at the posts again, 21-21.
With the busy Doyle having entered the fray, the home side once again attacked the Carrick defence with Eoghan O'Hagan, Josh Kennedy and John Fletcher carrying the ball strongly. With play on the line the alert Doyle was able to spot a gap in the Carrick defence to dive over for an unconverted try, 26-21.
Carrick restarted and were then able to steal the dropout and again take play into the Armagh 22.  Quick turnover ball was moved wide by the Armagh backs for Purvis to make a break down the pitch which was carried on by Doyle and Jack Sleator.
He made 20 metres and gave the scoring pass to Gareth McNeice who did well to force his way over the line. This was a real team try and was appreciated by both sets of spectators. With the conversion, the score was stretched to 31-21 for Armagh.
A late converted try by Carrick and a missed penalty opportunity meant that the scored finished 31-28 to Armagh.
This was a good first performance from the team although lessons need to be learned regarding game management and an exit strategy when trying to play the ball out from the 22.
Sign Up To Our Newsletter