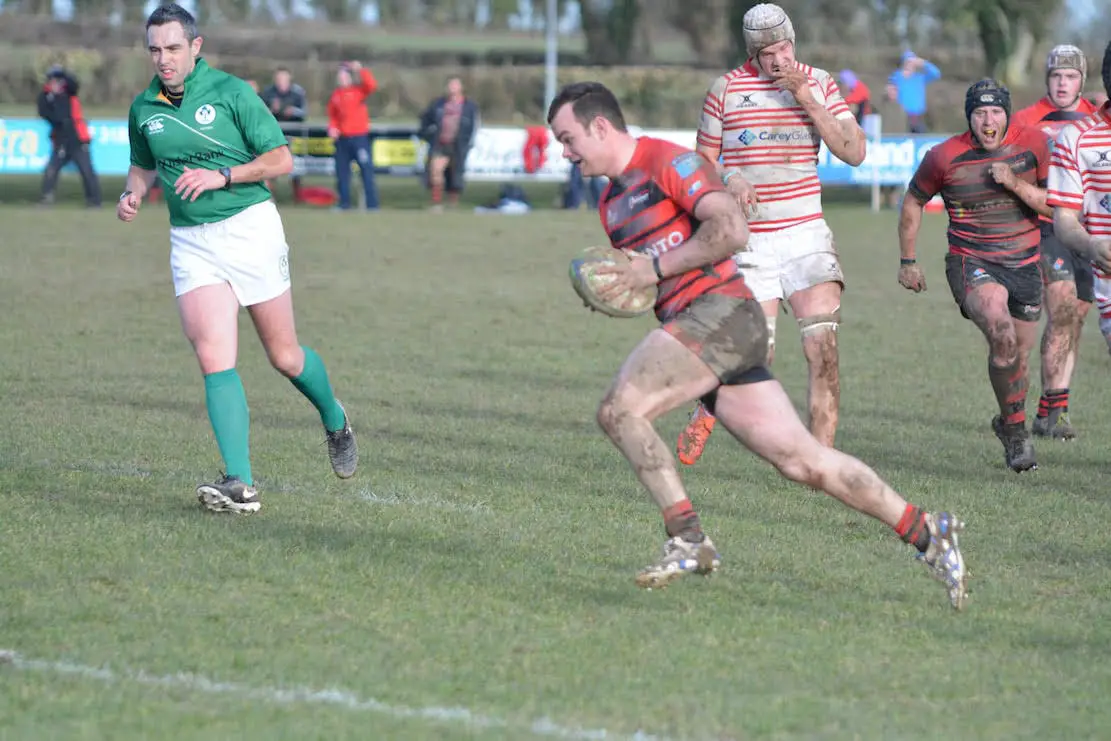 Nenagh Ormond 26 City of Armagh 39
City of Armagh maintained their push for a promotion playoff position in Division 2A when they scored a bonus point victory on Saturday away at third placed Nenagh Ormond.
The reverse fixture at the Palace Grounds had been a high scoring 70 point encounter and this match was to follow a
similar pattern.
Armagh started off brightly and Ryan Purvis kicked a penalty on 4 minutes to open the visitor's account.
Indiscipline then let Nenagh full back Clayton Stewart convert two penalties and the home side now led 6-3 at the end of the first quarter. Armagh were keen to spread the ball at every opportunity and this ambition was rewarded with a try on 19 minutes scored by second row, Peter Starrett.
The conversion was unsuccessful but the visitors had edged ahead 6-8.
Despite losing their previous two matches, Nenagh always looked threatening and the Tipperary side took the lead with a well-worked try following turnover ball on halfway.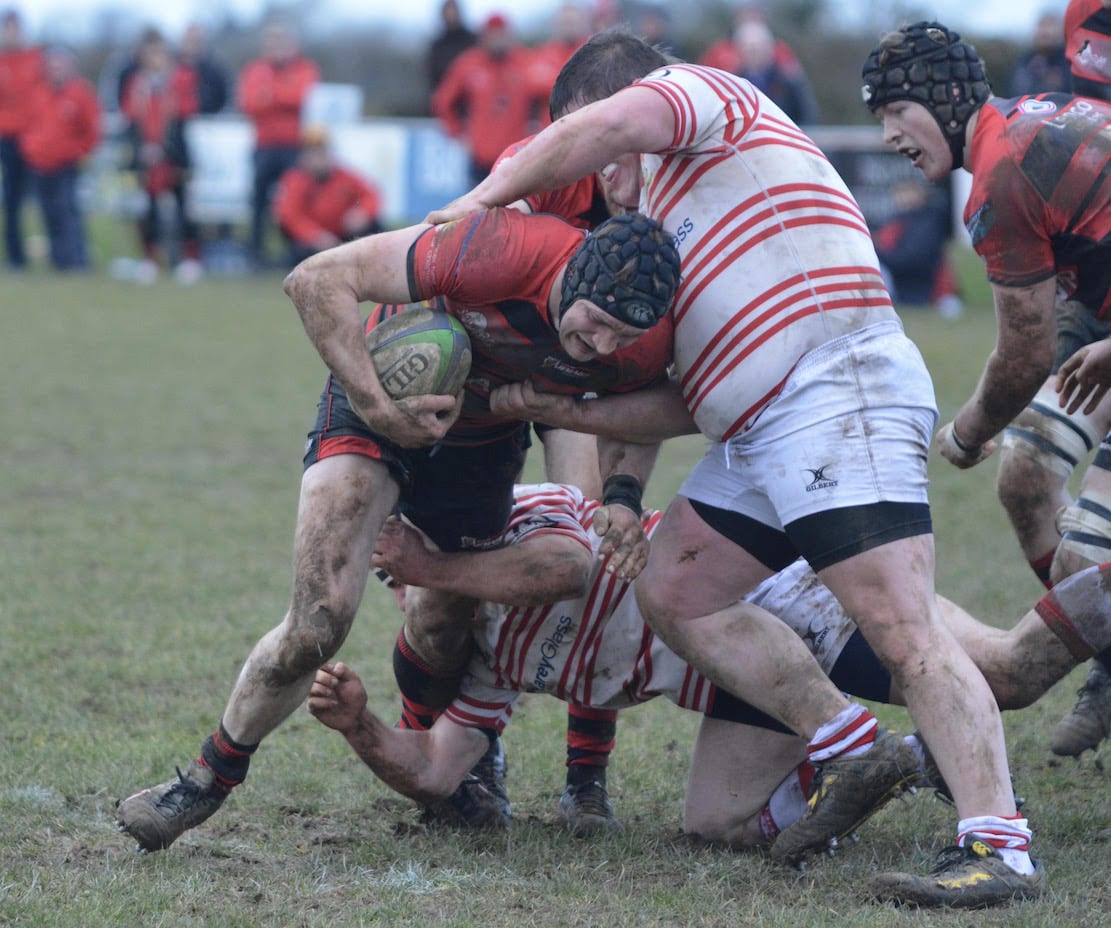 Jamie McCarry touched down for Stewart to convert and Nenagh were ahead 13-8. A penalty from Stewart edged Nenagh further ahead 16-8 before Armagh were back in the match with their second try.
Back row stalwart James Morton finally broke through the determined Nenagh defence to touch down for Purvis to
convert.
As half time approached, Nenagh held a one point lead 16-15, but the visitors conceded yet another penalty for a ruck offense on the stroke of halftime to turnaround 19-15 in arrears at the break.
City of Armagh started the second half with a bang and scored two tries in an eight minute spell.
First over the tryline was centre and team captain, Chris Colvin who burst through just to the left of the posts for Purvis to convert.
The second score went to winger, Andrew Willis who had just come off the bench and he secured Armagh's bonus point try with a typical barn-storming run.
With this 14 point burst, the match had swung in favour of the Orchard County team who now led 19-29 but Nenagh showed typical Munster spirit and scored an outstanding try from Peter Coman.
This was converted by Stewart and the gap between the sides had now been reduced to 3 points, 26-29. As the evenly balanced game moved into the final quarter, Armagh attacked deep in Nenagh territory and O'Connor was sin binned for an illegal tackle on Robert Whitten. Purvis converted the penalty and Armagh had some breathing space at 26-32.
Nenagh pressed for a last gasp score but it was Armagh who completed the scoring with their fifth try of the game in the 80 th minute when Chris Colvin scored his second try of the match.
The successful conversion made the final score 26-39 and Nenagh were denied a losing bonus point.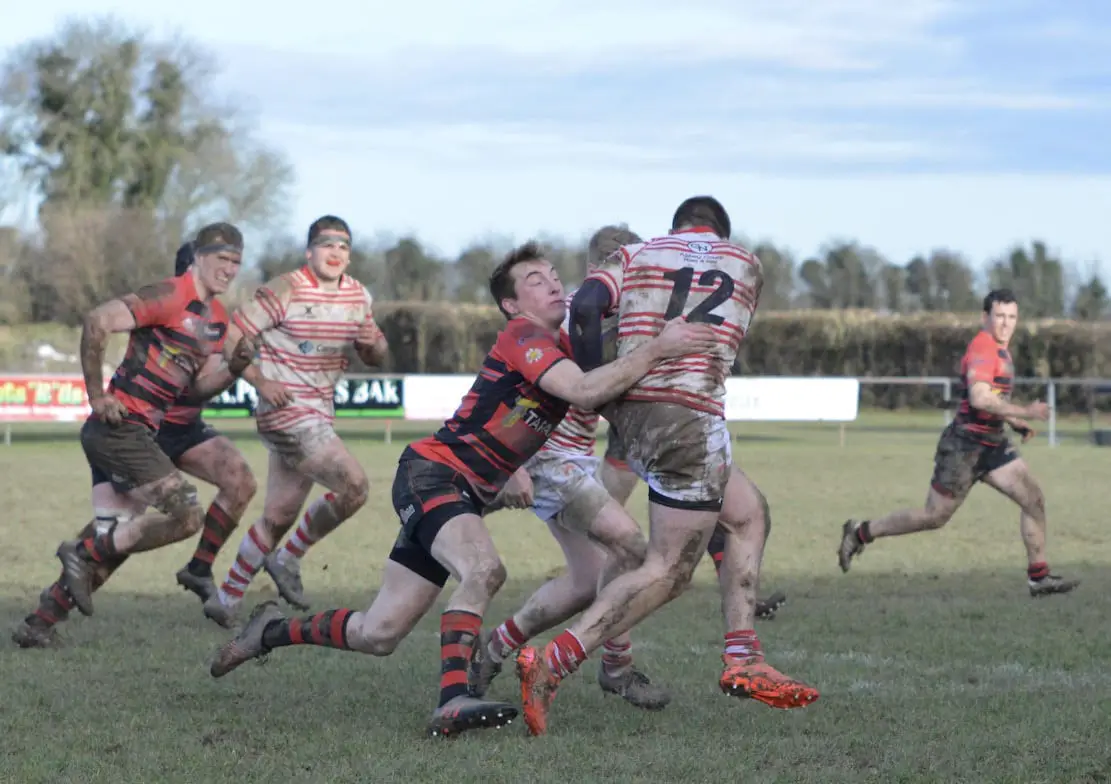 This was a crucial win for City of Armagh on the road and the coaching team of David Eakin and Ali Birch were delighted with the outcome.
"With a number of players injured, today's squad stepped up to the mark and we scored some exceptional tries today," commented Eakin.
"With four games remaining, we will focus on each match as it comes".
Coaches Willie Faloon and Chris Parker, away on School's Cup duty with the Royal School, echoed the terrific team performance.
LARNE 2nd's 5 CITY of ARMAGH 3rd's 54
It did not look good for Armagh Thirds when Larne Seconds went ahead with a try inside 30 seconds on a heavy pitch at Glynn.
The kick off by Larne deep into the Armagh half was not called and bounced between players. The ball was collected by the Larne wing and taken over in the corner for an unconverted try 5-0. A stark reminder to Armagh that they had to concentrate on every move.
In beautiful sunshine and with no wind but playing up the hill it became Armagh all the way. The penalty count against Larne was high and it was as a result of two penalties that Armagh got their first try on 7 minutes.
Electing for a scrum on the Larne 5m line the ball was released to Glenn Faloon who went over close to the posts. Glenn secured the conversion for 5-7.
Five minutes later a turnover in midfield allowed the Armagh backs to charge for the line with Luke Crozier going over and Faloon converting again 5-14.
Concerted pressure by the Armagh pack led to a third try on 20 minutes when Andrew Brady outmanoeuvred the Larne defence and Faloon added two for 5-21.
It was similar pressure that gave Armagh the bonus point try and a second for Faloon which he converted himself 5-28.
Although Larne pressed hard the Armagh defence was resolute for the remainder of the half, clearing their lines on a number of occasions under the leadership of of Neil Lutton and with scrum-half Trevor Girvan making good decisions and passes to the backs.
But Armagh weren't done yet and an Armagh lineout taken quickly took Larne by surprise for a try by Jordan
Faloon leaving Armagh finishing the half on 5-33.
In the second half it was Armagh's turn to score early with Luke Crozier crossing the whitewash inside a minute. This time Andrew Knipe added the conversion 5-40.
Again Armagh withstood Larne pressure and it was at the mid-point of the half when they scored again with the forwards working to secure clean ball and the backs finding weaknesses in the Larne defence.
Crozier added the try for his hat-trick with Knipe converting for 5-47. Larne could not deal with the speed shown by the Armagh back line and conceded an eighth try to John Johnston in the corner 39 minutes into the half. When Knipe converted from wide the referee blew his whistle to end the match on 5-54.
A great result which consolidated Armagh's position at the top of Provincial League 3.
Armagh side: A Fletcher, J Rolston, A Kennedy, J Gilpin, J Falcon, C Simms, T McBride, N Luton, T Girvan, A Knipe, L Crozier, R Karlsen, A Brady, J Johnston, G Faloon, J McMahon.
Scorers: L Crozier (3), G Faloon (2), J Johnston, A Brady, J Faloon. Conversions: G Faloon (5), A Knipe (3)
Next up it is Dromore away in the Crawford Plate semi-final on March 3.
CITY of ARMAGH Rugby Club Youth Reports
Huge congratulations to City of Armagh Youth teams on another successful league campaign. With the deadline of 17 February for all league games to be played in Youth Rugby, the U18s and U16s finished top of their respective
Regional leagues with games to spare whilst the U14s finished a very creditable third.
It should be noted however if postponed games had have been played the U14s would have finished second which would have secured a play off place.
All three teams were due to play Ballyclare on Saturday 10 February however their pitches were deemed unplayable.
The U18s had a home win over Newry on Wednesday 14 th February and a crucial away win 34 -14 v Malone on Saturday 17 th February which saw them crowned champions of The Ulster Carpets U18 East 1 league. This was all
the more pleasing as the team played with 14 men due to a last minute cry off.
The U18s now host a strong Rainey team at home on Saturday 24 February in the Ulster Carpets league semi final playoff.
The U16s could not get a fixture confirmed v Ballyclare nor Newry mid-week which meant they had to beat Malone to secure The Ulster Carpets U16s East 1 league title. They won 52-5 at the Palace Grounds on Saturday 17 th February and this was a great team performance from all involved.
The U16s now host Rainey at home on Saturday in the semi final play offs for the Ulster Carpets Ulster League title whilst  the U14s await confirmation of who they meet in the cup competition.
U14: The same followed for the U14 team as they could not get a fixture confirmed v Ballyclare nor Newry mid-week however they had a strong 17-12 away win v Ballynahinch on Wednesday 14 th February. They  followed this up
with a comfortable 31-5 win v Malone at home on Saturday.
The U14s have a large squad of 40 players and they were able to field another team to take on Newry on Wednesday 14 th February. When Newry confirmed they were not travelling, Lurgan made the journey over to Armagh at short notice to provide a friendly fixture. Despite loosing this game the young U14 team were grateful to get a game. The young U14 squad has improved as the season has progressed and are benefiting from the extra fitness sessions on Monday nights.
]The U18s commence their defence of the Nutty Crust competition on Wednesday 21st March when they meet Randalstown at Chambers Park in what should be a very competitive fixture as Randalstown finished runners up
to Armagh in East 1 this season.
Sign Up To Our Newsletter