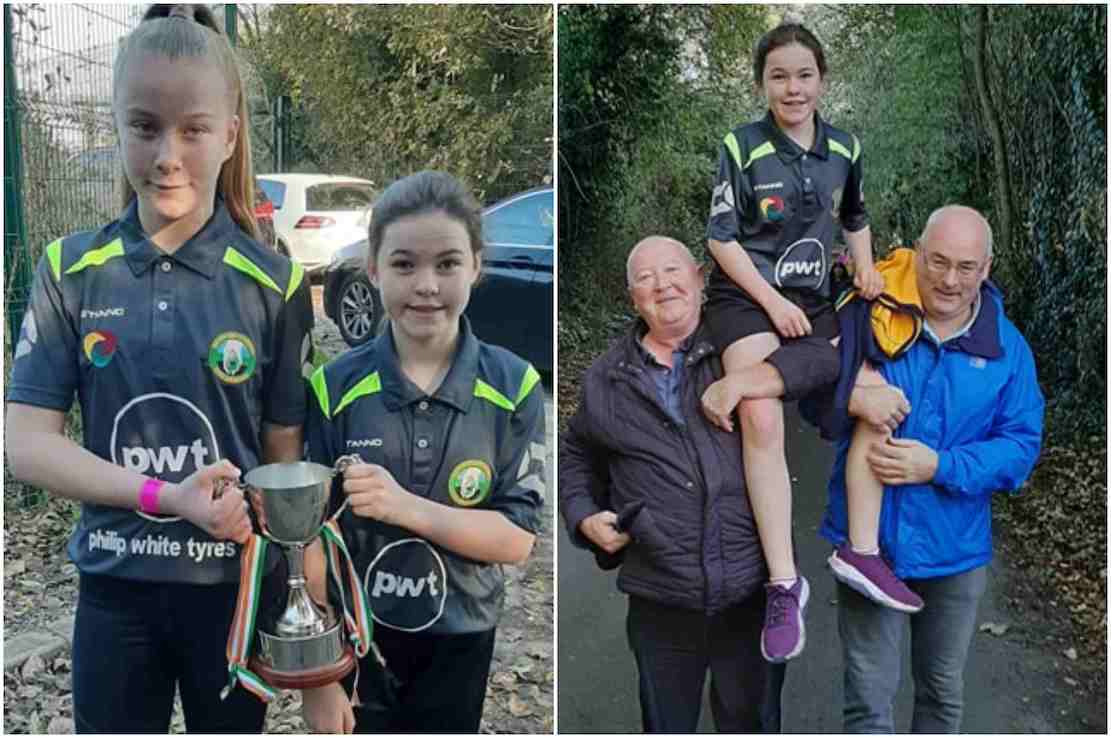 Last Sunday morning the Navan Road played Host to this year's Girls Under 14 Ulster Final between Anna Carson of Bol Chumann Na Mierleach and Michaela Greene of the Madden Club.
With a large gathering the score was to start. Carson lead with the first throw by a mere five yards.
Greene let her second shot over the road leaving Carson with a great chance to have a comfortable lead but she also misplayed again only five yards separated the girls.
Greene then bowled a great third shot but was quickly followed by Carson.
Both girls opened the Navan corner in two more shots leaving only 10 yards in the tips with Carson still holding her lead.
Greene then played a great shot to almost reach Crosses Lane pressure on once again. Carson delivered the goods with an outstanding shot to beat the tip 40 yards.
Greene once again brought the deficit down to ten yards heading around the Bull's Track with only two shots remaining. Carson who certainly was focused in every way played another great bowl to almost reach the finish line and held a lead of 20 yards over her opponent.
Greene played a great last shot But it was Carson who took the Honours to beat the tip 10 Yards and be the first ever Ulster Champion for Girls Under 14.
Anna Carson will surely be delighted as she is now the recipient of the John Mc Gleenan Memorial Cup.
Hard luck to Michaela Greene who, throughout the Championship's proved a very strong competitor for years to come.
We would like to thank the West Armagh Consortium in their Sponsor of the New Cup that will be Annual for many years to come.
Philip White made a guest appearance on the day as all these kids have come through the Philip White youth program over the last few years and yet again has provided another champion. Well Done to the Navan club in hosting the Girls under 14 Championship.
Philip White Youth
Last Tuesday night the Clubs around Armagh Were in full Fight with over 60 kids Throwing on the Astro Turf in Sherry's Field. this will Continue on a weekly Basis during the winter Months.
So come along and get involved both boys and girls in The Philip White youth Philip White Youth last Tuesday Night In Sherry's Field
Next weeks Fixture's
Portmor Road Bowls
Fixtures
Sunday 27th October
Currans 10.30am Barney Lavery Partner Cup
Patrick Mackle and Keith Lavery v Aiden Conlon and Ethan Hughes
McGrails 11.15am
Frank Oliver and Mickey Donnelly v Ronan Toal and Kevin Daly
Currans 12 noon
Adrian Daly and Kieran Gormley v Neil McLoughlin and P D Donnelly
McGrails 12.30pm
Seamus Conlon and Joby Donnelly v Rhys Daly and Michael Kelly
No Cancellation's no exception's
Results
Challenge Scores were the order of the day on the Blackwatertown Road last Sunday morning where there were wins for Frank Oliver and Mickey Donnelly over Aiden Conlon and J D Donnelly and for Jim McLoughlin and Philip Conlon over Patrick and Karol Donnelly. Michael Daly and Oisin Campbell dad a dramatic last shot victory over Seamus Conlon and Paddy Donnelly while Conall Gribben and Kieran Gormley proved to strong for Martin Donnelly and Philip Conlon.
Last weeks Lotto winner was Michael Donnelly with number 33.
Dates for the Dairy.
Friday 8th November. Northern Branch Annual Presentation in the Portmor Restaurant.
Sunday 17th November. Portmor's Annual trip to Newtown.
Friday 29th November. Annual Senior Citizens Christmas Party again in the Portmor Restaurant.
Tullysaran Fixture's
Saturday 26th October:
Anne Marie Smyth Cup: (Entry fee £4.00)
Chapel, 2.30pm: Sinead Lennon v Michelle Rooney (Mkrs: Anna and Vera)
Allen's, 3pm: Tammy Mullan v Karen Grimley
Chapel, 3:30pm: Teresa Mallon v Louise Mackle
Point Rd, 4:15pm Dervla Mallon v Aoife Trainor
O'Neill's, 5pm: Rosheen Mackle v Leanne Mackle
Sunday 27th October: Sam Rooney Cup:
These scores cannot be postponed:
Chapel, 11am: Ching McGleenan and Stephen McGurk v Chris Fields and Conor Carlisle (Mkr: Shane McKenna)
Knipe's, 11:45am: Frank Donnelly and John Lennon v Aidan Conlon and Tom Mullan snr
Tieve Tara Fixtures
Sunday 27th October
Duffy Cup
11.15am Philip Corrigan vs Malachy Lappin
12.15pm Vincent Mullan vs Onion
2.15pm Ronan Toal vs Shane Feighan
3.15pm Raymond Finnegan vs Johnny Rafferty
No Cancellations scores must go ahead
Rock Road Fixture's
Sunday 27th
11am Ryan Fay & Padraig Gribben vs Cormac Gribben & Paddy Cullan
11.45am Seamus O Neil & Pat Mallon vs Finton Daly & Declan Toal
Bol Chumann Na Mierleach
Novice 3 results
Niall O'Rourke beat Frank Donnelly beat Wayne Creaney
Niall O'Rourke was in fine form in defeating the hard trying Frank Donnelly, unfortunately Wayne Creaney had to pull up at fairlawns when well in contention in the score. Well done Niall and good luck in the final.
Fixtures
Stephen Donnelly Shield sponsored by the Donnelly Family
Saturday 27th October
2:00 pm grade 1 Paddy Patrick Hughes v Nico Kelly
2:30 Grade 3 John Joe v Michael Grew
Sunday 28th October
11:00 Grade 2 Paul Hughes v Micheal Hughes
11:30 Grade 2 Barry Corr v Ciaran Hughes
Saturday November 2nd
2:00 Grade 1 Hugh McSorely v Kevin Cullen
2:30 Grade 4 Marty Cullinane v Stephen Darragh
Sunday 3rd November
11:00 Grade 1 Spear Darren Donnelly v Patrick Wilson
11:30 Grade 3 Brian Donnelly v Stephen Doran
Can throwers have there £10 entry fee paid before throwing.
Congratulations to Drumcairns Newest Ulster Champion Anna Carson who won the Girls under 14 Ulster championship, Anna is the Niece of Club stalwart Mick Mc gleenan and today on her 12th Birthday won her Grand fathers Cup the John McGleenan Memorial Cup. Well done Anna! And thanks to clubmen Roberto, Joey, Shea and Onion for there support.
Madden Fixtures
Madden road bowls
Fixtures for Sunday 27th October tournment sponsored by madden social club. Hughes 11:30am grade 3 Sean rafferty v caolan Smith.
Low line 12:30 grade 2 Shane feighan v Brendan rafferty
Scores must go ahead.
Newtown Fixture's
Results NTH Bowls
19/10/19 final of road – novice 3
Ciaran savage vs benny Davidson
Ciaran won
Nothing between the two men benny got off to a better start but couple of big shots from ciaran put him out in front. At the start of the quarry ciaran hit a miler and put a shot in it and it stayed that way to the mushroom houses when benny broke the shot. Ciaran's last shot just got over the line to win the score, great final.
And congratulations to our club member Niall o rourke on winning the moy rd novices final
Next weeks fixtures
Sunday 27/10/19
Ulster novices 3 final (12:30)
Ciaran savage vs Niall o rourke
Challenge score back in the road
Navan Fixture's
27th october Hauliers Cup kindly Sponsored by Garvey Transport 11:15: Ryan Quigley vs Mark O'Rourke 11:45: Marty Hannaway vs Eddie Mallon 12:15: James Devlin vs David Devlin 12:45: Navan vs Roscarberry charity long shot! The shot will take place from the pole at paddy loughrans! £5 entrance fee, £40 for the winner! All welcome to help raise money for a good cause, spread the word
Keady Tassagh Fixture's
Carr Construction Tournament Oct 27 11o'clock score Thomas Mackle v Colum Rafferty 1pm score Patrick Mackle v Paul Conway juniorl
Message To All Clubs Meeting this Tuesday Night 22nd 8.30pm Venue Charlemont all clubs must attend . Can clubs post two weeks fixtures in advance next week as im not available the Navan club will be in cork for the weekend.
Sign Up To Our Newsletter