Redrock motorcycle ace Jordan Burrows has enjoyed a spectacular year.
And his performances throughout the season mean the teenager is well-placed to continue to climb to the top of his game in 2016.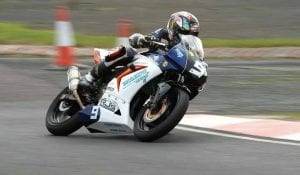 "I raced a Kawasaki 250 at the start of the season," Jordan told Armagh I. "I had my first race win on Easter Monday on the Kawasaki. It didn't come easy as Jack Waring was pushing it the whole way. It was probably one of the best races yet."
Within a few rounds at the start of the season Jordan was leading the championship – Irish and Ulster – but the rules of the production class changed after Easter Monday.
"We were allowed to run 300cc Kawasaki in our class," explained the talented local sportsman. "2015 was a hard year for me as I raced my 250 against 300cc race bikes.
"But there was a good advantage to the 300cc. I managed two race wins within the year and had a consistant year with a lot of podiums on what was a new bike to me.
"I managed to win the Belfast and District Championship and managed runner-up in the Irish/Ulster Championship."
Jordan is already looking ahead to next year and, with the sheer determination and dedication is sure to continue to make a name for himself.
Sign Up To Our Newsletter