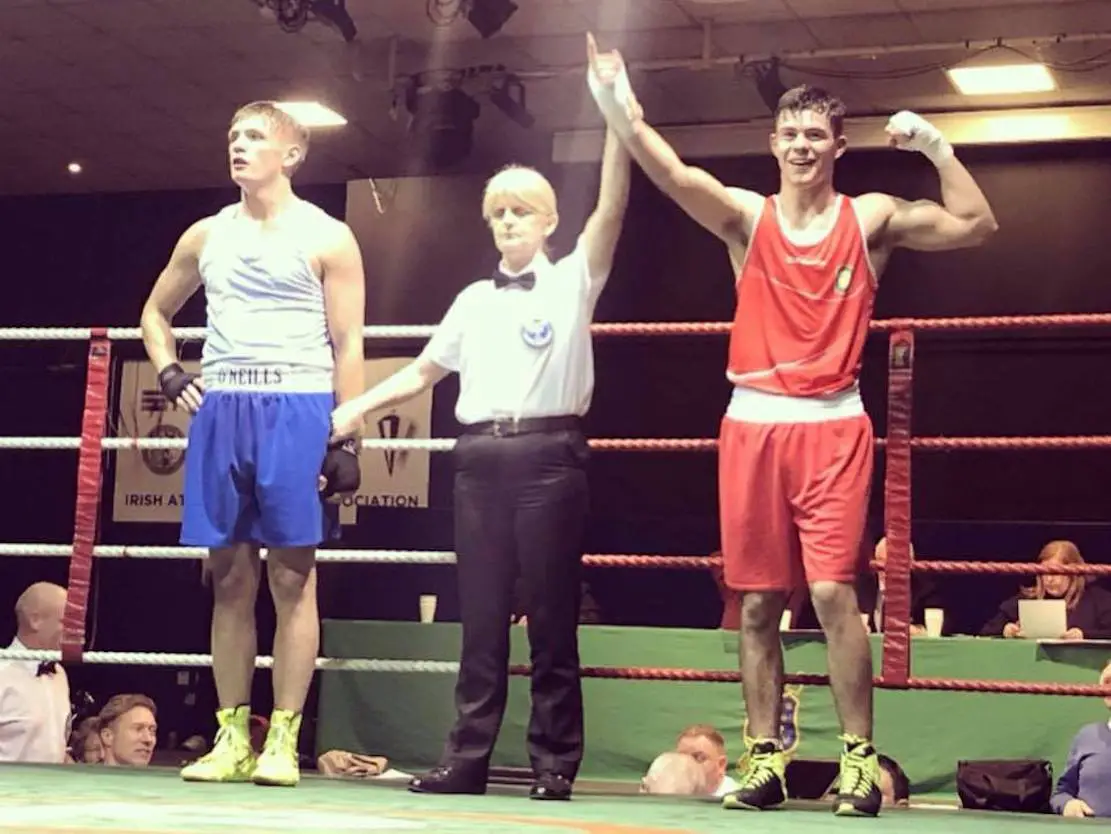 It is fair to say that all amateur boxers have two ultimate dreams; one of them is to eventually find yourself among the professional ranks and the other is to represent your country at the Olympic Games.
Usually it is success in the latter which in turn allows you to have a tilt at the former and for Eugene McKeever, the hope is that he progresses further down his professional pathway in the next 18 months.
A pathway that could well be accelerated should the Co Armagh fighter be able to earn himself a trip to the next edition of the Olympics, one that returns to Tokyo for the first time since 1964.
If that is to be the case, then the 21-year-old will have to pick himself up from the disappointment of not winning the Irish Elite Finals at the end of February, as unfortunately for him he suffered a somewhat unexpected preliminary defeat.
In the 69kg weight class, McKeever was paired with Aidan Walsh and these two fighters offered one of the closest contests of the preliminary stage. Walsh who fights out of the Monkstown Gym, eventually edging proceedings by virtue of a majority 3-2 judges' decision.
If McKeever does go on to fulfil his Olympic dream, then he will be looking to emulate the efforts of Irish fighter Katie Taylor. Back in 2012, the then 26-year-old become the first ever female lightweight champion.
And since then, Taylor's transition to the professional sphere of boxing has been seamless, quickly going on to add the WBA and IBF female lightweight titles to her already illustrious list of accolades that she has won.
And in March she has the opportunity to add the WBO title to her collection, when as she goes up against Brazilian Rose Volante and a look at the latest Boxing betting has Taylor as the clear favourite, with bet365 pricing her as short as 1/25 for the contest in Philadelphia.
Those kinds of prizes are what McKeever can only wish for at present and although a lack of serious progress in the Irish Elite Finals will have no doubt hampered any hopes for Tokyo, all is certainly not lost either.
That's because with his teenage years all but behind him, he has plans to go professional regardless of whether a trip to the Far East next summer materialises or not and after a good showing at the end of 2018, then he looks well set to leave the headguard and bibs behind.
Before he does though, there are still some amateur dates left to fulfil and one of those is the small matter of representing Northern Ireland in March, a duty that will see he and his international teammates do battle in New York.
McKeever certainly has all the tools necessary in which to go on to earn future success and although an Olympic medal would undoubtedly be a huge benefit to any professional plans, it's by no means the only route to future boxing glory either.
Sign Up To Our Newsletter