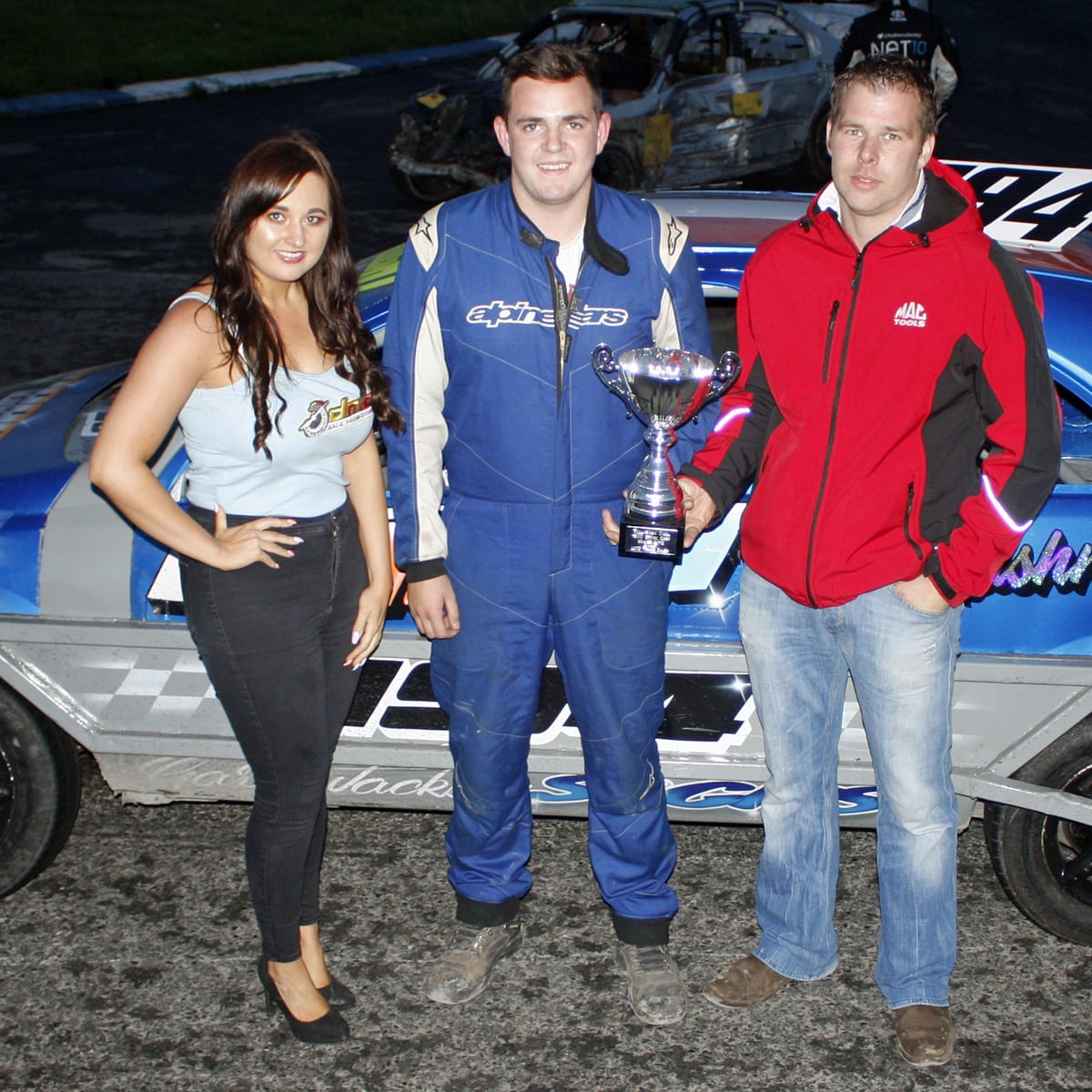 Despite horrendous weather right across the province, the drivers and spectators fortunately avoided the majority of the rain for the race meeting at Tullyroan Oval on Saturday evening.
The feature event was the Moffeett Shield for the Superstox, which fell the way of Craigavon driver Keith McAreavey after a great drive.
Recently crowned British Champion Stuart Cochrane from Portadown was victorious in the 2.0 Hot Rods Tullyroan Challenge Cup, whilst Drogheda star Conor Finegan won a lively Ulster Championship battle for the Rookie Bangers.
The other feature race wins at the LMC Trade Sales of Dungannon sponsored event fell to Glenavy's Dan Shannon (ProStocks) and Portadown's Robbie Wright (1300 Stock Cars).
Superstox
Fifteen cars came under starters orders for the opening Superstox heat, with an early caution as Paul Hosie and Conor Murphy hit trouble on the Annaghmore Bend. As James Turkington hit the front another gaggle of cars tripped over themselves on the same bend.
Star man Lee Davison was chasing hard, and he slipped through to win ahead of Kyle Beattie and Turkington. Heat two saw a brief shower leave the track surface very slippery indeed, with Turkington making use of a very wide line to find extra grip and take a great win over Sean Mark and Gregg Hyndman.
David Beattie was the first to show at the start of the Moffett Shield final, leading for the first seven laps before losing out to a charging Turkington.
A huge battle between stars Davison and Beattie was thwarting their progress towards the front, as Keith McAreavey landed on the tail of the leader. Keith wasted little time in edging past to the lead, with Turkington then unfortunately going out soon after.
McAreavey was clear out front and took a very impressive win in some style, with Kyle Beattie and David Beattie rounding out the podium. David also received a special award as the top white or yellow grade finisher home.
2.0 Hot Rods
A slightly depleted field of 2.0 Hot Rods took to the track after the exertions of last weekend's British Championship, but included a debut for former Superstox champion Denver Grattan in a lovely new Peugeot 206cc. The reverse grid system was in operation, and it was Irish Champion Glenn Bell who raced clear in the opening heat for what looked like an easy win.
Mechanical gremlins intervened though, and he dropped out with just a couple of laps to go, handing victory to Allen Cherry over Adam Best and Gary Wilson. Wilson then celebrated his return to the 2.0 Hot Rods with a fine heat two victory, holding off Stuart Cochrane and Cherry all the way home.
A toss of a coin between equal top points scorers Cherry and Wilson gave Allen pole spot, but he got himself all crossed up at the green flag which lost both himself and Wilson valuable ground.
Cochrane wasted little time in slipping up the inside to the lead, as a huge battle developed behind between Cherry, Wilson and Adam Best. Cherry broke clear and got on terms with Cochrane, valiantly trying the outside line but to no avail. Cochrane kept his head to record another great win, with Best and Wilson inheriting second and third respectively after Cherry was demoted four places by the Stewards for various misdemeanours during the race.
Rookie Bangers
The Rookie Bangers again fielded a huge grid of cars, with the action lively as always as they raced for the Ulster Championship. There was a red flag early in heat one for a huge home straight crash, and through the carnage Dublin's Paul O'Connor took the lead and a morale boosting win over Peter McConnell and Josh McKinstry.
The second heat saw some more fantastic racing, as the Rookies continue to build their reputation for producing superb entertainment. O'Connor again led, but had Conor Finegan right on his case in the final stages.
Finegan tried his best to unseat the leader on the final bend but O'Connor kept his cool to take his second win of the night.
If the heats were lively then the Ulster Championship final was something else, with all sorts of action right across the field. The big grid was whittled right down as the crashing continued, with Christy Bradley going ahead for much of the distance.
Finegan came onto him late on, shifting him wide to come through to grab the win and the Ulster title. Bradley and Jack Murray filled out the podium, with Caitlin King receiving a special award as the Most Improved Lady driver from AF Metering Services.
1300 Stock Cars
Jamie Hunter impressed last week at Aghadowey in his first ever 1300 Stock Car meeting since graduating from the junior formulas, and he did so once again in heat one as he took a polished win over Robbie Wright and Peter Greer. Greer improved to take the heat two win, with Wright again second after a great last bend hit to remove Michael Logan.
The final saw Hunter lead early on before losing out to Logan's Toyota Starlet, but Wright soon moved past to take the lead. Logan made an audacious bid to come back with the bumper, but Wright was clear and gone out front. The race was then stopped and declared after a huge turn three shunt for Hunter.
The medical and track rescue crews worked for some time with the young driver, extracting him professionally from his car. The good news was that after a night in hospital Jamie was just badly bruised and swollen with thankfully nothing broken.
The race was declared at that stage, with Wright taking the win over Greer and Josh McKinstry.
ProStocks
Newcomers in Micheal Smith and David McKinnon, plus the return of former star Conor McElmeel, boosted the ProStocks ranks and they produced three super races.
Veteran David Browne looked like taking what would have been a very popular heat one win, only to lose out late on to the fast moving Dan Shannon who took the win over Joe Largey. Heat two saw a clear win for Dylan Booth from the yellow grade, leading home Steven Haugh and Shannon.
Shannon was the man to watch in the final, breaking clear of the star graders to give chase to leader Booth. Dan slipped past with four laps to go to take the win and a huge boost ahead of the British Championship next month. Haugh and Largey completed the top three.
Next Meeting
Racing continues at Tullyroan Oval on Sunday August 12th, featuring the Micro Bangers Teams Championship, Lightning Rods, Thunder Rods, Junior Productions and Ninja Karts.
Newsletter
Sign up for our weekly newsletter here.