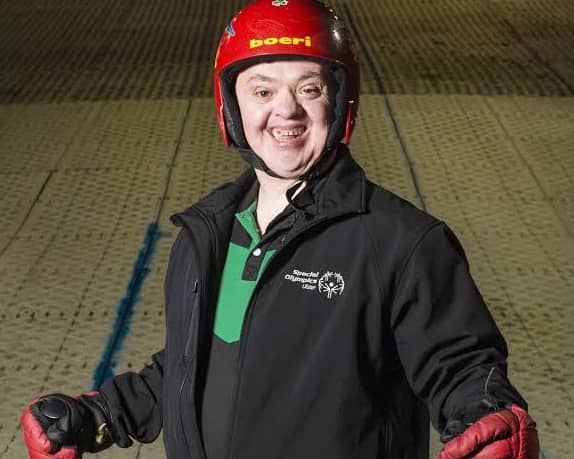 The countdown is now on, as Team Ireland prepares to travel to the Special Olympics World Winter Games in just under two months. And one county Armagh athlete is preparing for the chance of a lifetime.
Skier, Cyril Walker is one of three Ulster athletes that will compete as part of a 26-strong Team Ireland squad at the Special Olympics World Winter Games 2017 in Graz and Schladming, Austria in March.
Cyril Walker, aged 46 from Markethill is one of the more experienced members of Team Ireland, having previously competed and won bronze at the Special Olympics World Winter Games in Japan in 2005.
Cyril has been involved in Special Olympics for over 15 years and though he is a skiing specialist, he also enjoys football, bocce and dancing.
Cyril says: "Special Olympics have given me the opportunities to make new friends through meeting and training with other athletes and volunteers," he said. "It has also helped me to improve my sporting ability and to make me a good sportsman.''
"Being chosen to attend the World Games has given me a wonderful opportunity to travel to Austria and to represent my country for the second time in my life, showing the world what I can do. It has given me the confidence to show that I can do anything if I try really hard and that I am a special person."
One of six Team Ireland skiers that will compete in alpine skiing events at the Games, Cyril will be joined on the Team Ireland skiing squad by fellow Ulster athletes, Sean McCartan from Carryduff, Co. Down and Caolán McConville from Aghagallon, Co. Antrim, as well as Lorraine Whelan from Co. Wicklow and Dublin pair, Niall Flynn and Laoise Kenny from Dublin.
Commenting on the Team Ireland ski team's progress, head coach, Jill Sloan said: "We train every Monday night and the athletes are also getting extra training too. We use dry slope or artificial ski slopes in Craigavon and Kilternan in the Dublin Mountains; there's a lot more friction on it, so if you can ski on that you can definitely ski on snow.''
"Some of the team had never skied on snow before. Their recent training trip to Austria was in January; so, for some of our six Team Ireland skiers, this was their first chance to ski on snow.''
"Cyril at 46 is one of our most experienced skiers and with our youngest skier at just 13, it is such a diverse group."
The Special Olympics World Winter Games Austria 2017 will be the largest sports event to take place in 2017, hosting 3,000 athletes from 110 countries worldwide. Team Ireland will join almost 3,000 Special Olympics athletes from 107 countries for the Games, which are already set to be one of the sporting highlights of 2017.
Commenting on the Team Ireland launch, Shaun Cassidy, regional director, Special Olympics Ulster, said: "We are extremely proud of Cyril, Sean and Caolán being selected to represent Team Ireland at the 2017 World Winter Games in March.
"They have shown unwavering determination and motivation, as well as strong discipline and tremendous skill in getting this far. The whole of Ulster will be cheering them on when they take to the slopes in Austria in March and we wish them well with their preparations."
Read more news:
Power cuts, trees down and storms set to continue: Take care and be prepared
'I have a family to support' – no election posters for Upper Bann candidate
Missing county Armagh man Darren Lennon found dead
Charity boot camp in memory of much-loved and sadly-missed Conor Duffy
Two officers injured and man arrested after high-speed chase from Belfast to Newry
Armagh motorists' parking frustration but 'very little can be done'
'Devastating' news: 33 jobs on line as Co Armagh company in administration
Shock and sadness follow sudden death of popular Co Armagh man Tiernan Green
JF McKenna granted approval for major extension at Armagh HQ
Sign Up To Our Newsletter