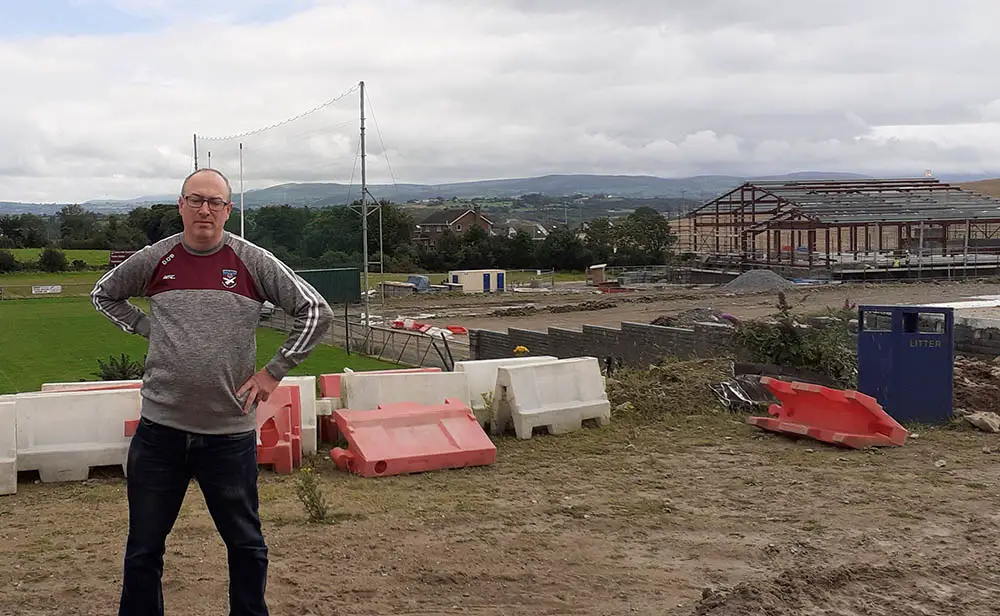 Corrinshego are a small club, up the mountain on the outskirts of Newry but they have big plans which are plain to see if you just take the short drive up Barcroft Hill.
David O'Brien is a busy man, as chairman of what is the oldest club in Newry – and the only Armagh club in the city. He is also involved in Craobh Rua Hurling Club and the Armagh county hurlers.
But, David still finds the time to oversee the grass cutting at Corrinshego's new pitch, which was Phase 1 of a huge development project.
"We have secured fifteen and a half acres here," says David as he shows me around Phase 2 which is a massive community clubhouse.
For this week's The I on the Ball podcast – proudly sponsored by Blackhill Energy – David talks us through the project which, while it has been over 15 years in the making, is still nothing for one of this scale for such a small club.
"Go build a club. Go build a field – let's face it, we're doing what took some clubs 50, 60, 70, 100 years to do. It's not easy," says David who also gives his take on hurling in the county and a lot more besides.
It's also Championship time again in Armagh as the last eight was decided over the weekend in the Senior competition, with just one bite of the cherry in the knockout format.
We got the reaction of Mullaghbawn manager Peter McDonnell after his side beat Annaghmore on Friday night – the first championship game the club has won in 12 years.
The former county manager also gave his thoughts on Kieran McGeeney's presence in the wings.
On Saturday, Killeavy beat Grange in a thriller after extra time and we also caught up with Killeavy boss Paul McArdle for his reaction, thoughts on the game and the club's response after being shutdown for a second time following Covid infections.
For all of this and more, listen below or subscribe and download here: Apple Podcasts or Google Podcasts.
Sign Up To Our Newsletter