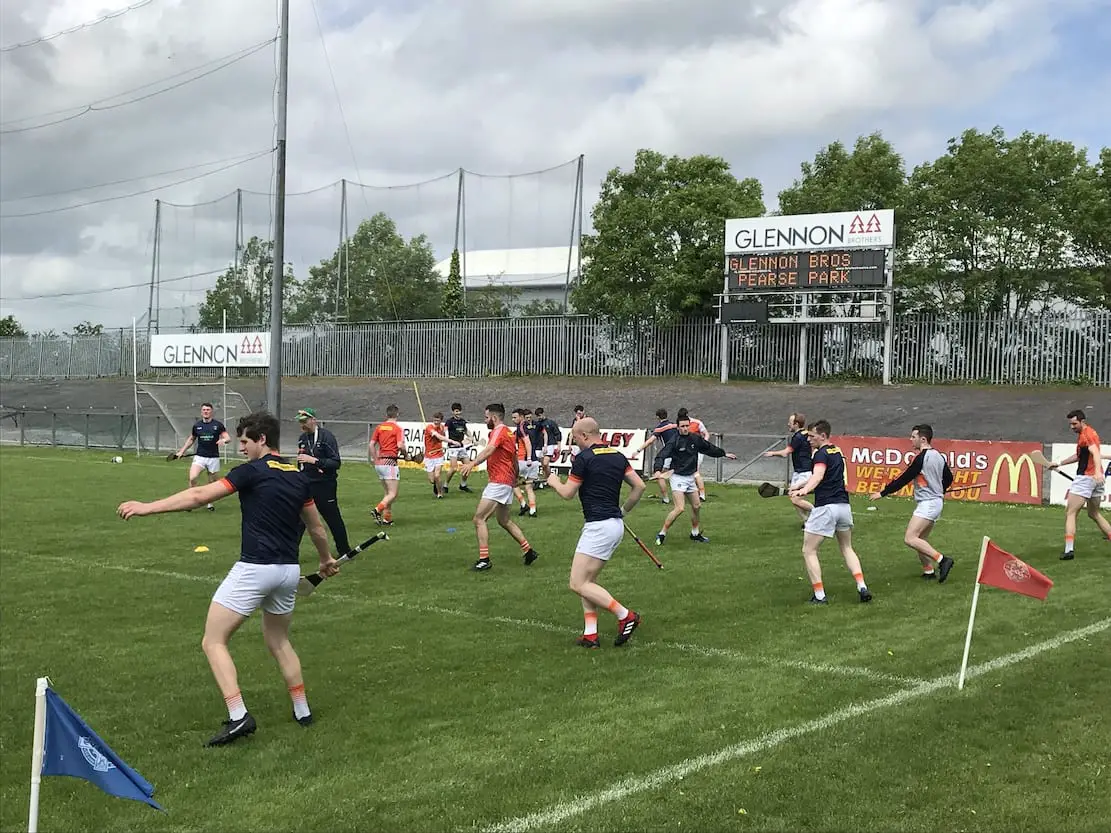 Armagh 2-19 Tyrone 1-20
Armagh hurlers will once again head to Croke Park for an All-Ireland final after a brilliant win against Tyrone in a pulsating semi-final played out in Iniskeen on Saturday. Armagh showed huge grit and determination, and a superb workrate to win through to the Nicky Rackard final against Sligo on Saturday 22 June.
Tyrone opened the scoring within seconds of the throw-in in Saturday's semi-final and the sides traded scores with Odhrán Curry, Shaun Toal and Dean Gaffney hitting points for Armagh. The Orchard goalkeeper Simon Doherty also weighed in with a huge free and the next score came from the resultant puck-out, which was hit poorly and gathered by Lurgan Sean Treacey's Danny Magee, who ran through the Tyrone defence and calmly placed it beyond the keeper to push Armagh 1-4 to 0-3 ahead.
Tyrone talisman Damian Casey was once again on form and kept Tyrone in touch with some fantastic strikes from play and from the dead ball. Eoin McGuinness was causing plenty of headaches for the Tyrone rearguard, and he got his first score on 11 minutes after Shaun Toal emerged from a ruck with the ball. A Dean Gaffney free and a good score from Odhrán Curry were cancelled out by a couple of dead ball efforts from Casey and Armagh had Simon Doherty to thank after he prevented a Tiarnán Morgan shot on goal. Further indiscretions were punished by the two sides freetakers, and Gaffney hit one from play as he followed up on a free which came out off the upright. Armagh's wastefulness and the accuracy of the superb Damian Casey meant Tyrone only trailed by a single point at the short whistle as the two sides went in to gather their breath after an end-to-end affair.
Half time Armagh 1-9 Tyrone 0-11
Tyrone hit the ground running at the start of the second half with points for Casey and Lorcán Devlin. The Tyrone pressure continued and they went four points clear as Casey finished to the net, after gathering a rebound from a good stop by Doherty in the Armagh goal. Armagh had a couple of goal chances of their own at the other end almost immediately, but had to be content with a converted 65 from Odhrán Curry. Scores from Casey and Tiarnán Morgan pushed Tyrone five ahead, but a great goal from Eoin McGuinness, who won a long ball in from David Bridges after a brilliant catch by Paddy McGrane, give Armagh a huge lift 11 minutes into the half. Armagh, buoyed by the goal, put huge pressure on Tyrone to win back possession and work the ball into the danger area again with Gaffney hitting a great score from play, followed up by a couple of frees. Matthew Mulgrew stopped the momentum with 15 minutes to go when he hit a score to level matters.
Armagh regained a foothold though with immense pressure being exerted across the field and another good score from McGuinness and a Gaffney free after a cyncial take down on Danny Magee who found space. The tie could have been finished off soon after, when McGuinness was through on goal but his shot fell to the left and wide. The reliable Damian Casey gallantly tried his utmost to pull Tyrone back into the game, responding to each Armagh score, but an inspired McGuinness wrapped up a memorable victory when he won a long ball in from David Bridges and turned to point and fire Armagh into an All-Ireland final. Armagh would have been pleased with Danny Magee, Stephen Renaghan and Dylan McKenna winning plenty of ball and Paddy McGrane, Shaun Toal and Odhrán Curry working hard in the final period. At the other end, Tiarnán Nevin applied huge pressure to Casey who hit a couple of efforts wide and Caolán Rice, Paddy Quinn and David Bridges cleared plenty of ball to keep the pressure on the Tyrone defence. Ciaran Clifford and Artie McGuinness put in another huge shift at the back and a couple of good stops from Simon Doherty ensured that Armagh would take their place in the 2019 Nicky Rackard final.
Full time Armagh 2-19 Tyrone 1-20
Armagh: Simon Doherty 0-1 (0-1f), Caolán Rice, Artie McGuinness, Paddy Quinn, David Bridges, Ciarán Clifford, Tiarnán Nevin, Odhrán Curry 0-3 (0-1 65), Paddy McGrane, Shaun Toal 0-1, Eoin McGuinness 1-4, Dean Gaffney 0-10 (0-6f), Stephen Renaghan, Dylan McKenna, Danny Magee 1-0
Sign Up To Our Newsletter