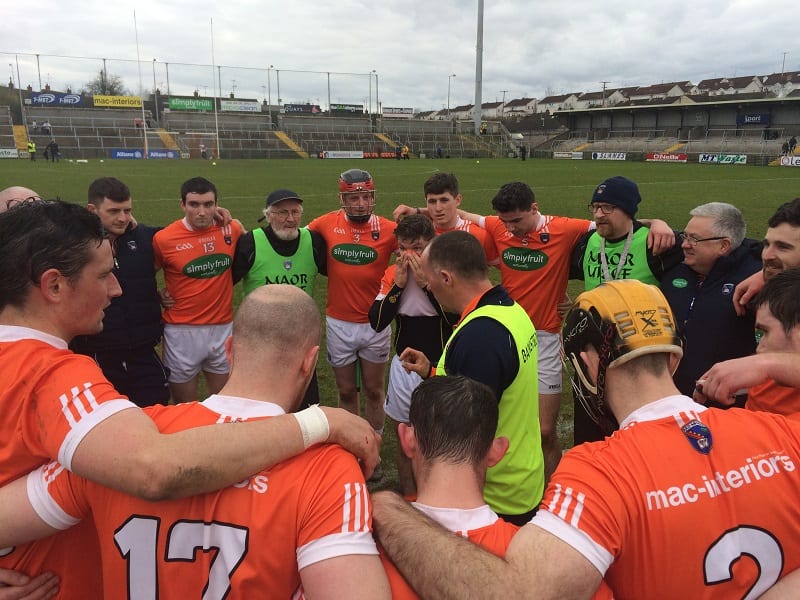 Armagh hurlers will return to Páirc an Chrócaigh, after they claimed a good win against Fingal in the Nicky Rackard semi-final on Saturday. The final against Maigh Eo will take place at GAA headquarters on Saturday 4 June at 3.30pm.
Saturday's game against Fingal, played at the Naomh Barróg pitch near Donaghmeade, was preceded by a minute's silence in memory of Lil Lonergan, grandmother of Artie and Eoin McGuinness who both lined out for Armagh. In the opening minutes, scores were traded with Ryan Gaffney hitting Armagh's opener after a foul on Declan Coulter, before Conor Corvan hit the first of his goals early on to push Armagh ahead. A good ball in from Coulter was then gathered by Eoin McGuinness who fired the sliotar over the bar, but Fingal responded strongly hitting a number of points to put them 0-6 to 1-2 ahead. The pressure on the Armagh defence continued and when JM Sheridan hit the net followed by a great point, the home side were five points ahead and feeling confident. Stephen Renaghan ended the Fingal purple patch with a fine score, which was quickly followed up by a score from Conor Corvan. The sides traded points and Cahal Carvill brought the gap down to two, before a Conor Corvan goal was ruled out as the referee had blew a free too soon, rather than playing any advantage. Ryan Gaffney converted the free and Conor Corvan hit a super score to ensure that Armagh had weathered the Fingal storm and went in level 1-8 apiece at half time.
Half time Ard Mhacha 1-8 Fine Gall 1-8
Gaffney got the second half scoring underway, but Fingal quickly posted their response. With the onset of a heavy downpour, Armagh began to take control with Gaffney converting a 65 and a free, as well as points from captain, Cahal Carvill and Declan Coulter. Two quick majors from Conor Corvan and Declan Coulter pushed Armagh further ahead 3-13 to 1-9. The Armagh defence was well on top at this stage and Fingal showed their frustration, going down to 14 men. Fingal hit two further scores in the half to bring their second half total to 0-3, but in reality, it was one way traffic as Ryan Gaffney converted a free and Stephen Renaghan hit two quick points. Armagh capped off a brilliant second-half performance, with two of the substitutes introduced, Peter McKearney and Odhrán Curry, firing over fine scores to leave the Armagh support happy at the final whistle.
Full time Ard Mhacha 3-19 Fine Gall 1-11
Ard Mhacha: Simon Doherty, Ciarán Clifford, Artie McGuinness, Connor Devlin, John Corvan, Nathan Curry, Cormac Toner, James King, Stephen Renaghan 0-3, Ryan Gaffney 0-7 (0-6 f, 0-1 65), Cahal Carvill 0-2, David Carvill, Declan Coulter 1-1, Eoin McGuinness 0-2, Conor Corvan 1-3
Subs used: Kieran McKernan, Peter McKearney 0-1, Odhrán Curry 0-1, Liam Woods, Stephen Keenan
Armagh will now play Mayo in the Nicky Rackard final on June 4, having met twice already this year with each side claiming a win apiece. Mayo beat Donegal on Saturday 1-18 to 2-11 to claim their place in the All-Ireland decider.
Read more news:
Watch: Co Armagh man's amazing fiddle cover of Italia '90 anthem 'Put 'em under pressure'
Look inside the £800 a month Gosford Castle apartment
Five men to appear in court following spate of burglaries across county Armagh
Keady actor's starring role as ITV's controversial drama reaches shocking finale
Planners approve new pizza restaurant and takeaway in Armagh in record time!
Sign Up To Our Newsletter