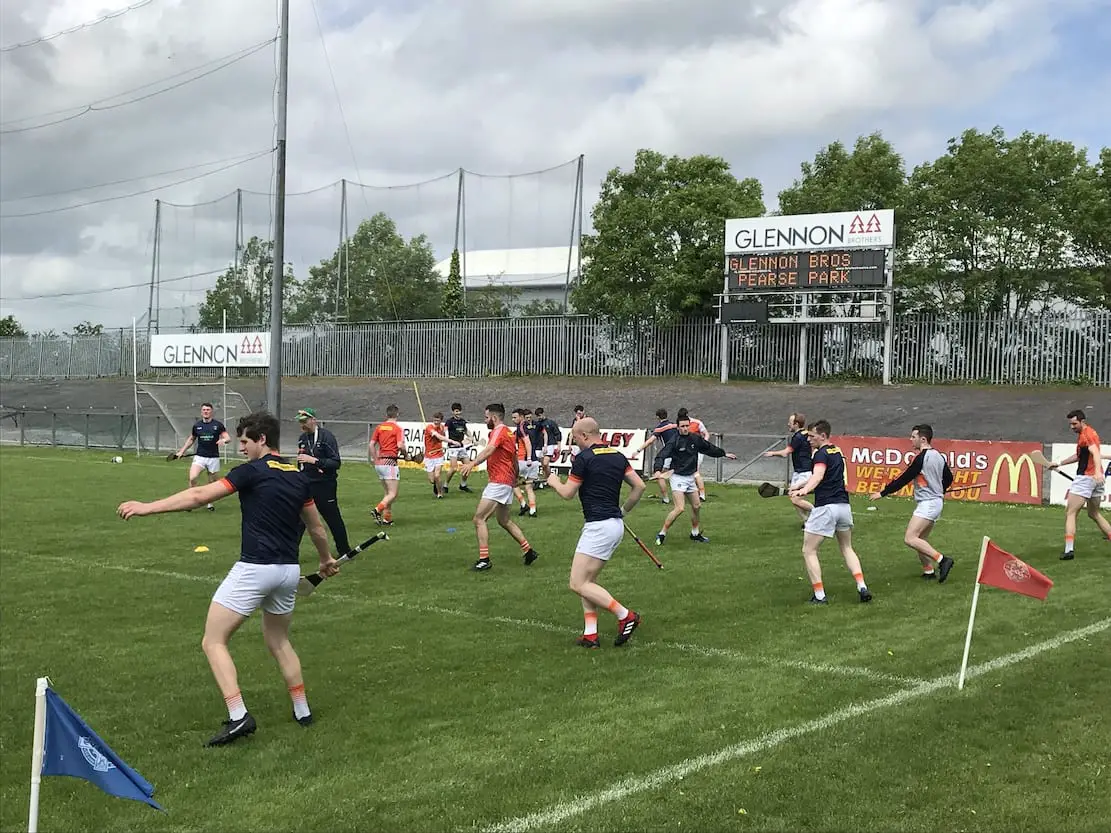 The Armagh senior hurlers have won a place in the Nicky Rackard semi-final against neighbours Tír Eoghain after a big win away to Longford seen the Orchard side top the table.
Armagh also defeated Monaghan and earned a draw away to Warwickshire during the group stage.
The host team, which included a complement of three transfers, got off to a bright and determined start in the first half as they fought and chased every ball and made full advantage of the breeze.
Roscrea's David Buckley opened the scoring for Longford, the first of his six point tally in the half. Maitiú O'Donahue had the home side two ahead within the first 60 seconds before Odhrán Curry settler the opening Armagh nerves with a decent effort from play.
Another local, Reuben Murray, added a point either side of two Buckley efforts to push the midlanders 0-5 to 0-1 ahead, as Armagh struggled to get to grips with the game.
Dean Gaffney continued in the same vein as the Warwickshire game and hit a couple of good scores from frees, but Cathal Mullane from Killeedy in Limerick added to his Munster teammate to push the Leinster men further ahead at 0-8 to 0-3. Only for some wayward shooting from the "home" side, Armagh could have fell further behind, but a great point from Eoin McGuinness and more accuracy from the impressive Gaffney pulled the visitors back into the game.
With half time approaching, Armagh hit the net but it was ruled out as Dylan McKenna was adjudged to have been in the square. Another Dean Gaffney free left the score at half time standing at Longford 0-11 Armagh 0-8.
Danny Magee got the second half scoring underway before Buckley hit two. Armagh were playing much better and applied great pressure to the Longford rearguard. Scores from Shaun Toal, Danny Magee and Dean Gaffney drew the visitors to within one and a bullet of a shot on goal from Eoin McGuinness came flying off the post, or possibly the back stanchion, as Armagh continued to dominate.
The Armagh defence were now well on top with Ciaran Clifford, Paddy Quinn and Tiarnán Nevin showing well. A Shaun Toal effort drew Armagh level ten minutes into the half and a couple of Gaffney frees, including a mighty long-range effort, gave the Orchard men the lead for the first time in the game.
Longford hit their 14th point on 18 minutes, but that was as good as it got for the home side as Armagh made a strong push for home. Four more frees from Gaffney and an effort from Armagh captain, Stephen Renaghan had the scores at 0-20 to 0-14 with ten minutes to go.
In the last five minutes, Armagh won a number of frees deep in their own half and three massive efforts from Simon Doherty meant that the Armagh keeper, who came in for the second half, got the same number of scores as the home side in the second half.
The scoring was wrapped up with a Danny Magee effort from play as a storming second half performance cemented Armagh's place in the All-Ireland semi-final against Tyrone, which is due to be played next Saturday at 1pm in Iniskeen.
Armagh:
Fintan Mac Conchoille, Caolán Rice, Artie McGuinness, Paddy Quinn, Ciarán Clifford, Paul Gaffney, Tiarnán Nevin, Odhrán Curry 0-1, Stephen Renaghan 0-1, Dean Gaffney 0-13 (0-12f), Shaun Toal 0-2, Paddy McGrane, Eoin McGuinness 0-1, Dylan McKenna, Danny Magee 0-3
Subs used:
Simon Doherty 0-3, Odhrán McCann, Joe O'Connor, Mattie Mc Evoy
Newsletter
Sign up for our weekly newsletter here.