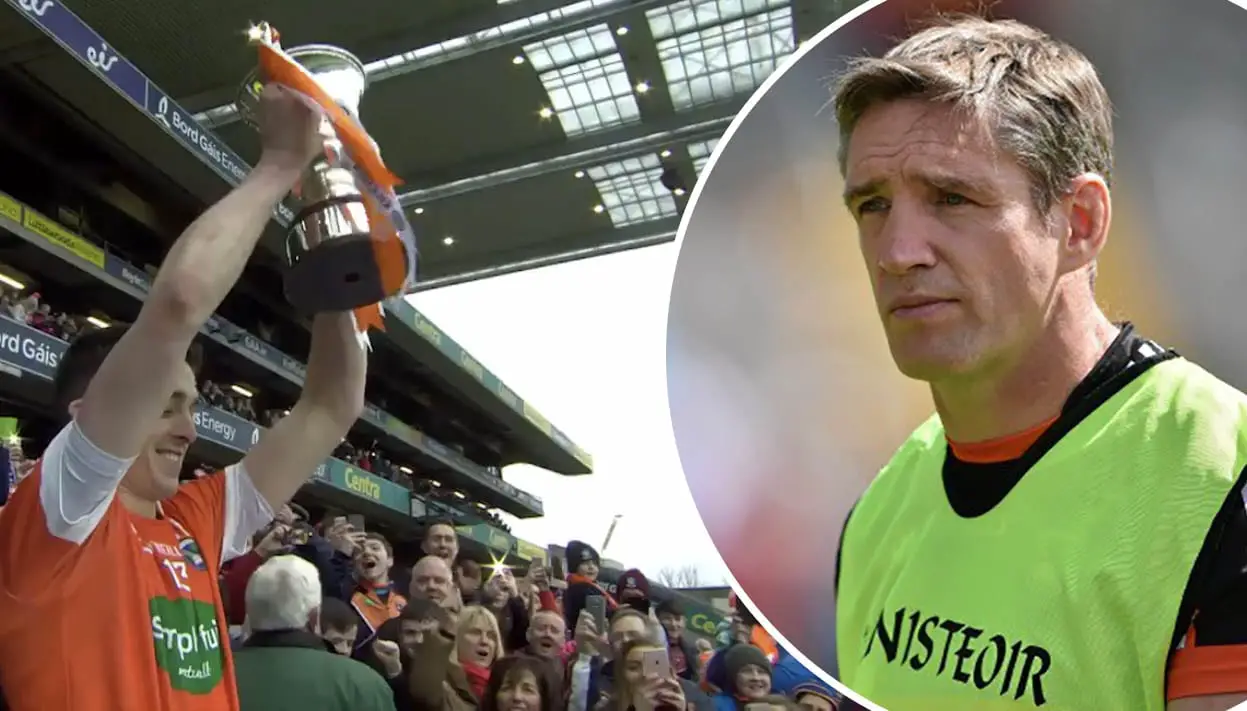 Armagh 1-16 Fermanagh 0-17
Armagh claimed their first piece of silverware of the season with a nail-biting two-point victory over Fermanagh in the Division Three final in Croke Park on Saturday evening.
An Andrew Murnin goal midway through the second-half proved decisive as Fermanagh chased the game in the final minutes – and three unanswered points at the death left Armagh hanging on.
The seventy minutes were an exhibition of kicking from the newly-crowned champions, with Patrick Burns, Naill Grimley and Aidan Forker all delivering some massive points.
However, whether it was through a mix of ill-discipline or a whistle-happy referee, Fermanagh were able to hang in throughout – Seamus Quigley profiting with 10 points from the dead ball alone.
There was a dramatic opening to the game when his brother Sean Quigley was black carded within two minutes of the throw-in.
Meanwhile, it was the reliable Aidan Forker who got the scoring underway a minute later; electing to fist the score when a goal was definitely an option.
Quigley then hit the first of his many frees before man-of-the-match Murnin opened his tally for the evening.
Niall Grimley and Quigley traded frees before Declan McCusker drew the sides level on three each after Armagh ceded possession from a Blaine Hughes kick-out – otherwise, his kicking was a large positive feature of Armagh's play.
Then came one of the scores of the game when half-back Gregory McCabe pulled one from the top drawer, 35 metres from goal as Fermanagh flooded back and seemingly smothered the Armagh attack; the Shane O'Neills man had other ideas.
Gregory McCabe kicks it high and between the posts! pic.twitter.com/xRvJxTbFEF

— The GAA (@officialgaa) March 31, 2018
Fermanagh then took the lead when a Quigley free was followed up by a Paul Jones score to make it 5-4 with 22 minutes on the clock.
Niall Grimley and Ben Crealey then notched another couple of scores before two Seamus Quigley frees gave the Ernemen the slenderest of leads as the half-hour mark ticked over.
Ben Crealey with a mighty kick ends up between the posts! pic.twitter.com/yEBuejcM1a

— The GAA (@officialgaa) March 31, 2018
Patrick Burns pulled the sides level once more with an almighty point – whether it was meant or not is another thing altogether – which skimmed off the bar and over.
Quigley looked to have given Fermanagh the advantage going into the break with a point (from a free, of course) in injury time but Murnin had other ideas and launched a high score between the posts as the referee blew for a breather – one was certainly needed as the sides went in eight points apiece at the break.
Armagh Harps man Ryan McShane was brought in shortly after the re-start and his impact was almost instant as he latched onto a pass to slot over to give his side the l
Murnin soon doubled that lead with a textbook catch, turn and kick over the bar score from the St Paul's Lurgan man.
Ryan Jones pulled one back before Niall Grimley added another free off the right boot.
Patrick Burns then got his second of the day, when he latched onto a through-ball from Rory Grugan before tee-ing himself up for a curling effort on the left-hand side, extending Armagh's lead by three.
Patrick Burns with a fantastic score for Armagh pic.twitter.com/SyX4KJvsmT

— The GAA (@officialgaa) March 31, 2018
Aidan Forker's second point on 49 minutes – a beautiful long-range effort – was sandwiched in between two Quigley frees.
Then came the game-changing score; a long high-ball in from Ben Crealey came back off the bar and into the onrushing Murnin who had the simplest of fisted finishes to give his side a seemingly unassailable five-point advantage.
Andrew Murnin gets a hand to it, Goal for Armagh! pic.twitter.com/HT9ayyQmNE

— The GAA (@officialgaa) March 31, 2018
Fermanagh responded through Jones and Quigley but Niall Rowland scored a point just before he was hauled off for the returning Kevin Dyas.
That advantage was reduced to three once more though but Fermanagh were made sweat as Croke Park's hawk-eye was called into action.
Ryan McShane – an impressive introduction – and a brilliant Grimley free seemed to have all-but-confirmed Armagha s champions but three unanswered, and late points, from Fermanagh left Armagh feeling quite nervy.
However, that goal the men in green were chasing, proved elusive and Rory Grugan was given the opportunity to lift his first piece of senior silverware in Armagh colours.
Division 3 Champions!!!! pic.twitter.com/7ER0bVGeKx

— Armagh GAA (@Armagh_GAA) March 31, 2018
The two teams meet again on May 19 in the Ulster SFC Quarter Final at Brewster Park.
Armagh win Div 3 Allianz League Football Final pic.twitter.com/iaxnccWX2e

— The GAA (@officialgaa) March 31, 2018
Sign Up To Our Newsletter