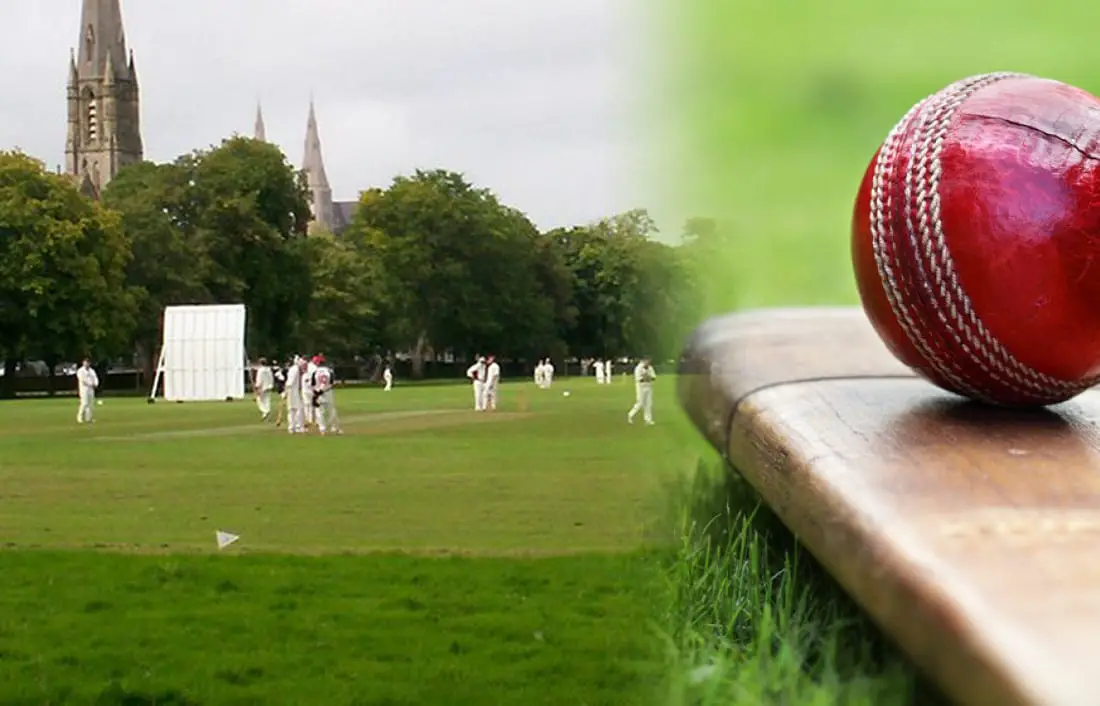 Armagh had a successful weekend in the NCU Gardiner Brothers League as they defeated both Cliftonville and Downpatrick in rain affected games on the Mall.
On Saturday Armagh lost the toss and were unsurprisingly put into bowl by Cliftonville. Jared Barnes and Ben Mackey opened the bowling with the latter striking first when he clean bowled the aggressive Mulholland.
Harry Doyle was then brought on at the Pavilion end and immediately began to trouble the batsmen as he dismissed Kelso who chipped it to Colin Russell at cover. The score sat at 62 when the next wicket fell with Neil Gelston clean bowling visiting captain Matthew McCord with a lovely off-break delivery.
Jared Barnes was then brought back into the attack and Michael Hoey was introduced from the Cannon End. Barnes quickly dismissed the other opener McFadden who made a gritty 40 and then clean bowled both McKnight and Anderson in quick succession.
Michael Hoey also picked up the wicket of B.Kelso LBW. With Doyle also successful picking up the other wicket to fall. During the Cliftonville innings there was a brief rain delay and the match was reduced to 46 overs. Cliftonville set Armagh a total of 121 and Duckworth Lewis recalculated the score to Armagh needing 126 off 46 overs.
Neil Gelston and Colin Russell opened the batting and both batsman punished the bad ball when available but when the score was 32-0 Gelston was first to fall adjudged LBW to Anderson.
Captain Matthew Steenson came to the crease and brought the score to 70 until Russell was out LBW for 26 again off the bowling of Anderson. It was left to Jared Barnes and Steenson to try finish the chase off, Barnes finished with a well made 30 not out with some lovely strokes and although Steenson and Hoey were both dismissed before the target, Armagh comfortably won by 6 wickets.
Armagh hosted Downpatrick on Sunday in what was an extremely rain-affected day. Armagh won the toss and elected to bat with Neil Gelston and Colin Russell opened the batting.
The score reached 35-0 when Gelston was unfortunately dismissed as he pulled Graham straight to the hands of mid-wicket who took a good catch. Harry Doyle was promoted to bat at three and joined Russell in an excellent stand with careful batting required against the disciplined Downpatrick attack.
A heavy shower at the midway point of the Armagh innings looked to have brought proceedings to an end but great work on the ground either side of an early tea meant a resumption with 35 overs a side. Russell and Doyle resumed in wonderful form and soon brought up a century partnership with great striking and excellent running a feature.
Doyle fell for 41 and Russell 70 in quick succession, two excellent innings. Another shower meant that the Armagh innings was further curtailed and ended at 32 overs, leaving Downpatrick with a tough looking target of  205 to win on the DL calculation. Armagh started with Gelston and Alan Whitcroft in an attempt to at least rush to the minimum 20 over requirement for a game.
The rain returned yet again just after Jarred Barnes had clean bowled the much vaunted batsman Smyth. It looked on this occasion that weather might have the final say but with just 12 minutes remaining before the game was abandoned the showers stopped and it actually brightened up a little with a new calculation decreeing that the Downpatrick innings was reduced to 23 overs with them needing 163 to win.
Neil Gelston did the early damage as he dismissed the hard hitting Wade and Martin thanks to good catches by Doyle and Steenson respectively. Jared Barnes was then returned and immediately began to wreak havoc, finishing with figures of 4-20 with superb disciplined bowling. Michael Hoey also put in a wonderful effort, picking up 2 wickets and while Doyle got one.
The bowlers were being backed up by great fielding all around the ground with a good boundary catch from Michael Hoey, a stumping from Gareth McCarter and a tremendous leaping save attempt from Mackey on the boundary some highlights.
The only real resistance was provided by visiting captain Craig Boultwood but Downpatricks innings finished on 120-9 after 23 overs meaning Armagh won by 43 runs to complete a superb weekend as they went to the top of the Section one table.
Armagh captain Matthew Steenson was understandably proud of his team after an epic weekend on the Mall. 'Saturday was a fairly regulation win for us but we had to be patient in the field and bowled well enough to restrict them then chased. Sunday said a lot about us as a team.
It would have been easy to call the game off with a bad forecast and damp conditions but we wanted a result and got one. Credit to Downpatrick and the umpires for ensuring that cricket was the winner. Russell and Doyle batted brilliantly to set a tough target and then our work with the ball was really special.
Next Saturday Armagh are on the Mall again as they host second placed Woodvale on the Mall in a game that starts at 12noon.
Sign Up To Our Newsletter