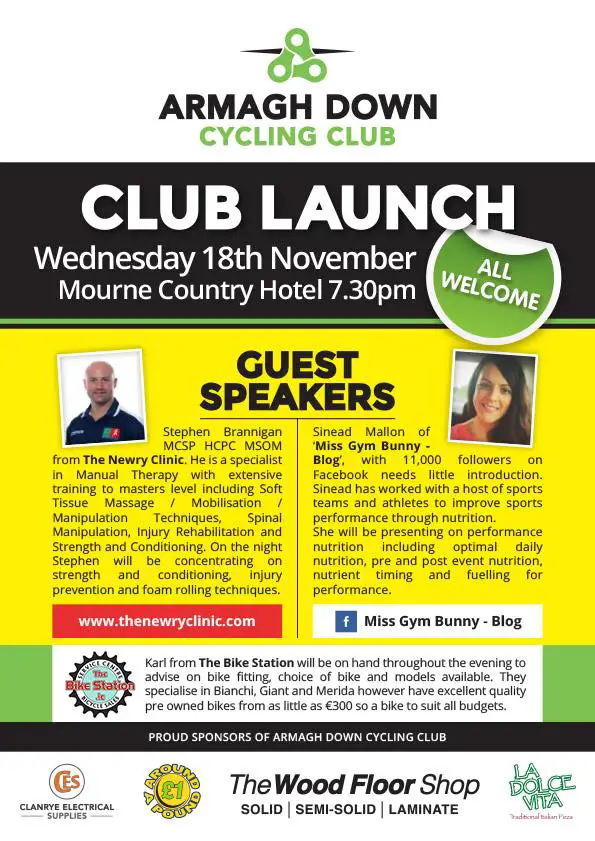 The numbers of people cycling continues to grow in the Greater Newry area, and Wednesday 18th November, sees the launch of Ireland's newest club – Armagh Down Cycling Club.
Armagh Down Cycling Club (ADCC) has been formed as a result of an amalgamation of smaller clubs, namely Killeavy CC, Saval CC and Armagh Down Breakaways CC. The new club is affiliated to Cycling Ireland, and caters for both male and female cyclists, for leisure cyclists, as well as those wanting to race under the new club colours.
Benny Smyth, Chairman of ADCC commented: 'A lot of work has gone into forming this new club, and we have great plans for 2016 and beyond. Winter is a perfect time to start cycling, as you can use these months to build up a base – before the real fun starts in spring! – we are always happy to see new members, and people coming out to give it a try'.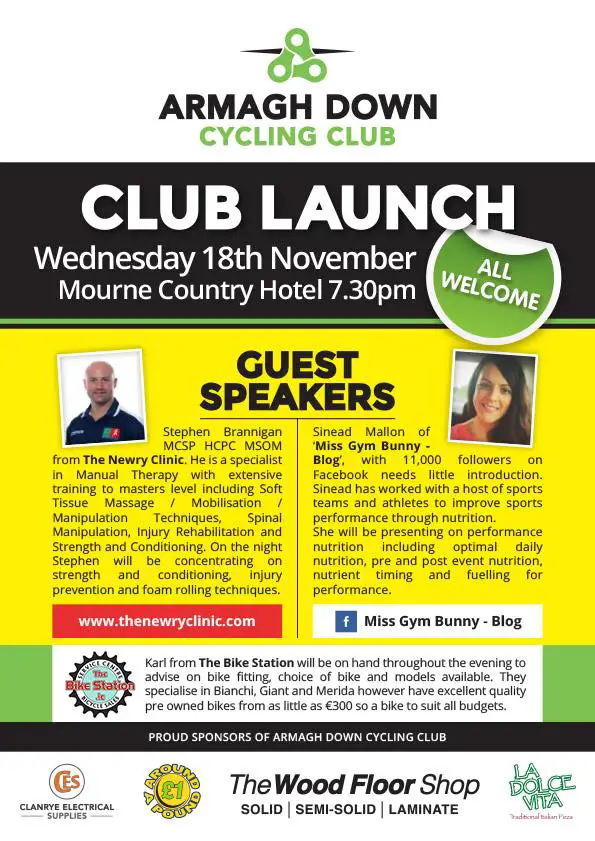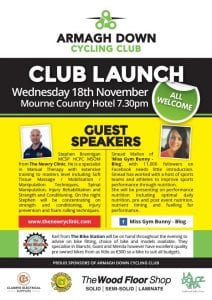 ADCC meets for their 'Club Spin' every Sunday morning, usually at their main sponsors premises – The Wood Floor Shop – on the Warrenpoint Road. There are options for 25 or 50 mile cycles, with a coffee stop. Routes generally take in The Mournes, Ring of Gullion, and The Cooley Peninsula.
The club also have post-Christmas indoor cycling classes planned for all members.
On Wednesday 18th November from 7.30pm, ADCC will have its launch event in The Mourne Country Hotel.
The evening will see the unveiling of the new club kit, sponsors and colours.
There will be a talk on Strength, Conditioning and Injury Avoidance by Stephen Brannigan of The Newry Clinic. Sinead Mallon of 'Miss Gym Bunny' blog will also speak about sports nutrition and fuelling for performance. Karl Dolan of The Bike Station, will be in attendance to help advise on bike selection, bike size, and models.
Benny continued: 'As well as a brilliant line-up covering injury avoidance, and diet – current members will be on hand to answer any questions'.
The event is free, and anyone interested is welcome to attend.
Discounts on the club cycling kit will be available to new members who sign up on the night.
Further information at www.facebook.com/armaghdowncc
Sign Up To Our Newsletter