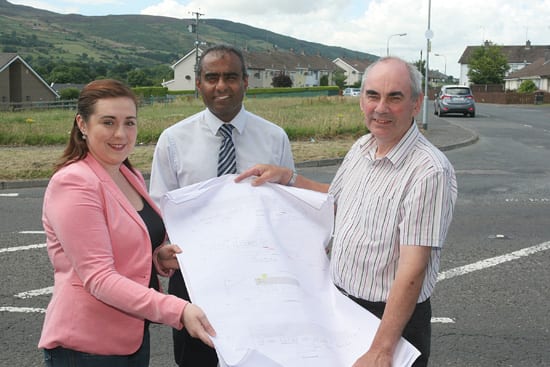 Work on the half-finished Meigh surgery in south Armagh recommenced on Friday following long delays in the project.
Recently re-elected MLA Megan Fearon said she is delighted to see work begin again.
"I have received confirmation from the contractor that they are back on site as of Friday and the project is moving ahead," she said.
"This is very welcome news indeed.  The people of Meigh have been putting up with substandard facilities for far too long. Sinn Féin have been campaigning for an adequate, modern facility here for some 10 years now while I myself have been in constant engagements with the Department, Health Board, the doctor and the people of the area over the course of the past few years about it."
She continued: "While people will of course be happy to have a the new facility up and running there will also be relief that the half finished site, which had been something of an eyesore, not to mention dangerous for young children playing in the area, will be back in business after two and a half years."
Councillor Liz Kimmins, who has also been a key player in the campaign for a new surgery, added: "We went in to the recent elections promising to put health at the top of our agenda and I think this project shows that no matter how challenging an issue is, Sinn Féin will stick with it until we get a result for the people."
"We will of course be keeping up to dat with progress on the site to ensure its completion goes smoothly and there are no further delays or problems."
Read more news:
Anaerobic digester to be approved within historic Scarva Demesne
Man (20) dies after road traffic collision in Portadown
Armagh woman who cut dog's tail has sentence increased upon appeal
Council no plans to buy Courthouse — despite newspaper claims
Staff and pupils' in cookery book fundraiser in memory of Lesley-Ann and John
Portadown man Willie loses cancer battle months after dream wedding
Designers outline why £240k Macha marionette is 'right for Armagh'
Borough to stage huge one-off 'Stars & Stripes' Independence Day spectacular
Sign Up To Our Newsletter