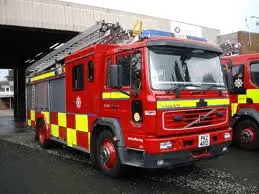 A 31-year-old woman received treatment for burns and smoke inhalation after an accidental chip fan fire in Portadown.
The incident happened at a terraced house in Glanroy Avenue area yesterday (Tuesday) afternoon.
She was treated by Fire and Rescue Service at the scene before being taken by ambulance to hospital.
Fire service say the cause of the blaze appeared accidental.
A sounding smoke alarm alerted occupier to the fire and firefighters from Portadown station attended the incident.
More county Armagh news:
We have the 'chance to lead the way' in changing how we look at the debilitating illness Fibromyalgia
Tributes paid to Co Armagh student following suspicious death in England
New £22.5m further eduction campus announced for Craigavon
Kennedy writes to BBC seeking 'improved' TV coverage of rural Twelfth venues
Vulnerable victim Owen (40) hid in wheelie bin after brutal murder
Portadown's High Street Mall put on the market for sale
Armagh man hailed a hero after his quick actions saved woman's life
Thousands due in Markethill for Co Armagh Twelfth demonstration
Sign Up To Our Giveaways
Get entered into our regular giveaways – now exclusive to members ONLY! Sign up for FREE here.