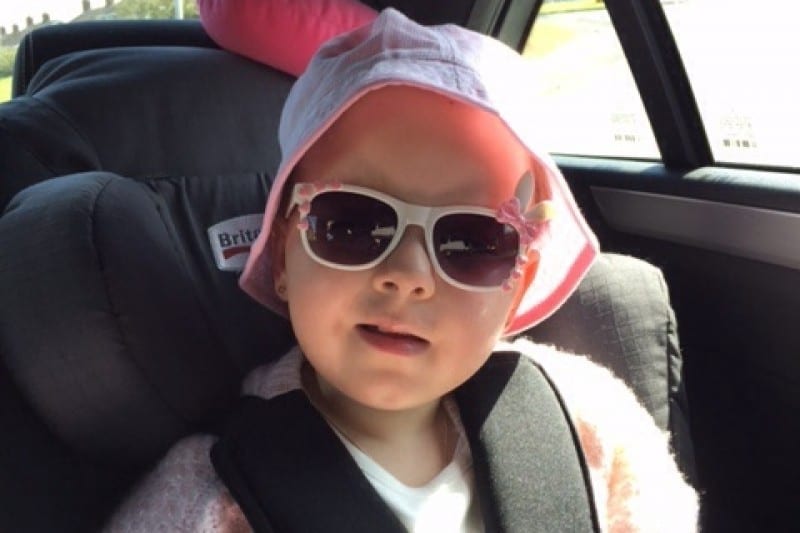 A seven-year-old Keady girl – who passed away last month after battling ill health for most of her young life – has been remembered in a series of new books.
Little Eva Tomney features in three new titles which have been written to help children who are dealing with the difficulties encountered through undergoing chemotherapy and radiotherapy.
Eva – a pupil at Fleming Fulton School – stole the hearts of everyone she met and there was a huge outpouring of support for the 'Eva's Journey Back to Walking' appeal.
She was born in November 2008, but, when she was three years of age, and looking forward to starting playschool, she complained of a sore neck and was showing signs of losing her balance.
Eva underwent a series of co-ordination tests and was sent to Craigavon for an MRI and then on to the Royal Victoria Children's Hospital. The MRI, in October, 2012, revealed a brain tumour. The cancer had spread into the little girl's spine and she spent nine months undergoing chemotherapy, two daily doses of radiotherapy over a five week period and two stem cell transplants.
Eva got out of hospital on June 3, 2013, and amazed everyone with her vitality. The family were delighted with how she had responded to the treatment.
But just two months later her body began to slow down, doctors saying it was as a result of the high levels of toxicity from the chemotherapy and radiotherapy.
Confined then to a wheelchair, in August the family turned to the iCare Wish charity at Milford, in a bid to raise money to buy specialist equipment to help Eva walk.
But Eva lost her battle against ill health and passed away at the end of November.
Her aunt, Tracy Hughes is the head of business studies at St Patrick's College in Dungannon and she had written the first of the three books – 'The Adventures of Eva's Hair'.
Through the college, Enlighten Hope was formed by the students, as part of the Young Enterprise Company Programme for 2015 and 16.
And two more titles, again featuring Eva, have been produced: 'The Adventures of Will's Wheels' and 'The Adventures of Tina's Teeth'.
According to the Enlighten Hope website – through which the books can be purchased: "Our adventure story books have been written for all children who love adventure!
"These stories will be especially helpful for parents and carers to read with their children; to help them to cope in a hopeful way with their child undergoing chemotherapy and or radiotherapy.
"Throughout the books we have defined words in a child friendly way that you may come across during your child's treatment."
Eva's experiences in her too short life will now help others who have been similarly affected.
And the money raised will be go towards the Fleming Fulton School, iCare charity and Cauldwell Children, a charity set up to change the lives of disabled children and their families.
For more information, visit the website www.enlightenhope.co.uk
Read more news:
Consultation opens on reducing wholetime firefighter services in County Armagh
Trial starts of young south Armagh couple accused of terrorised related offences
Police issue warning over counterfeit bank notes in Armagh
Hooded males attempt to break into house by booting front and back doors
Motion to urge council to fund 'urgent' wall and path repairs in Armagh
Armagh I Sneak Preview: Best ever St Patrick's Festival to stretch over 10 days!
Sign Up To Our Newsletter