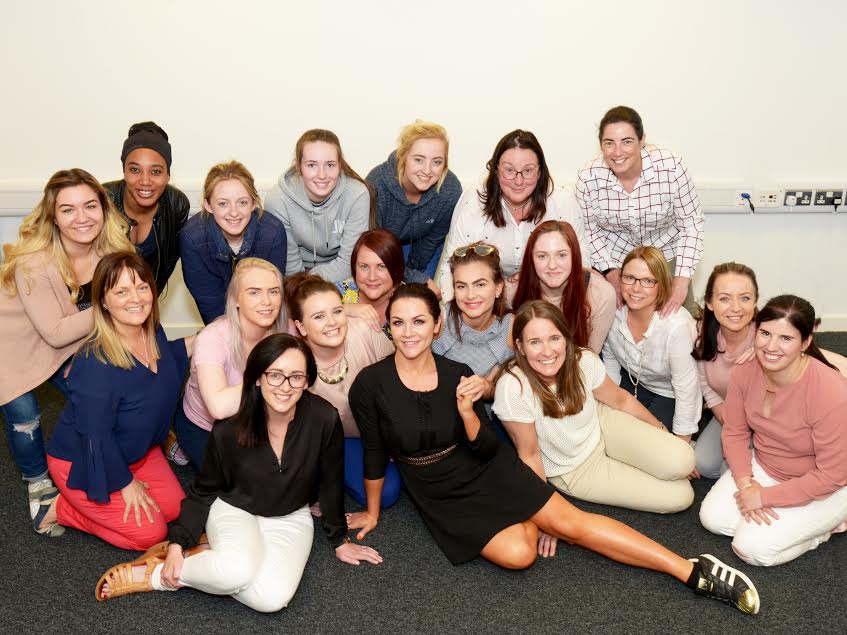 A group of young mums from the Southern Trust area have been treated to a motivational masterclass with BBC Apprentice finalist Grainne McCoy.
In total 147 young mums from across Armagh, Dungannon, Craigavon, Banbridge and Newry and Mourne have enrolled in the Family Nurse Partnership programme.
Aimed at first time mums, aged 19 and under, the same family nurse visits the family from early pregnancy until the child's second birthday, taking them through a range of activities and supporting them with the many issues that families can face.
The programme has proven to improve health, wellbeing and self-sufficiency of first time young parents and their children.
Grainne McCoy, who also was a young mother from the area, has built up a successful career in the make-up industry.
She spoke to the girls about her own experience as a young mum, shared her career path and of course gave some make up tips.
Speaking at the event Mairead Donnelly, Team Supervisor for the Family Nurse Partnership said: "Being a parent is so rewarding but isn't always easy, no matter what age you are. Our team of Family Nurses support local young mums in giving their babies the best start in life, helping them to deal with the many common insecurities parents face and offering a place to turn to if they need advice.
"We also focus on the future health and wellbeing of child and mother and aim to have a positive influence on the long term outlook for families.
"So we were delighted to welcome Grainne today and really appreciate that she has shared her own personal experience.  We are extremely proud of all of our young mums and hope that they feel inspired by Grainne's story that they too can achieve their own personal goals in life."
Grainne has teamed up with Youth Action NI through its GET SET Project to develop a makeup confidence workshop for teenage mums. GET SET aims to encourage young people to take part in training, education or employment.
She says: "Being a teenage mum myself I have always wanted to help and prove to other young mums that times will be tough but every day is a new day and life is great, to show them they have a strong support network around them and to use my experience as a young mum to advise them.
"This course isn't just about makeup but about learning lifelong skills. Creating this workshop makes me feel overwhelmed that my vision is becoming a reality. These ladies are fantastic young mothers and they just need a little reminding how fab they really are."
Family Nurse Partnership is supported by the Department of Health and the Public Health Agency. Applications should be made as early as possible in pregnancy (up to 28 weeks). Applications can be received from anyone – any Health and Social Care professional, teachers, a family member or you can self-refer.  For further information Tel: 028 3741 2259 or Email: mairead.donnelly@southerntrust.hscni.net
Picture: The Motivational Masterclass for young mums taking part in the Southern Trust Family Nurse Partnership programme: Back Row: Samanta Taparauskaite, Miriam Cabral, Tiarna Mc Elroy, Laura McConville, Tiarna McCluskey, Deirdre Webb, Public Health Agency, Mairead Donnelly Family Nurse Supervisor. Middle Row: Tracy Wilson Family Nurse, Chloe Mulgrew, Kerry McKeown, Louise Malone Ni Youth Action, Petra Cepova, Chantelle McFarland, Roisin Neill Family Nurse, Angela McCoy Family Nurse Partnership Administrator. Front: Deirdre O'Neill Family Nurse, Grainne McCoy and May Anderson Family Nurse, Olivia Delaney Family Nurse.
Sign Up To Our Newsletter