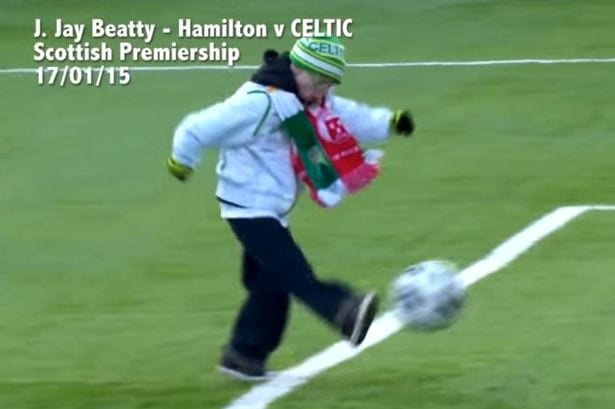 A teenage boy has been arrested by police investigating alleged online abuse directed at Lurgan boy Jay Beatty.
Police Scotland confirmed the 14-year-old had been referred to the Childrens' Reporter.
The action followed an allegation that an offensive comment about the 11-year-old Celtic superfan had been posted online on Friday.
Lurgan's Jay Beatty, who has Downs Syndrome, has won an army of fans and recently collected the top award at this Sunday Life Spirit of Northern Ireland Awards.
Young Jay is a huge Celtic FC fan and he won the Scottish Premier Goal of the Month Award in February after scoring a penalty during a half time match.
Read more news:
Axe to fall on rural Co Armagh primary school
NIE worker stung up to 10 times after finding bees nest in electricity meter
130 new jobs created with construction of two new restaurants at rushmere
Two arrests follow early morning 'incident' on Mall
Heartbroken father's poignant tribute to his daughter Danica