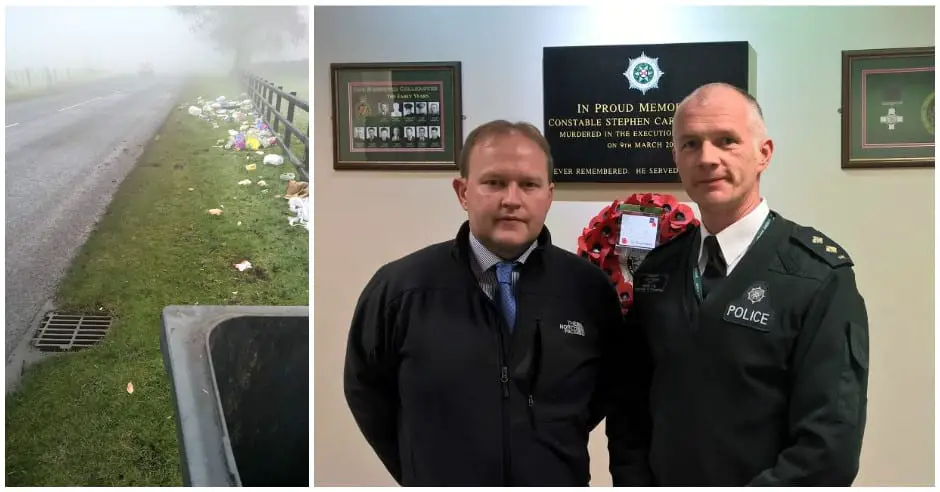 Vandals travelling in a 'black saloon' drag bins towed by a car at high speed spewing rubbish for miles.
Police are currently investigating a series of incidents which happened overnight and into Friday morning in the Tandragee and Markethill areas.
Bins were dragged down roads by individuals in what local residents described as a 'black saloon car' causing rubbish to spill over roads and verges over many miles.
Councillor Gareth Wilson who met with Police on Friday afternoon said: "This is the latest incident in a long series of similar incidents in this area and the danger presented to motorists, especially as the road conditions were treacherous with ice and thick fog, was quite severe.
"I have spoken to Police at length on this matter and I understand they were alerted to this activity in the early hours of Friday morning. Our hard working council staff were out on the roads very early on Friday morning to start the clean up."
He added: "I was out on the Markethill road on Friday morning and was speaking with a resident who no longer puts his bin out the night before collection as a result of this spate of vandalism.
"However regardless of his proactive step, he then was greeted by the sight of two bins 'up-ended' on his grass verge with bag fulls of rubbish scattered all over his garden and he was busily cleaning it up. The resident said that the speed the vandals travelled down the road with bin being towed by the car was really dangerous and the bins then end up everywhere with rubbish strewn for miles.
"Police will be investigating this matter and I would share their advice to avoid putting bins out overnight and on speaking to Council officials, they have advised to leave bins out on the morning of collection from 7.30am onwards.
"Hopefully the Police can identify those behind this spate of dreadful vandalism and deal with them through the courts as the risks to the public on such a foggy and frosty night was considerable."
Read more news:
Cocaine with street value of £50,000 seized from car; two men arrested
NI Water confirm when sewage work will recommence in Armagh
Grieving widow hits out at bin thugs: 'Someone else could have a sad home too'
Armagh sewage works postponed until after Christmas as public outrage reaches a crescendo
Dense fog causing problems for drivers on M1
Mum's Facebook post goes viral as Christmas cards pour in for autistic boy
Disqualification for director of bureau de change which went into liquidation
Four people injured following collision at Armagh traffic lights
Join Our WhatsApp
Don't miss a headline with a daily round-up as well as major breaking news. Message 'News' to 07938050001.