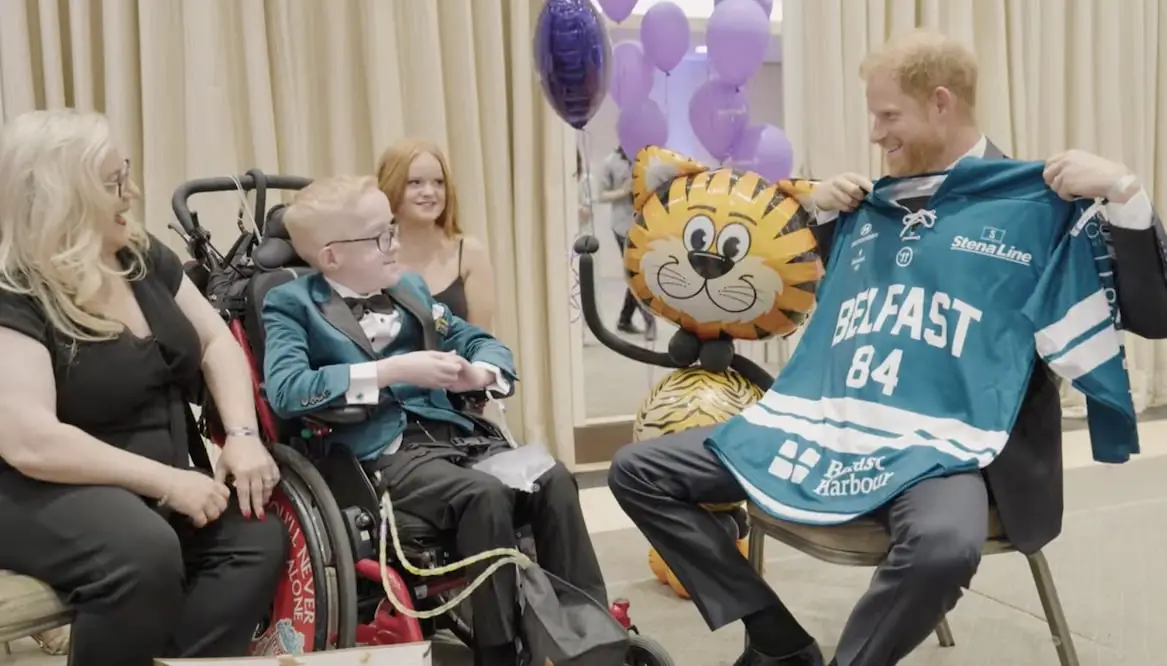 The Duke of Sussex has presented a Tandragee teenager with an 'Inspirational Young Person' award during a celebrity-studded function in London.
Blake McCaughey was clearly thrilled to meet Prince Harry at the exclusive Hurlingham Club on Thursday night.
The 15-year-old – who suffers from a rare genetic disorder – also presented Harry with a personalised Belfast Giants shirt.
Blake is a huge ice hockey and Belfast Giants fan.
And just last month the Giants launched a fundraiser, when they decided that a trip to Boston, USA, would be the "thrill of a lifetime" and extra special for Blake.
Blake was born with two chromosome deletions and abnormal muscle fibres and lives with irreversible intestinal failure, which means he cannot eat or drink and has to be fed through a tube.
He has been asked to meet the transplant team at Birmingham Children's Hospital later this year to undergo two weeks of tests and meetings to establish whether he is eligible for a small bowel transplant.
Adam Keefe, head coach of the Belfast Giants, says that Blake has "embodied what it means to be a Belfast Giants fan".
And now, appropriately kitted out, Prince Harry will look like a real fan too!
The special presentation to the Duke came during the WellChild Awards, which were presented by Gaby Roslin.
Prince Harry, the Patron of the charity, took time to chat with Blake – and all the young award winners – at a pre-ceremony reception.
Blake looked splendid and dapper in his emerald green tux and bowtie, enjoying a star-studded bash attended by celebrities including Tom Felton, Sophie-Ellis Bextor and Danny Jones.
He could not keep the smile off his face all evening and was thrilled when he received his award from WellChild ambassadors and popular TV presenters Dick and Dom.
A national charity for seriously ill children, WellChild celebrates the inspirational qualities of children and young people living with serious illnesses or complex medical needs and honour the dedication of those around them who go the extra mile to keep these children healthy and happy.
In his speech, Prince Harry applauded the award winners and the efforts of the charity, saying: "I've spoken with countless families who have shared such gratitude for the comprehensive, around-the-clock support they've received from WellChild's family network.
"I've been struck by the immense power that comes from connecting families with others who understand and truly see them – and how WellChild has become an emotional support and information lifeline for many during the pandemic and beyond. The fact this network has since grown to more than 3,000 families is nothing short of remarkable."
Truly an unforgettable ooccasion for Blake and family – well-deserved and bringing memories to last a lifetime!
Sign Up To Our Newsletter