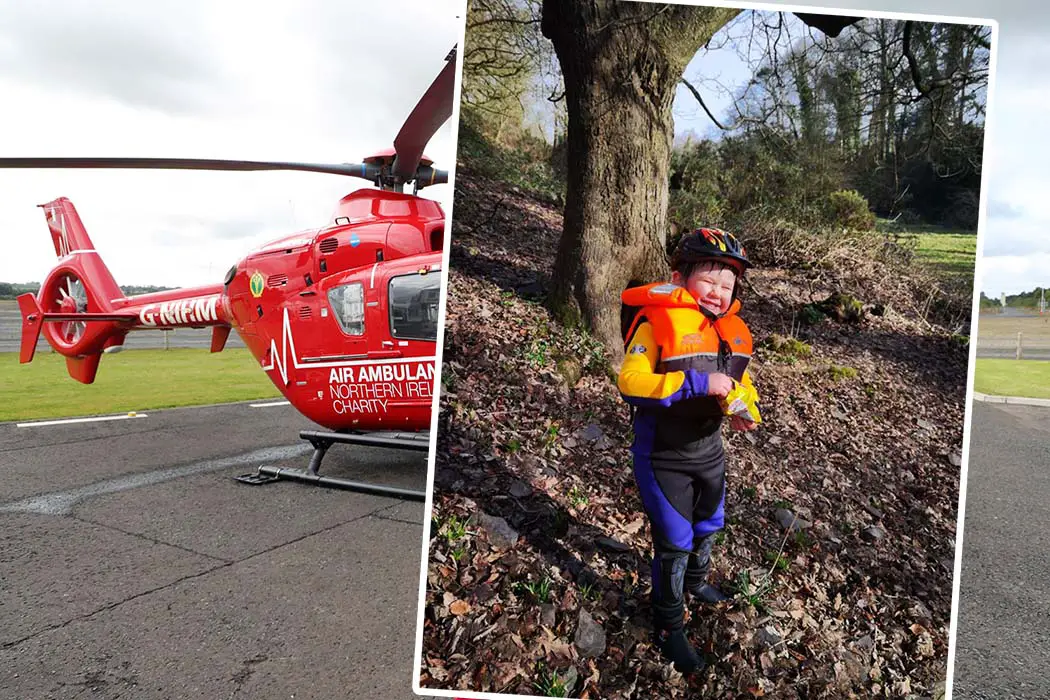 A seven-year-old County Armagh schoolboy, who diced with death in a Tandragee river just weeks ago, is stepping up to the challenge – quite literally – and fundraising for the Air Ambulance NI.
Seán Sterritt was heroically pulled from a fast-flowing weir in the River Cusher last month having capsized while out for a leisurely kayak.
Thankfully, the sterling efforts of heroes Mike Greer and his 18-year-old son Zach, Seán is now in a position to give something back.
On Easter Monday, the Mullavilly youngster will aim to reach the summit of Slieve Donard in County Down, in a bid to raise money for the Air Ambulance who arrived on the scene within minutes of the 999 call going in.
And mum Elaine says she couldn't be prouder of her son.
Speaking to Armagh I, she said: "I am absolutely busting with pride of how he has handled everything.
"For a 7-year-old to process it, get over it; it has taken him a little while to get this far but I am just so proud at how resilient he is. It's remarkable, and I think it's just testament to the type of person and character that he is."
After initially brushing the drama off, Elaine says Seán has come to grips with the gravity of what happened that Sunday afternoon in February.
"Now he has that little bit of fear getting back in the water," she said. "He got back in the week after for 10 minutes and wanted out, so we have decided to let him go at his own pace.
"It has taken a wee bit more out of him now, but he's okay. He's back to school now – we're just grateful for that."
The proud mum says Seán, and indeed the whole family, are desperate to give something back to such a wonderful service – a service we cannot take for granted.
"We are so thankful Sean wants to this, but that's he's even able to do it – that's how we are looking at it too," she added.
"I do appreciate the current times and the pressures and stress people are under – it's a case of, if you can – great, but if you can't, a wee high-five, a well done, or sometimes all it needs is a little comment just to give it that push.
So far, Seán has raised in excess of £500, having set an initial target of £250.
Said Elaine: "It has been such a positive outcome to a situation that could have gone either way.
"If the money pays half the fuel or pays towards saving somebody else's life, it will have been worth it. I think, not only that, but for people to recognise and fully understand that this is a charitable body, which relies on donations. Don't be complacent, this is a service that does rely on fundraising and it doesn't matter how small the donation.
"I completely appreciate the difficulties charities are facing in this day and age; if it's 50p, or 20p, that all adds up. It makes a difference to us as a family too. The fact the Air Ambulance was in Tandragee twice in one week, that was a big response and a big outgoing, so please support it if you can."
To support Seán's fundraising drive, click here.
Sign Up To Our Newsletter