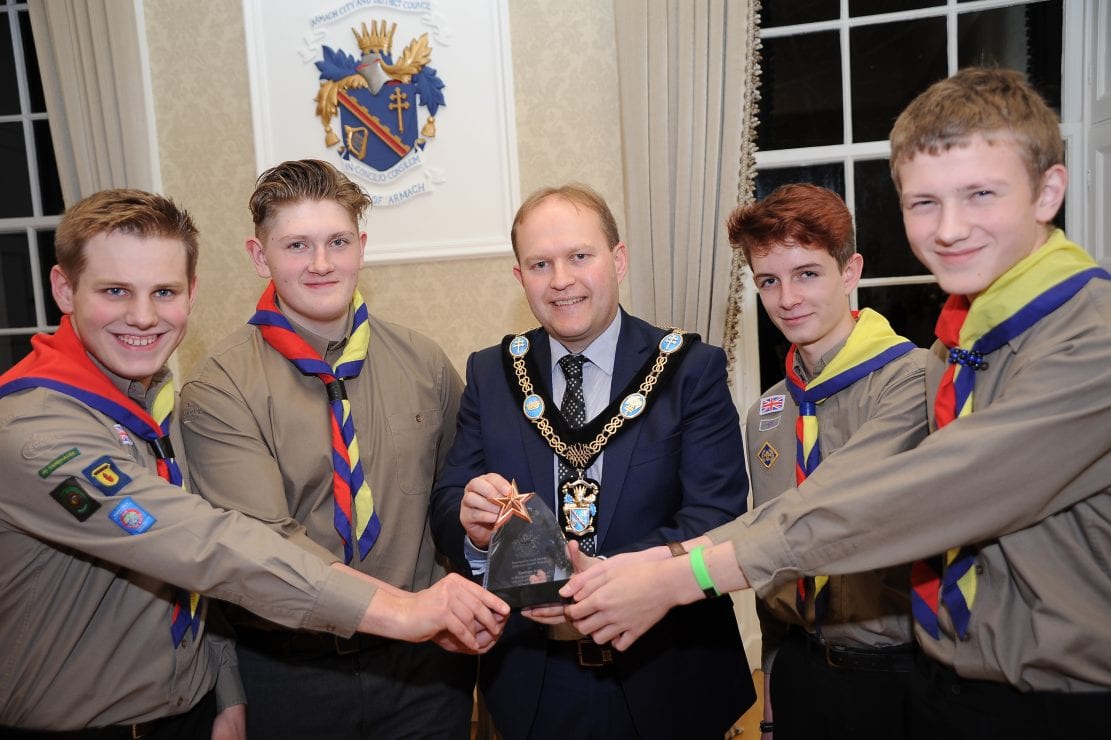 Four Tandragee Scouts who helped rescue an injured walker in the Mournes have been given a special recognition award.
Paul Reader, Matthew McTurk, Mark Grant and Aidan Nesbitt were hailed heroes after their selfless actions during the summer.
Now they have had this special honoured bestowed upon them by Lord Mayor Gareth Wilson.
The boys – all members of the 1st Tandragee Scout Group – discovered the man who had sustained a lower leg injury in June.
They had been in the area of the Bloody Bridge track and were cut off with no contact via mobile phone or walkie talkie.
They put their motto 'Be Prepared' into action when they rendered First Aid by availing of what they had to hand.
They used their neck scarves to help render basic aid to the injured man, before fashioning a stretcher out of their equipment and carrying him further down the mountain to a point from which they could summon help from the Mourne Mountain Rescue Team.
The boys were praised for their quick thinking after details of the rescue were made known.
And they were invited along to a special reception – hosted by the Lord Mayor this week – to recognise their heroic efforts.
The reception was staged as part of the Scouts' annual awards presentation of badges and certificates.
Lord Mayor Wilson said: "I have got to know Tandragee Scouts really well in the past few years and I always like to recognise their positive contributions to our borough whenever possible.
"This was a special evening of certificate and badge presentations as the Scouts are recognised for successfully completing various elements.
"I felt it was important with parents and the Scouts attending, that special recognition was given to the group for the efforts of four of the members, Paul Reader, Matthew McTurk, Mark Grant and Aidan Nesbitt, who helped rescue a hillwalker in the Mournes in the summer.
"Their efforts were widely praised in the media and by the Mountain Rescue teams and indeed the injured man himself, and I thought it only right that the boys and the group receive this special award.
"They have been taught their skills and values so well by their leaders.
"I wish Matthew, Aidan, Paul and Mark well as they continue their Scout work and thank all the leaders and Scouts at Tandragee for their amazing work and their fantastic contribution to our borough."
Sign Up To Our Newsletter