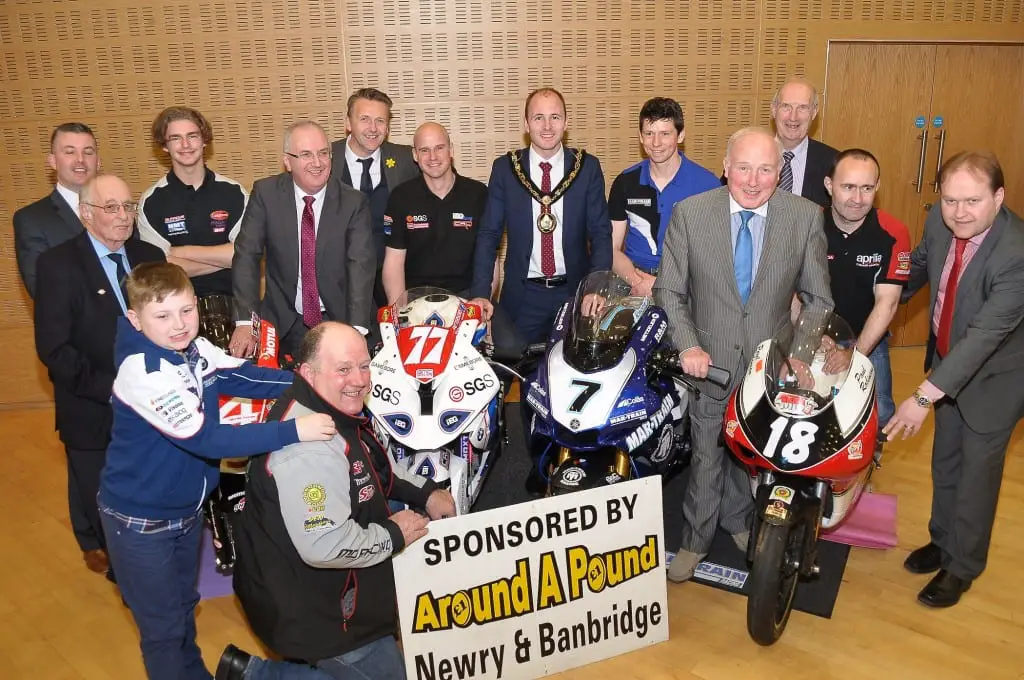 North Armagh Motorcycle & Car Club (Tarmac Section) Ltd – which organises the annual Tandragee 100 Road Race – has been recognised with the Queen's Award for Voluntary Service for 2016
The North Armagh Motorcycle & Car Club (Tarmac Section) Ltd, a voluntary group from County Armagh who co-ordinate over 500 volunteers to run the Tandragee 100 National Motorcycle Road Races, a 2-day annual flagship event, has been honoured with the Queen's Award for Voluntary Service, the highest award a voluntary group can receive in the UK. This year is the first time a motorsport group in Northern Ireland have received this esteemed mark of distinction.
Anne Forsythe, Club Secretary and Sheila Sinton MBE, Club Chairperson from The North Armagh Motorcycle & Car Club (Tarmac Section) Ltd attended a garden party at Buckingham Palace on May 24, where they saw the Queen, met Prince William and other winners of this year's award.
The North Armagh Motorcycle & Car Club (Tarmac Section) Ltd is one of 193 charities, social enterprises and voluntary groups to receive the prestigious award this year.
The number of awards given to groups this year is slightly higher than last year, showing that the voluntary sector is thriving and full of innovative ideas to tackle community challenges.
The Queen's Award for Voluntary Service is the highest award given to local volunteer groups across the UK to recognise outstanding work in their communities.
The awards were created in 2002 to celebrate the Queen's Golden Jubilee and winners are announced each year on 2nd June – the anniversary of the Queen's Coronation.
Award winners this year range from a War Memorial Community Trust, providing social facilities for the benefit of the community in Clwyd, Wales, to a club enhancing the community by developing individuals through athletics, in Ayrshire and Arran, Scotland.
The North Armagh Motorcycle & Car Club (Tarmac Section) Ltd will receive the award from the Lord Lieutenant for County Armagh, the Earl of Caledon later this summer.
The Queen's Award for Voluntary Service Committee Chair, former broadcast journalist Sir Martyn Lewis said: "I warmly congratulate all of the inspirational voluntary groups who have been rewarded for their community work with a Queen's Award for Voluntary Service. The judging panel for this year's awards were struck by the quality and breadth of all the successful groups. The thousands of volunteers who give up spare time to help others in their community and to help solve problems demonstrate the very best of democracy in action."
Minister for Civil Society, Rob Wilson, said: "I would like to congratulate all groups who received this year's Queen's Award for Voluntary Service, in recognition of their fantastic achievements.
"The huge amount of work and commitment these organisations put into their local communities is surpassed only by the passion and motivation of the individuals who volunteer. I hope these groups continue to inspire others to get involved and make a positive impact so that we can continue to build a more compassionate society."
Mrs Jill Armstrong and Mr William Beattie, Deputy Lieutenants for County Armagh, who carried out the assessment process, stated: "It is highly commendable that an international sporting event of this stature maintains its roots, after over half a century, in a not-for-profit ethos and continues to be managed locally and voluntarily by community members. This community takes enormous pride in the Tandragee 100's on-going success, and recognises the event as one of the principal bonds that holds it together. Highly deserving of this award."
Club Secretary, Anne Forsythe said: "The North Armagh Motorcycle & Car Club (Tarmac Section) Ltd is immensely proud of the recognition that this Award represents. It is a demonstration to all of our many volunteers that what they do really makes a difference. If anyone would like to get involved, come along and join the Club at one of our Club Meetings, held at 8pm on the second Monday each month in Tandragee Rovers Football Club, Madden Road, Tandragee."
Read more news:
Man arrested by police investigating murder of disabled pensioner
Tandragee business given go-ahead for £4m factory extension plans
Could Portadown Road see further housing development?
New Health Minister asked to reinstate minor injuries unit to Armagh
Kingsmills Massacre investigation to be reopened
Is the hard shoulder at Gosford becoming more of an attraction than park itself?
Armagh man appeals for help to recover stolen Peugeot 308
Newsletter
Sign up for our weekly newsletter here.