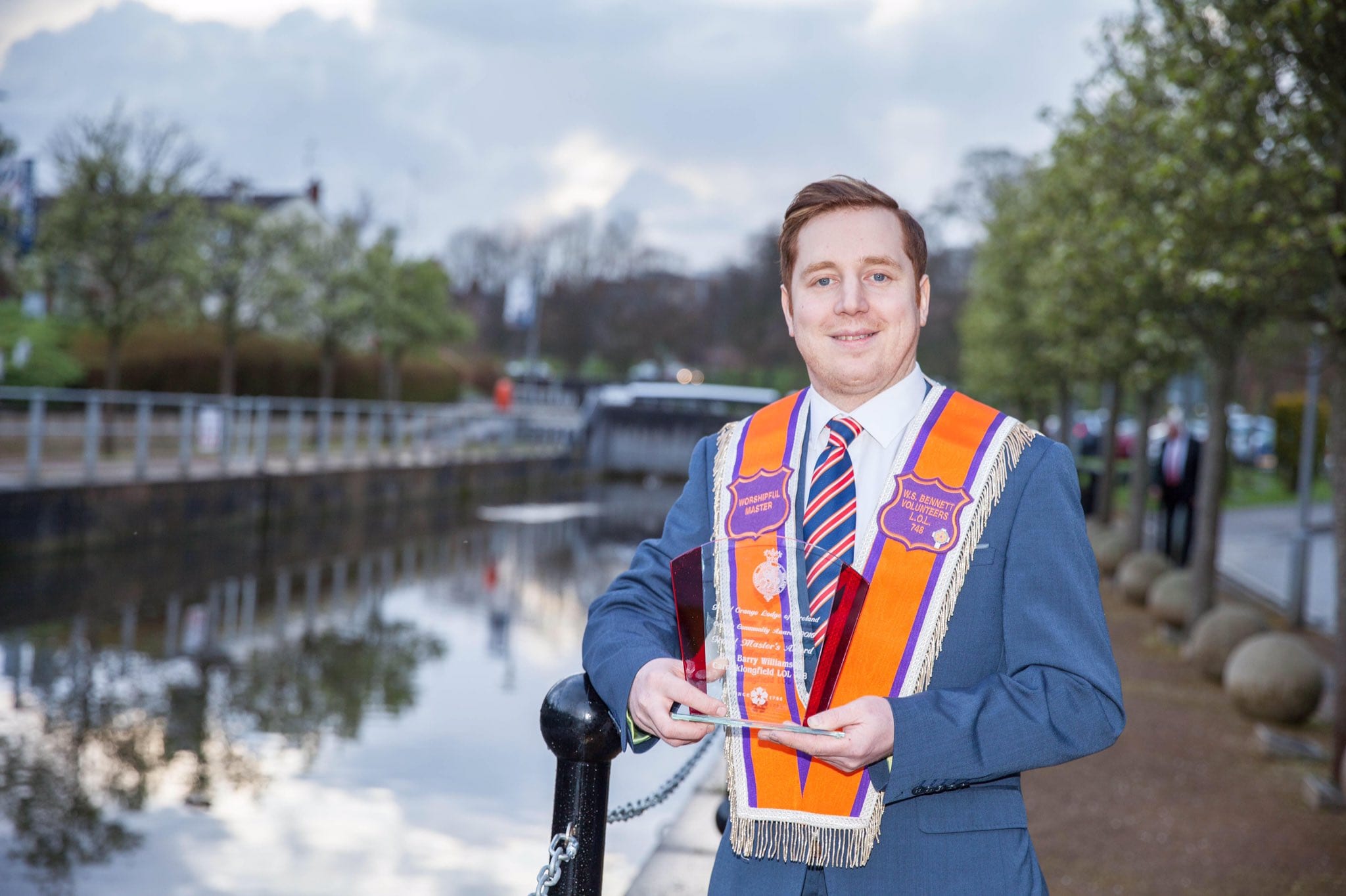 An "inspirational" Orangeman who, following personal tragedy, has devoted himself to raising awareness of blood cancer, has been publicly recognised by the Institution.
Barry Williamson, from Tandragee, was the recipient of the Grand Master's Award at this year's Orange Community Awards, held in Lisburn on Friday evening.
The 33-year-old electrician has raised nearly £60,000 for Leukaemia & Lymphoma NI following the death of his wife, Alison, last year, who had been diagnosed with a rare form of blood cancer.
Devoting his free time to Alison's memory, the father-of-two committed himself to various fundraising initiatives, including climbing the four highest mountains in the UK in the space of 48 hours last autumn.
Barry's dedication recently resulted in the charity, in conjunction with Queen's University, being able to announce funding for the 'Alison Williamson PhD Studentship' for research into blood cancers.
Grand Master of the Grand Orange Lodge of Ireland, Edward Stevenson, paid tribute to Barry's "humbling devotion and selflessness" in such tragic circumstances.
He said: "It is impossible not to be deeply touched by Barry's story. Despite his personal grief and trauma, he has displayed outstanding grace, generosity and commitment; giving of his time tirelessly to help others in memory of his late wife. His efforts are truly inspirational and provide a fitting tribute to Alison.
"Barry's endeavours are yet another example of the continuous charitable outreach of Orangemen for numerous worthwhile causes. We as an Institution are immensely proud of his hard work and he is a worthy recipient of this award."
Commenting after receiving his award, Mr Williamson said: "I cannot express how humbled and honoured I feel to be awarded this prestigious accolade.
"I feel unworthy of it compared to those who have received it in previous years. I would like to say a very sincere thank you to the Grand Master for this wonderful award, which I accept on behalf of all who have helped me in any way over recent months to raise so much money for Leukaemia & Lymphoma NI.
"I wish to express appreciation to my own private lodge, W.S Bennett's Memorial Carricklongfield LOL 748, and to every single person who has supported me and the children.
"I will endeavour to keep on fundraising for those who have fought and won, for those who have fought and lost, and in support of all who are still fighting that hopefully a cure will be found for these dreaded illnesses.
"I know Alison would be so proud of what we have achieved and I dedicate this award to her memory."
Barry received his award from the Deputy Grand Master of the Grand Orange Lodge of Ireland, Harold Henning.
He was just one of many individuals, as well as lodges and musicians, to be formally acknowledged by the Loyal Order for their community work and achievements over the past 12 months.
Among the prize winners at 'The Grands' were Ballyrea LOL 309, Co Armagh, who claimed the coveted Best New Banner Award.
Their banner includes an evocative black and white scene from the Battle of the Somme, symbolically portraying a soldier kneeling in a field of poppies.
The banner is a tribute to members of the lodge who paid the supreme sacrifice in the Great War and World War Two.
Kinallen Purple Star LOL 247 claimed the Lodge Community Involvement title. Members of the Co Down lodge were commended for facilitating the utilisation of their hall by a range of local community groups for many activities – including meetings, training courses and fitness classes.
The Sporting Achievement category was highly competitive with three young Orangemen – Russell White (triathlon), Zak Hanna (running) and Adam Smyth (badminton) – sharing the award.
Meanwhile, Drumderg Flute Band and Ballylone Concert Flute Band struck the 'right note' with judges as joint winners of the Band of the Year title.
Mr Stevenson paid tribute to the winners and nominees in each of the respective categories.
He said: "I would like to personally congratulate all those short-listed for being role models within the Institution, as well as in their own communities.
"The aim of the awards is to recognise and reward excellence, and we are delighted to showcase the tremendous community work undertaken by individuals, lodges and bands across the Province."
Entertainment at this year's event, held at the city's Island Arts Centre, was provided by Ballylone Flute Band, Markethill Highland Dancers and gospel choir, Men in Black.
Picture: Grand Orange Lodge of Ireland
Sign Up To Our Newsletter