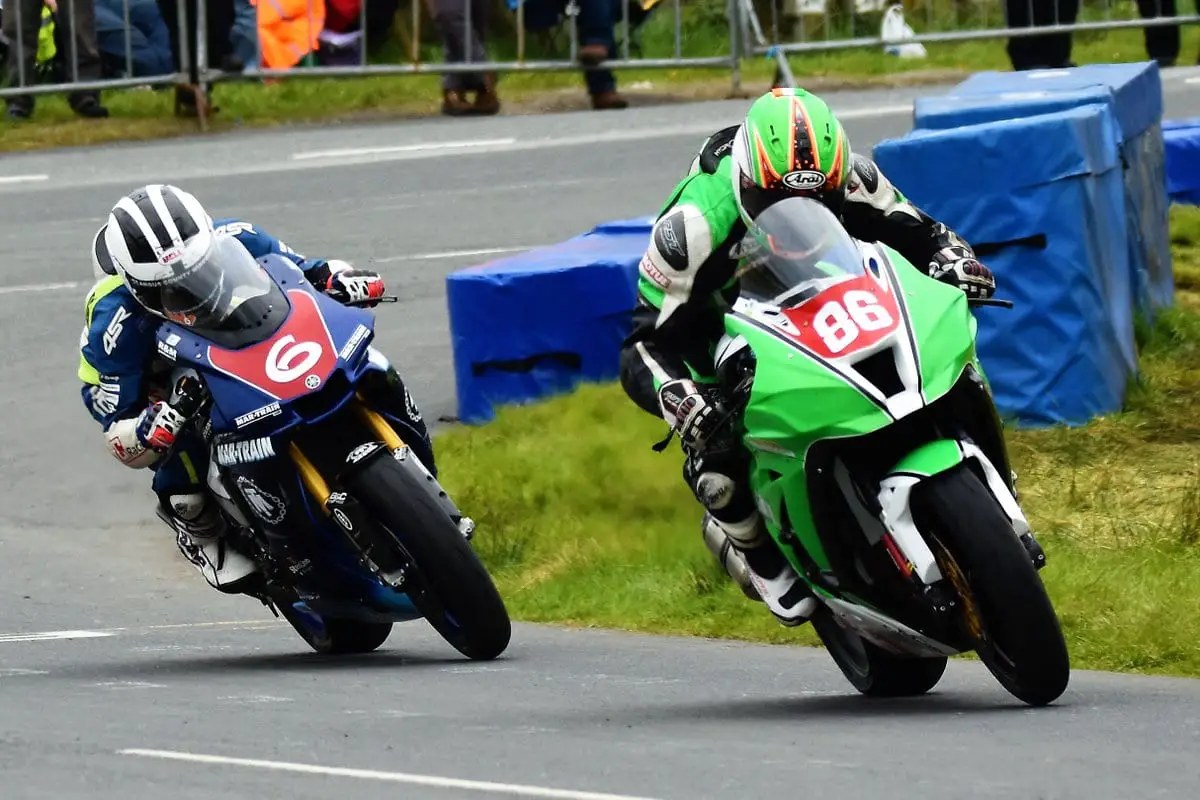 Hopes of a chequered flag being hoisted at the Tandragee 100 later this year have been raised thanks to an incredible fundraising drive by the Motorcycle Union of Ireland in Ulster.
The motorcycle community was rocked with news that all two-wheeled race events in Northern Ireland were to be pulled over crippling insurance costs.
These events included the North West 200, Tandragee 100, Cookstown 100, Armoy Race of Legends and Ulster Grand Prix.
In a statement on Thursday evening, Tandragee 100 club secretary of the North Armagh Motorcycle and Car Club, Anne Forsythe, said that it is "with regret", the Around A Pound Tandragee 100 has been cancelled citing increases to insurance premiums as one of the main reasons for the decision.
As insurance premiums sky rocketed the clubs could not agree to progress with the purchase of the insurance policy, resulting in the cancellation of all two-wheeled sport in Northern Ireland in 2023.
Following the shock announcement the public sprung into action and raced to the assistance of a sport loved by thousands across the country.
Now it seems that there may still be hope of saving some, if not all of the sporting calendar as a Go Fund Me Page set up by The Motorcycle Union of Ireland Ulster Centre MCUI (UC) has already raised over £37,000 towards insurance premiums.
In a statement by John Dillon, Chairman of the MCUI (UC) confirmed: "We cannot afford the premium hikes but nor can we afford to stop the events.
"If racing doesn't take place in 2023, not only will it be nearly impossible to bring it back in 2024, we will also lose the new riders coming through the ranks."
It is understood that the total amount needed is £300,000 to ensure that all events can proceed.
A spokesperson for the MCUI(UC) said: "We are now asking our fans, those that love their racing, their road racing and trials to help us by kindly donating directly to our insurance shortfall fund to give us the chance to have racing this year. Your efforts, if successful will result in most if not all two-wheeled sport being back on our calendar".
Speaking on Friday, Tandragee councillor Gareth Wilson said he was "gutted" for the organisers of the Tandragee 100 saying it was a blow to road racing and a really hard blow for the team who make the race happen year on year.
"I feel really bad for the team, for Anne Forsythe and all her very conscientious and hard working volunteers who move mountains every year to put on this spectacular event," said Alderman Wilson.
"It must be so hard for them to have to postpone this event. I have been chatting with Anne and I know she had huge concerns on insurance costs and Tandragee is not alone in this issue as we see that all road racing events have been cancelled now in the Province which is a very significant development.
"I'm prepared to lend any assistance possible to find solutions to these significant issues to prevent this iconic sport from disappearing altogether from our roads in Northern Ireland. Our country has produced some absolute legends in motorbike racing and it is easy to see why such an affinity exists in the Province for this thrilling sport."
Independent Councillor Paul Berry added: "I am saddened and devastated by the announcement that Tandragee 100 ( Around A Pound) and other motorcycle races have been cancelled this year 2023.
"The North Armagh Motorcycle & Car Club is a large family and I have no doubt this latest situation is deeply disappointing and devastating for them. They work their guts off all year round for this annual event and I feel deeply sorry for them given their passion for the sport.
"Several reasons have been mentioned and it is regrettable that as a result of this issues the event has been forced to cancel, not an easy one for the organisers.
"I along with other council colleagues have worked closely with the organisers for years and more than willing to continue but I believe Central Government need to intervene and provide greater financial assistance to motorcycle events given the increased costs totally outside their control. This announcement will have a negative effect on the many local and small businesses that rely on this Event and it is imperative that all is done to ensure its return in 2024."
Newry and Armagh TUV spokesperson, Keith Ratcliffe, said he was shocked by the news.
He said: "While there is a larger issue affecting insurance for such races, which certainly needs to be addressed, most shocking at a local level has been the failure to gain a commitment for necessary road resurfacing works to be carried out.
"While I understand budgetary constraints are tight, looking across the district it's difficult to see where any of this budget has been spent, with potholes blighting many of our roads.
"Indeed, recent figures show that Armagh City, Banbridge and Craigavon District Council was the worst area in Northern Ireland for potholes, with 10,925 reported in 2022 – a 23% increase from 2021. This issue appears to be compounded by pothole repairs often not lasting, suggesting some sort of 'cheap fix' creating a false economy."
He added: "The Tandragee 100 is the largest National Racing Grid in Northern Ireland, regularly attracting an international field in excess of 150 competitors each year. In addition to this, the road race attracts around 12,000 spectators to the Tandragee area. These crowds provide a welcome boost to local businesses, particularly in the hospitality sector. The North Armagh Motorcycle & Car Club should be applauded for their engagement with and promotion of local businesses in the area.
"Questions need to be asked as to why a commitment for these road resurfacing works, which equates to a necessary investment to support a wide range of local businesses, was not guaranteed. We will be pursuing this issue and offer our full support to North Armagh MCC."
All funds from the fundraiser received will be managed by ASM Accountants in Belfast, (www.asmaccountants.com) for good governance and full transparency.
Sign Up To Our Newsletter