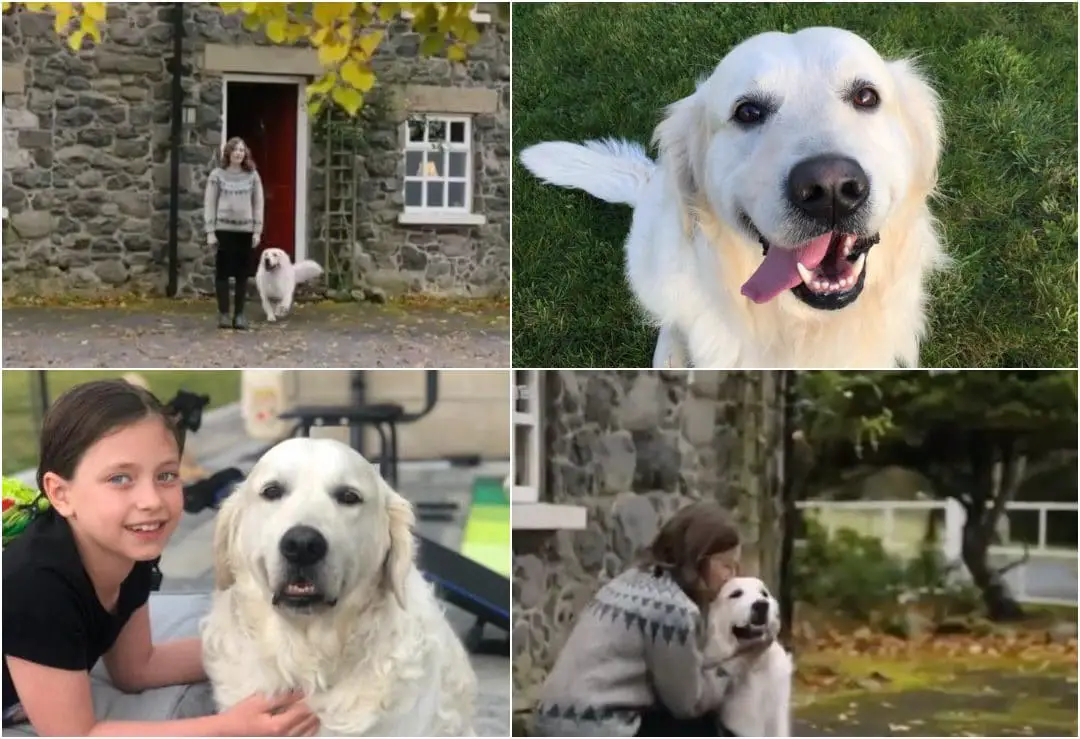 It's the TV show that has had the country captivated for weeks – and it's made the chat shows, news broadcasts and papers!
And it's impossible to check out social media without seeing comment after comment and – until last night (Sunday) – theory after theory.
It is, of course, Line of Duty.
Now the big reveal and the end of series six has been broadcast on the BBC and there has been a mixed reaction too.
But the series finale had a very special cameo from a Laurelvale resident – four-legged resident, Harvey.
Never mind yer wee donkey Ted, sure what about thon big dog?
And what a handsome chap he is.
Owner Lynn Conn, speaking to Armagh I, said the family – especially the five children – were "ecstatic" to see their big TV star steal the show at the end of the series.
"We have all been watching it," she said. "And to tell you the truth I was that busy looking for Harvey I couldn't tell you much about the ending.
"Everyone was saying they were disappointed in the ending but it was a good show all in all, you can't knock it. We'll miss it not on now – it was our Sunday night favourite."
She added: "Our friends were sending us these messages about people putting it up on Twitter, that the best thing about the end of the show was the lovely Golden Retriever – it was so nice."
"We all really enjoyed the show and we were delighted – ecstatic – Harvey was able to take part in it. It made it even more exciting watching it. All our kids were hyper excited – Harvey got star treatment on Sunday night."
While it may be a one-off for Harvey, he proved an absolute natural.
Lynn explains how he landed his role.
"A friend of mine, it's her dad who would do all the animals for TV shows like Game of Thrones and things; she mentioned to me that the show were looking a Golden Retriever… the directors liked him and that was really it.
"We took Harvey down to the set but because of Covid we couldn't stay and watch, we just had to go away and come back for him. The crew told us he was absolutely fantastic; nobody could believe he hadn't done it before."
Whether you enjoyed the ending or not, it's hard not to have loved Harvey's cameo…
👮‍♀️🐶👮‍♂️

Bark with me if the Golden Retriever moment in Line of Duty made your day! 😃#GoldenRetrievers 🐕😀🐾 #LineOfDuty pic.twitter.com/cckzvsGis1

— Pip the Golden Retriever (@PipTheDog5) May 3, 2021
Ok so who do I contact about going into witness protection, because that's the only way I'm getting a house like that in this economy. And a golden retriever?! Can't believe this is what my tax goes towards. smh. #LineOfDuty

— Aimee Hardman (@aimeeeemia) May 3, 2021
Best part of line of duty was jo's golden retriever

— D a i s y Coleman (@daisy_coleman) May 3, 2021
Thinking about how gorgeous the golden retriever at the end of Line of Duty was

— annabel🌙 (@annabel_gerrard) May 3, 2021
Jo got a gorgeous house and a golden retriever 🐕 #lineofduty pic.twitter.com/v6C6ezt0A8

— 𝙿𝚒𝚗𝚎𝚊𝚙𝚙𝚕𝚎 𝚒𝚜 THE 𝚜𝚞𝚙𝚎𝚛𝚒𝚘𝚛 fruit (@beakybox) May 2, 2021
I just don't even know what to say to that ending of #lineofduty … I could cry. The only good part was that adorable golden retriever at the end. Honestly just going to cry myself out sleep. 9 years. 9 wasted years. Bring on a revolution

— Mais (@athousanddcuts) May 2, 2021
Newsletter
Sign up for our weekly newsletter here.