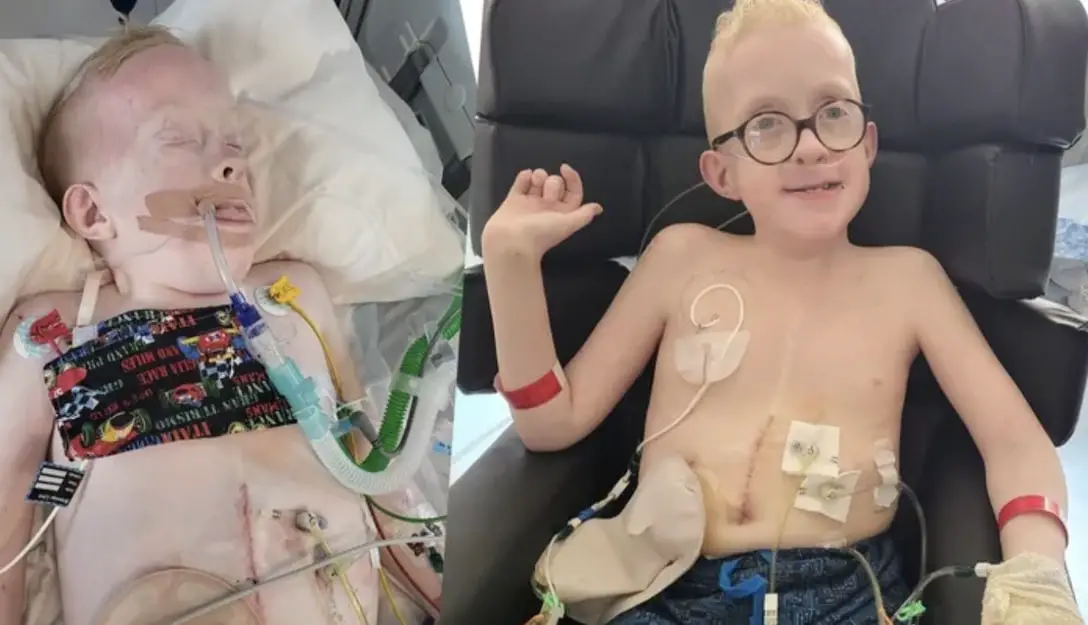 The Belfast Giants have announced a new fundraiser to help send a young Tandragee fan on the trip of a lifetime.
Fifteen-year-old Blake McCaughey, who suffers from a rare genetic disorder, is a huge ice hockey and Belfast Giants fan and has been through a very tough battle throughout his life.
For this reason, it was decided that a trip to Boston, USA, would be the "thrill of a lifetime" and extra special for Blake.
Blake was born with two chromosome deletions and abnormal muscle fibres and lives with irreversible intestinal failure, which means he cannot eat or drink and has to be fed through a tube.
He has been asked to meet the transplant team at Birmingham Children's Hospital later this year to undergo two weeks of tests and meetings to establish whether he is eligible for a small bowel transplant.
Adam Keefe, head coach of the Belfast Giants, says that Blake has "embodied what it means to be a Belfast Giants fan".
He commented: "There's absolutely no doubt that it's been an incredibly tough few years for Blake, and his family, and we want to show our support and appreciation through this fundraising initiative.
"Blake is a remarkable young man, and I would urge all ice hockey supporters – Giants fan or not – to help us raise as much money as possible to get Blake to Boston."
In support of this fundraiser, The Odyssey Trust has already committed to donating £1,000.
The GoFundMe page, which was set up by 'A View From The Bridge', the Belfast Giants podcast, reads: "We want to send a very special boy on the trip of a lifetime and we need your help to do it…. We are raising funds to send Blake and his family to Boston, USA for an unforgettable experience."
The funds raised will be used to pay for flights, accommodation and day trips that can "help to make memories for a family who just do not know what the future holds for Blake".
They are also running a raffle, to win two return flights to Boston, a three-night stay in a downtown Boston hotel, and two tickets to a Boston Bruins game.
By the time Blake was 16-months-old, he had been admitted to hospital 33 times and had battled pneumonia on 19 occasions. In May 2017, he underwent successful open-heart surgery, where he received a donor heart valve.
In 2019, his health declined again as his gut and bowel stopped absorbing nutrients, and his heart rate, blood pressure and body temperature were functioning at a dangerously low level.
In December 2019, the gastroenterology team in Belfast moved Blake onto Total Parental Nutrition (TPN), which feeds directly into his heart via a Broviac line.
Blake's TPN runs for 16 hours to ensure that his body remains hydrated, and he receives the calories, vitamins and minerals required to keep his organs functioning.
Since December 2022, he has been at home and cannot sit upright for any length of time without his bowel obstructing, causing unimaginable pain.
This means that Blake spends the vast majority of his days lying flat on his back.
The GoFundMe page continued: "We simply cannot be sure what, or how long the future is for Blake. We have tried against the obvious practical difficulties of his physical needs, and the constant danger of unforeseen health complications, to make his life extra special.
"Given the particularly horrible time he has had to suffer over recent years, we see a trip to the States as being the thrill of a lifetime for him, and we are pushing forward as hard as we can with it, while hoping for help from anyone who feels they can assist."
You can donate to the Blake's Boston Dream fundraiser here.
Sign Up To Our Newsletter