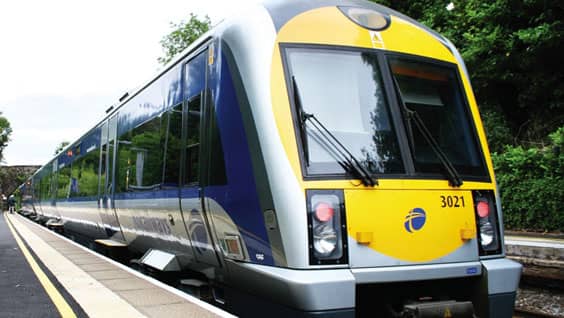 Translink has closed the railway line between Belfast and Dublin until further notice.
Inspector Gary Jones said police had been made aware of suspicious activity in the area of the Bells Row crossing in the vicinity of Antrim Road, Lurgan.
The Antrim Road and Cornakinnegar Roads are closed at the railway crossing point.
Translink is running substitute bus services between Lurgan, Moira, Portadown and Lisburn.
There are no further details at this stage.
Deputy Mayor of Craigavon, Sinn Féin's Catherine Seeley, has said those responsible for "another bomb scare on the railway lines close to Lurgan should come forward and explain themselves".
Ms Seeley said: "This is another attack on the local community and on commuters travelling to and from Belfast. Those responsible should be under no doubt that it has done nothing except disrupt the lives of people going about their daily business.
"The Antrim Road area of the town is essentially closed due to the rail closing.
"This is compounded by the fact that an adjacent road, Lake Street, is currently closed and undergoing works.
"This creates further problems should a medical or other emergency arise, with the travel routes to north Lurgan and towards Aghagallon now limited.
"Those responsible should now come forward an explain their actions to the community."
Read more news:
Former Armagh All-Ireland winner Justin McNulty WILL stand in Westminster elections
County Armagh homes raided in suspected £110 million tobacco fraud
Catherine back chasing glory on RTE's Voice of Ireland
Maghaberry prison visits cancelled following security alert
Public backlash over Irish News article on PSNI's social media 'overindulgence'
Forkhill fuel laundering dumping 'environmental terrorism'
World's top athletes for 25th anniversary International Road Race
£3.3M plans to convert St Patrick's Trian into community 'hub'
Sign Up To Our Newsletter
Sign up to our newsletter for major breaking news stories as they happen – right to your inbox.