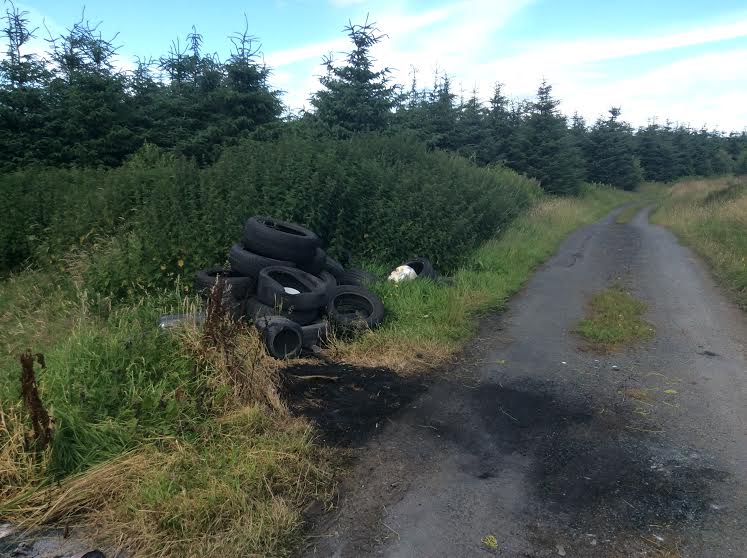 Local MLAs have backed calls for a central register of all tyres in a bid to cut down on illegal dumping.
Many instances across Newry and Armagh in particular have been highlighted in recent times.
Most recently, tyres were set alight and scattered around the scenic Carrigatuke.
The issue came before the Assembly when there was a broad backing for a register to be in place, so that any tyre found dumped can be traced back to the owner.
It is hoped that such a register if put in place would help eradicate or certainly significantly reduce this illegal dumping of tyres.
Sinn Féin MLA Cathal Boylan said: "There is no doubt that the illegal disposal of tyres is a major problem, particularly in rural areas. It simply doesn't make sense that we do not have effective measures in place to track tyres to make sure they don't end up on bonfires or illegally dumped.
"We brought forward a proposal to the Assembly calling for the creation of a central register which would track all tyres from their manufacture, sale, throughout the life of the tyre, right to safe disposal, and I was pleased that it received the support of the Assembly.
"That would allow us to effectively track all tyres to make sure they do not cause environmental problems and would also provide information to enforce any breach of the regulations."
Mr Boylan said he hoped the Agriculture, Environment and Rural Affairs Minister Michelle McIlveen would take forward the proposal.
Newry and Armagh DUP Assemblyman William Irwin – speaking during the Assembly debate this week – said he had reported a number of fly-tipping incidents in the constituency.
"It then falls to councils to foot the bill for the clean-up and legal disposal of dumped tyres," he said.
"The other obvious concern is that tyres may end up being burned, either maliciously in an arson attack or in other circumstances. The smoke from the burning tyres poses a serious health risk.
"At the moment, tyre suppliers are able to charge a levy to a customer to retain that customer's worn tyres for future disposal by a registered waste tyre disposal company. However, there is no in-depth record created of where the tyre was bought or where it will end up, because there is no requirement to do so."
The DUP representative said, having read previously on the issue, tyre supporters appeared to want and be willing to respond in terms of a register and "having in place a system whereby tyres could be traced to a final destination".
"There is an issue of what marking would be used as a way of identifying where tyres came from, which supplier distributed them and so on," added Mr Irwin. "However, that is not an insurmountable problem.
"There are, of course, retailers selling part-worn tyres in Northern Ireland. There are also dismantler yards that accumulate a stock of part-worn tyres for resale. There is no monitoring at all of that type of resale market, and that remains a concern.
"With so many tyres being used and disposed of in Northern Ireland and the apparent lack of any form of traceability of their end use, there is certainly a case to be made, along with the full involvement of the tyre trade, for moving towards a system whereby a tyre can be traced from point of sale to a suitable, registered recycling centre."
Picture: Tyres abandoned and burned at Carrigatuke over the summer.
Sign Up To Our Newsletter