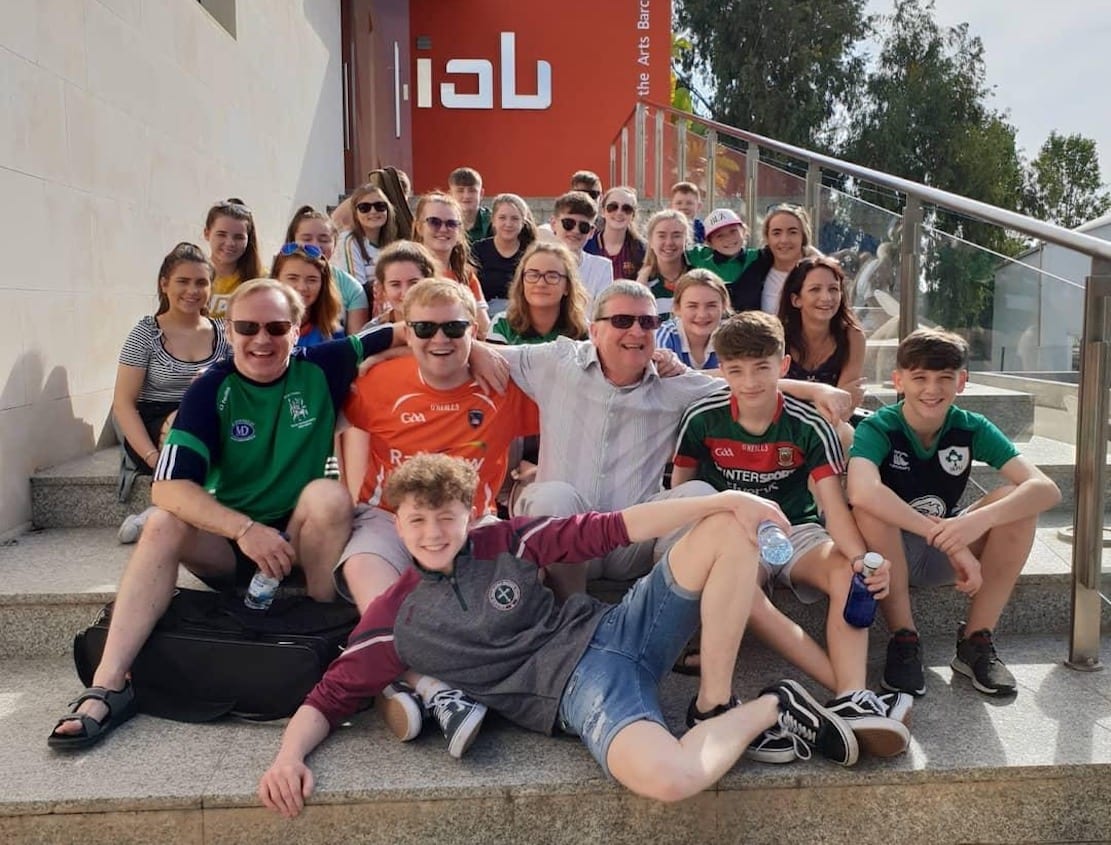 Musicians from the Mullaghbawn-based Traditional Arts Partnership (TAP) took part in the Creative Connexions Irish Catalan Festival in Sitges, Catalonia recently.
This is the third year that TAP have performed at this highly successful Festival which is now in its sixth year.
The group of 28 musicians, singers and dancers who travelled to Catalonia were predominantly from the 15–18 Grupa Cheoil and they performed throughout the weekend at concerts, sessions, interactive workshops, parades and street/impromptu sessions.
They were kept extremely busy and between all the different venues, they played, danced and sang for between 4-6 hours every day.
That's a serious amount of musical mileage in a few days and you could see and hear their ability and confidence growing daily.
The young musicians also performed for the Irish Ambassador, Síle Maguire and for the Mayor of Sitges, Miquel Forns, both of whom were presented with fine plaques, hand-crafted locally by Padraig Carragher Wood turning and presented by Des Murphy (from South Armagh) on behalf of Newry, Mourne & Down District Council.
The highlight of the trip each year is the visit to the Institute of Arts Barcelona which is based in Sitges.
This is a performing Arts College and TAP are very proud to continue this valuable link. This year the young musicians, singers and dancers performed in the courtyard and as always had the students up dancing the Waves of Tory.
They then took an interactive workshop in one of the studios with the singing and acting students. In every performance the talent emerging in the singers, dancers, public speakers, and leaders was magnificent. They truly are fine ambassadors for their local area, County, Province and Country, not just musically but also in attitude, manners and general interaction with students, locals and visitors.
There were 4 other young musical groups from Ireland and 2 adult choirs. The nightly session in the hotel – the "Cid Session" drew people from all over the festival and, indeed, groups who were actually staying in other hotels, because of the reputation this session has built for being serious craic over the last three years.
Fantastic friendships continued and our musical connection and friendship with Croabh Phiaras, Monkstown and with Bray CCE developed even further…. and a whole new horizon opens up with our new links with Ballinspittle CCE, West Cork.
Elaine O'Sullivan is one of the trip organisers and performed daily with the young musicians.
Reflecting on the successful trip Elaine said: "All in all it was a fast-paced, high-energy trip that left everyone feeling elated and extremely proud… but exhausted.
"According to reports, there has been some serious sleeping going on since our return.
"Many thanks also to all of the additional adults and young musicians from the South Armagh area who came over to Sitges to support the kids at all of their performances and sessions. It was lovely to see so many familiar faces around the beautiful town of Sitges.
"TAP would just like to say a heartfelt thank you to each and every person who donated at any of our fundraising events throughout the year.
"This year the trip cost just shy of £25,000 and we have had numerous fundraisers throughout the year to ease the burden of the cost of the trip for the families of our young musicians.
"Our street collection last weekend brought in a fantastic £986. Many thanks to all who donated at "The Camlough Tollbridge"! We are also very grateful to the Landscape Partnership Scheme who again provided welcome financial support and to NMDDC for continuing to offer us paid gigs throughout the year."
Traditional Arts Partnership holds weekly music and singing classes in St Mary's PS, Mullaghbawn.
Instruments that are taught are whistle, accordion, fiddle, banjo, mandolin, flute, guitar, pipes, bodhran, ukulele, world percussion, singing in English and Irish and for our more advanced musicians the Grupaí Cheoil classes.
We are extremely grateful to Peter McDonnell, Michael Crawley and the staff of St Marys PS for facilitating the classes in their school. We also hold the very successful Second Sunday Session which has really built into a great monthly event for our young musicians. All welcome.
You can witness for yourself the whole buzz of the festival (if you haven't already) on our Facebook page – Traditional Arts Partnership – South Armagh.
Sign Up To Our Newsletter