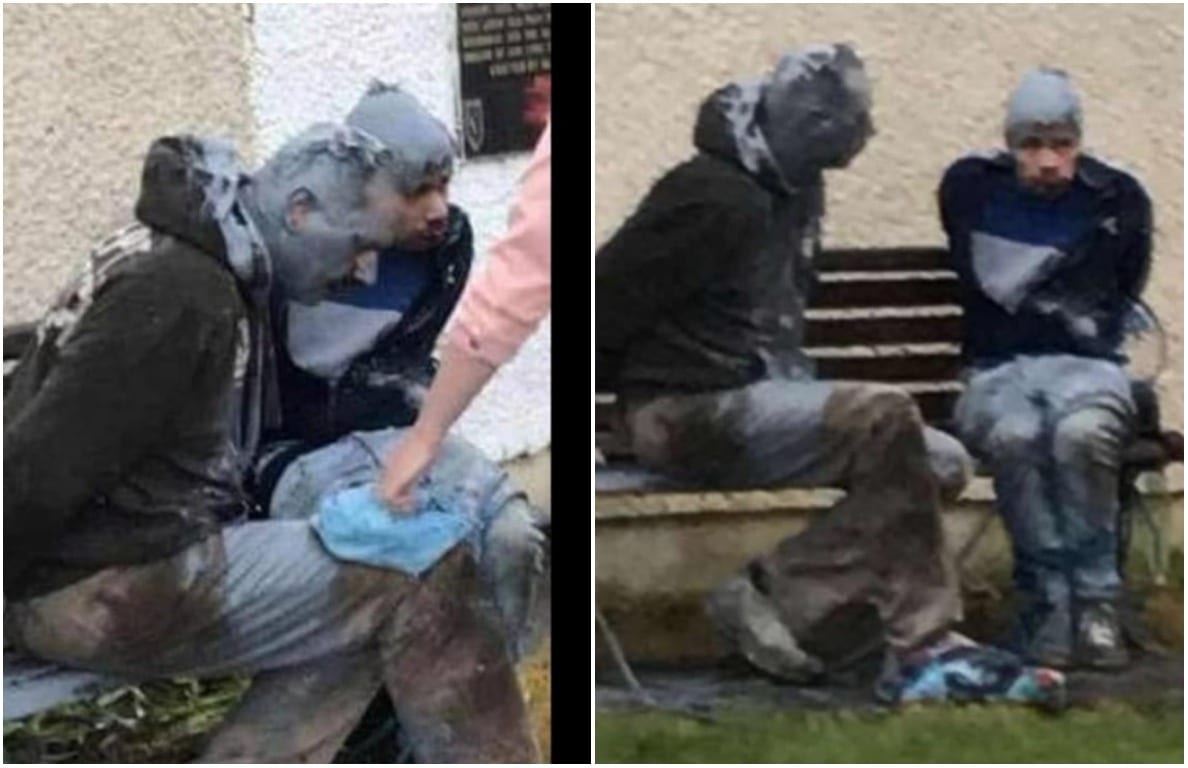 Warning: Strong language.
This is the moment two convicted paedophiles who had been evading police capture were arrested in south Armagh this evening (Saturday).
Child rapist James White, 48, and fellow sex predator Jason Lydiard, 26, were firstly tied to a bench and had paint thrown over them in Mullaghbawn before they were taken into custody by police, who arrived on the scene a short time later.
The blue Peugeot 206 the pair had been travelling in had all four tyres slashed after it was parked up outside a church on the Chancellors Road in Mullaghbawn on Thursday afternoon.
Concerned residents raised the alarm before a widespread and concerted campaign to apprehend the men began.
The pair are wanted in Northern Ireland for a range of offences, including breach of licence and warrants.
They had previously told police of their plans to wed each other before they went awol.
White, 48, from south Armagh, was jailed in the Republic of Ireland in 1998 for two counts of buggery and five charges of sexual assault — on a teenage boy in Co Meath before being freed in 2003.
White had placed an advert in the local paper looking for a youngster to work part-time in dog kennels.
He then took on a 14-year-old boy as his assistant but it later transpired that White had no kennels.
Police to investigate assault on sex offenders after both taken to hospital – https://t.co/fiF3YlTbE3 pic.twitter.com/eYt6XZawgw

— Armagh I (@ArmaghI) April 29, 2018
Instead gave the teenager labouring work and took him on trips around the country before he began to sexually abuse the boy.
He was handed five years in prison.
He also threatened to kill a social worker with a hammer, and has 62 previous convictions in all.
Gusto – also known as Jason Lydiard from Bessbrook – also has nine previous convictions for sexual, assaults causing harm and threats to kill. He was released from custody earlier this year.
Commenting on the arrests, local Sinn Féin Councillor Mickey Larkin, said: "The vigilance of the south Armagh community in relation to these two individuals and the cooperation between our community and the PSNI over the past few days is worthy of praise.
"It is reported that some members of the public took the law into their own hands tonight when these two were apprehended. That is unfortunate.
"However the two individuals are now in custody and that is to be welcomed."
Sign Up To Our Newsletter