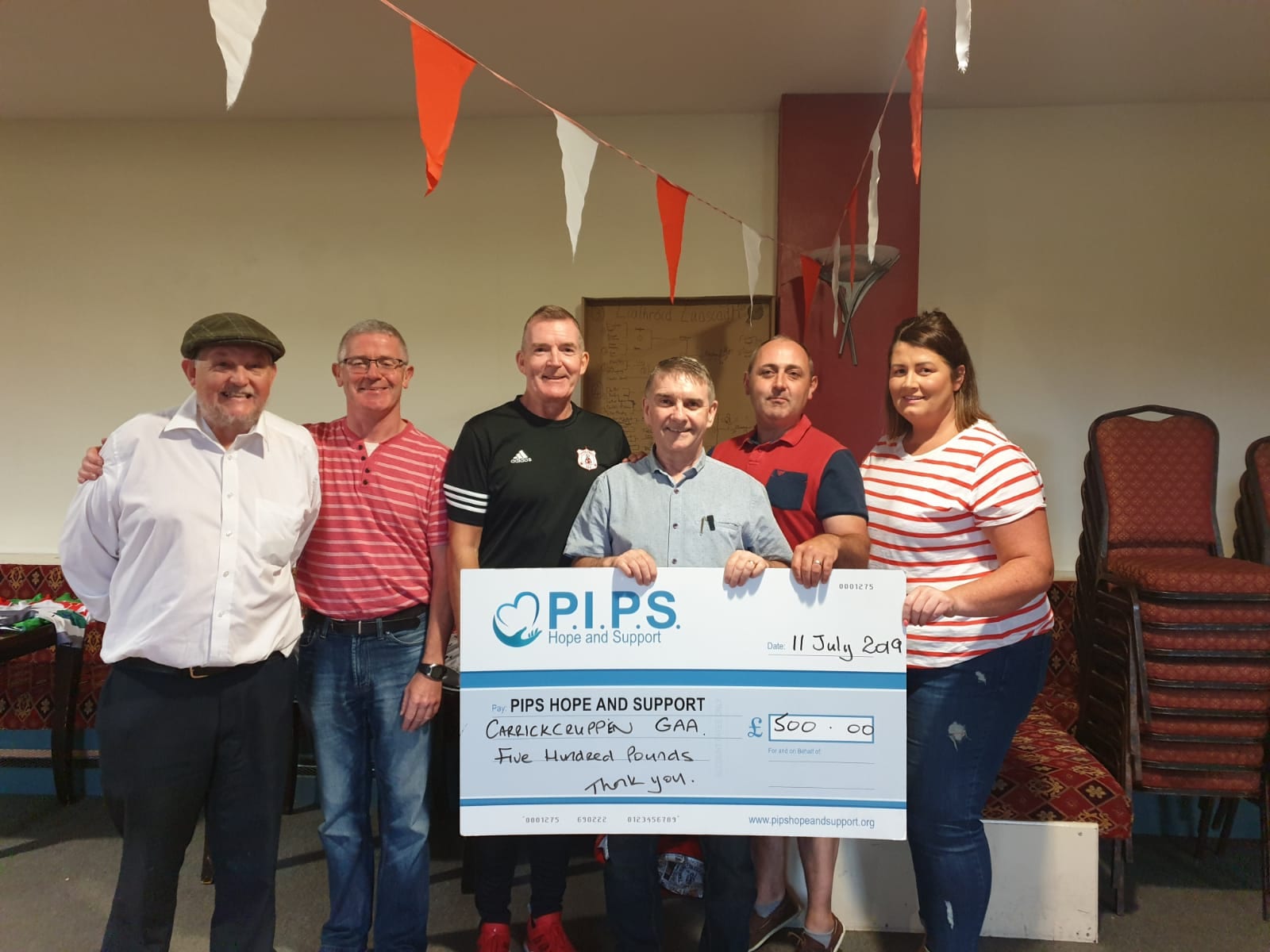 A south Armagh GAA club has handed over a cheque to a local suicide and self-harm prevention charity after a cross-border fundraising cycle.
It is just one of a number of events being held by Camlough-based Carrickcruppen GAA to mark the club's 75th anniversary.
The 'Cycle 4 PIPS' passed through Counties Armagh and Louth last month.
And now a terrific £500 in proceeds has been presented to PIPS Hope and Support.
Carrickcruppen GAA are well known for supporting local charities and used this initiative to support that ethos. Cyclists on the day took off from Carrickcruppen Club on a 35-mile route.
Club members have now presented PIPS Hope and Supports CEO Seamus McCabe with the proceeds and were delighted to do so.
Gerald Flynn, Chairman of Carrickcruppen GAA, said as part of their 75th Anniversary celebrations, committee and club members wanted to undertake a fundraiser to raise awareness and funds for a local charity.
He explained: "On discussion with our members, it was agreed that PIPS Hope and Support would be the recipient for the club's efforts.
"The event was a major success and we as a club were delighted with the support from local cyclists.
"PIPS Hope and Support is a charity which supports the most vulnerable in our communities and we are delighted that we could play a part in supporting their cause.
"We wish to thank all those cyclists for their participation as well as the many individuals and businesses who donated to the event including setting up, hospitality and so forth."
PIPS Hope and Support's CEO Seamus McCabe was delighted to receive the cheque.
He said: "PIPS Hope and Support wish to extend our sincere thanks and gratitude to Gerald, his team, members of the club and all those participants and businesses for raising this fantastic amount for our charity.
"Without the support of the local community, business and education sector, PIPS Hope and Support simply couldn't deliver the much-needed help and support services we provide to our community without the amazing efforts of our supporters like Gerald and Co.
"The funds raised by Carrickcruppen GAA will deliver resources to benefit and support vulnerable people within our community, helping them address issues affecting their quality of life as well as providing education programmes to people on how they can help reduce the risk of suicide in our greater community.
"PIPS Hope and Support send our best wishes and success to all involved with Carrickcruppen."
Sign Up To Our Newsletter