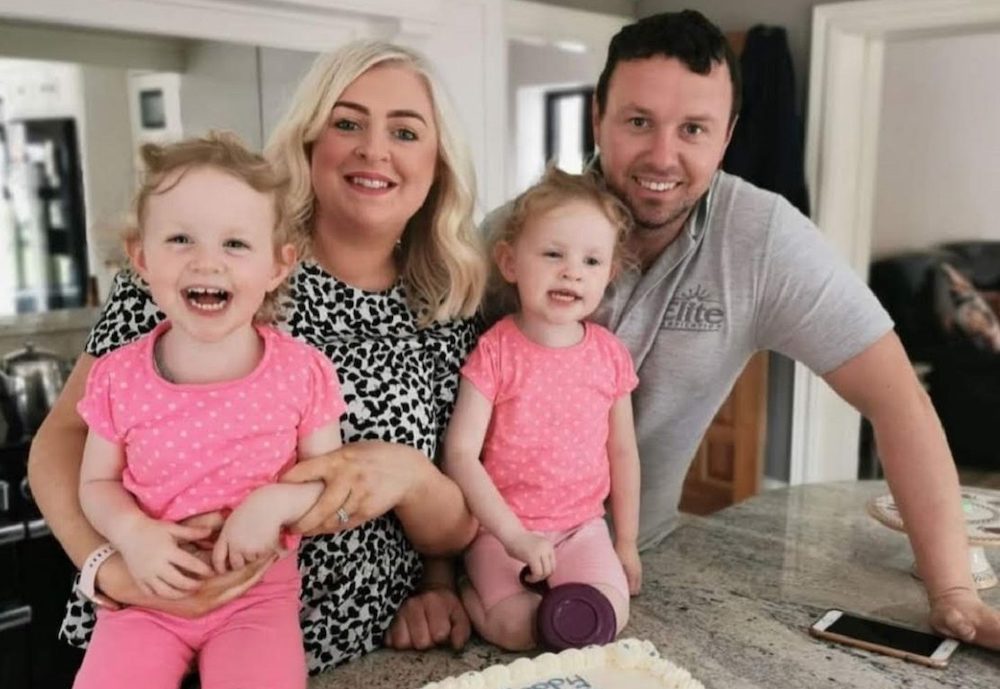 A special night is being held to celebrate the 20th anniversary of Armagh's historic All-Ireland win, and raise as much money as possible for a play park in memory of a local man.
James Reel (35), from Silverbridge, died in a tragic accident on April 11.
Not only was he a huge GAA fan, but he was also a devoted dad who loved nothing better than bringing his daughters to the park.
His daughters Maisy and Sadie were just three when he died and his son, also named James, was born on June 30, two months after his dad's death.
James, who has worked for a stainless steel fabricator in Dundalk since he left school, had just started his own business a couple of months before the fatal accident.
Since the tragedy, the extended family has been working towards a vision of building a woodland-themed play park at Silverbridge GAC, just beside the family home.
Proposals for the James Reel Play Park, estimated to cost around £100,000, have already been lodged with Newry, Mourne and Down District Council, with around £76,000 raised to date.
The latest fundraising event, A Night with the O2s, is being held at the Carrickdale Hotel on Friday, March 18 and features stories and insights from a panel which includes the manager and players of the winning team, Joe Kernan, Kieran McGeeney, Benny Tierney and Oisin McConville.
Also taking part will be Tyrone legend Peter Canavan and Tomas Ó Se from the opposing 2002 Kerry team.
The event will be hosted by RTE sports journalist and broadcaster Joanne Cantwell while Jarlath Burns, from Silverbridge, will be talking to players from a range of eras.
James, right, with dad Bernard and siblings Majella, Paddy and Aisling.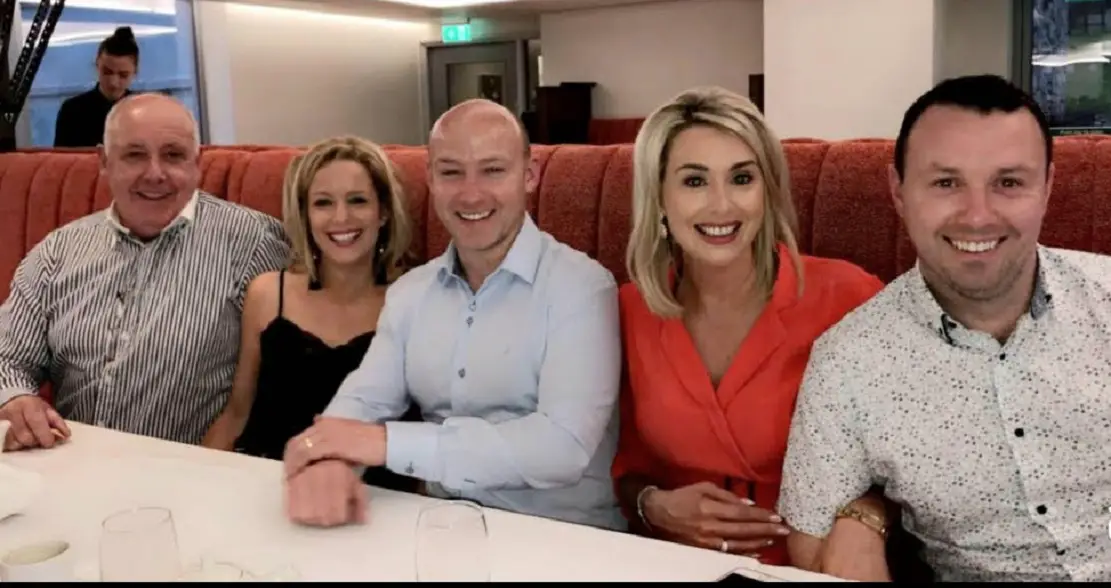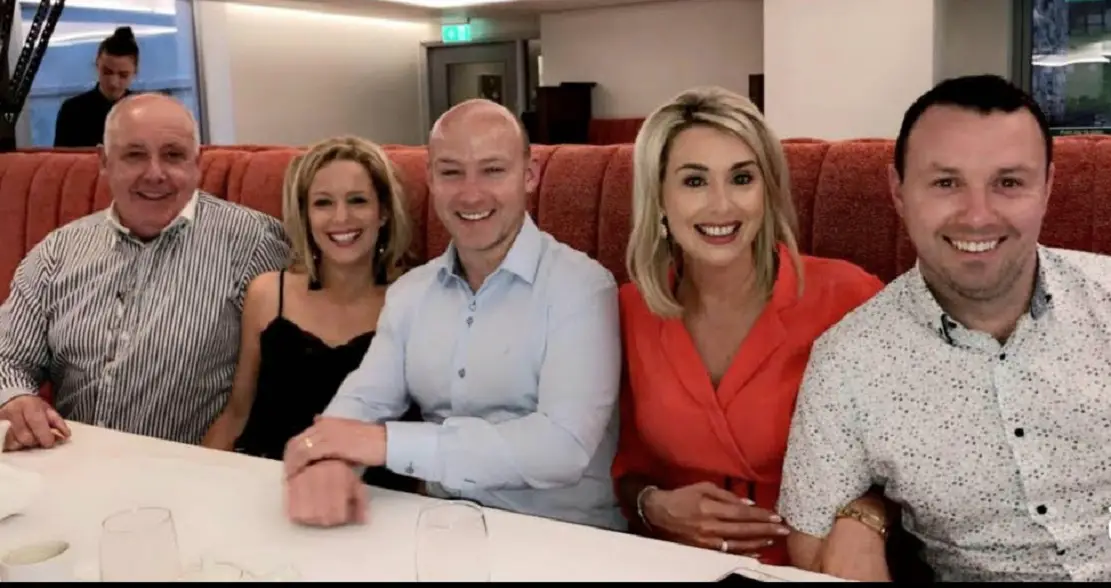 Aisling Martin, James' sister, explained the family's decision to build a play park.
She said: "Our family home is next door to Silverbridge GAC and that was our play ground when we were young.
"James bought a caravan after him and his wife Mairead had the twins. Looking back, mummy and daddy always took us on caravan holidays before we were able to afford to go abroad.
"He always said the holidays down south in the caravan were the ones he remembered, and he wanted the same for his girls.
"Him and Mairead would have headed away with the girls and the first thing he would have looked for was which campsite had the best play park. He just loved taking the girls to the park.
"It was the same on a Sunday. They would have got up and headed for Gosford or whatever. He only got three years of doing that with the girls.
"He just loved children. Even before he had the girls, he would have taken my children out. The play park is something that just fits his mould."
Aisling said the family came up with the strapline 'Time2Play' not only because of the closeness of all four siblings – they have another brother Paddy and sister Majella – but also to encourage other people to stop and spend time with their families.
They also plan to sponsor a clock in the park, which will be lit up.
She said: "James was just a real character. When he died, hundreds of people circled the home outside holding candles because they weren't allowed in because of Covid.
"It has been a very, very difficult few months since his death but planning the play park has given us a bit of a focus.
"We lost mummy at 51 with cancer. We have been through the grief and the knocks, and for daddy, who has lost mummy and now James, the play park is something to strive towards.
"We will never get over it. It was a tragic accident and we just want to do something positive."
She said Silverbridge GFC and the wider community had been "amazing in their support".
Although the club has given them the land on which to build the play park, the family is reliant solely on donations for the rest of the costs, as they cannot obtain council or lottery funding.
The fundraising was launched in November with a pre-Christmas Cracker 'friendly' GAA match between Armagh and current All-Ireland champions and rivals Tyrone.
Said Aisling: "Our cousin Kieran McGeeney, manager of Armagh, helped us organise it. That was a big thing to start us off.
"Because Covid restrictions have been lifted, we now have extra capacity at the Carrickdale and we are hoping it will be a fantastic night."
There are also plans for a family fun day in May and a number of schools are holding jersey days as well as various other events.
"We would like to think we could start work on the park this  year, if everything is on target,"  added Aisling.
Liam Murphy, James' brother-in-law, came up with the idea for the '02s' night.
He said: "It is 20 years since Armagh won. This will be a chance to hear the inside stories, what went on in the dressing room, and what it was like coming back down the road with the Sam Maguire Cup for the first time.
"James's first cousin Kieran McGeeney was captain of the team and we were all there that day. Armagh was very successful at that time and I suppose all those memories blend in.
"We would have met up at James' house on the morning of the match, you got the fry given to you and everybody headed away in various transports and then met up back at the house that night.
"It became a way of life and I'm sure many other families were the same. Wherever Armagh went, we went. It really was the best of times."
Liam said that, thanks to financial support from the sponsors, McKeever Sports and Rural Business Finance, all money raised from ticket sales will go to the play park.
"It will be a fun night out, a really special evening," he said.
Tickets cost £30 and are available on Eventbrite here.
Sign Up To Our Newsletter