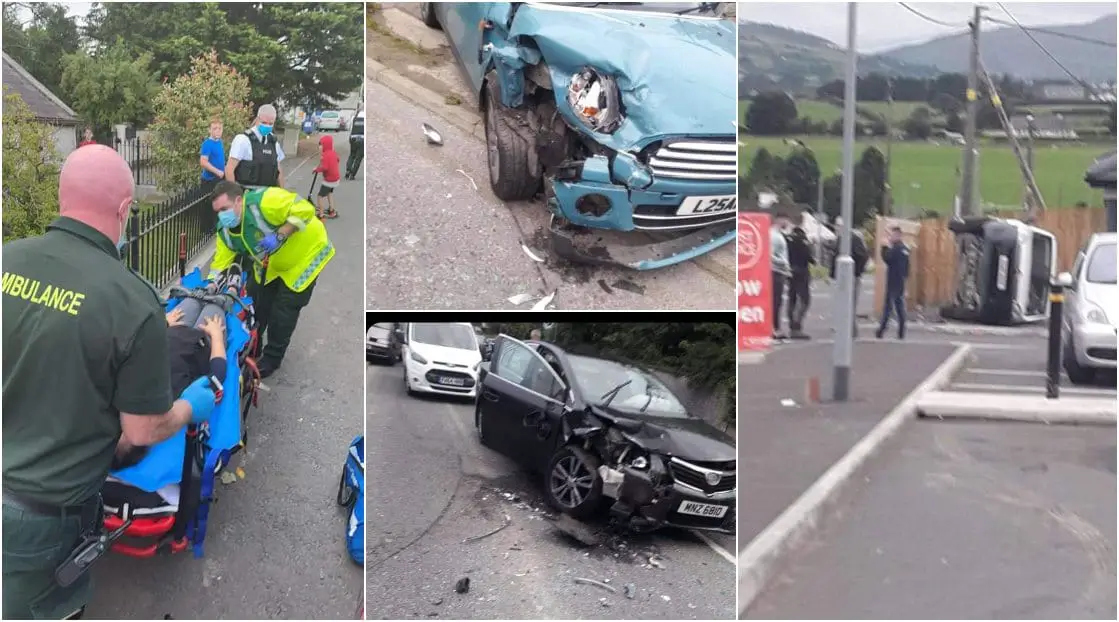 Concerns over criminality and the police response to recent hit-and-runs in which two people were injured were raised at a meeting in south Armagh on Tuesday night.
The meeting in the Pastoral Centre in Jonesborough was organised by Sinn Féin and attended by members of the community and PSNI representatives including District Commander Norman Haslett.
It followed an incident last Tuesday in which a car was driven recklessly through the village, colliding with a van and later a car.
A woman was trapped in her car for 40 minutes and had to be cut free from the wreckage.
She and another person were treated in hospital – they are now recovering at home – and a man was arrested and later released on bail.
Sinn Féin councillor Mickey Larkin said there was a "very clear anger in the community" at the police response to the incident, which was made clear at the meeting.
He described the police call-out response time as "ridiculous", adding that it took officers 45 minutes to arrive on the scene.
He also claimed there were questions in relation to "failings" in the follow-up operation, in terms of gathering evidence, which "police had acknowledged".
Speaking following the meeting, Superintendent Haslett said: "I had the privilege of being part of a meeting that the first of its kind to take place, where I met with the residents of Jonesborough to discuss some local policing matters which are of genuine concern to the community.
"A number of very honest opinions and concerns were shared and I found the meeting to be extremely productive. I carefully listened to the opinions expressed and myself and my team are committed to addressing them in partnership with the local community.
He continued: "Our officers will be working closely alongside our partner agencies, local representatives and the community to try to address the issues mentioned, and following on from last night's discussion, I want to reassure the local community that my teams intend to continue to take action to deal with and respond to such concerns.
"There will be an increase in the visible police footprint in the village of Jonesborough in the coming weeks and I want the community to be reassured by this."
The Superintendent stated that people the right "to live in peace and to feel safe in their communities", adding that those involved in criminal and anti-social behaviour must understand that it is unacceptable.
"I also want to stress how important it is for members of the local community to engage with police and to come forward with any information at all, no matter how insignificant you may think it is", he said.
"We rely on your help and co-operation in tackling crime and helping bring those responsible to justice. I would encourage anyone who witnesses any anti-social or criminal behaviour to report these incidents to us immediately.
"I'd also like to thank everyone who attended last night for their presence and vital input, and going forward, I look forward to being involved in more meetings of this nature as we all work together to make our local areas a safer place for everyone to live and work in."
Sign Up To Our Newsletter